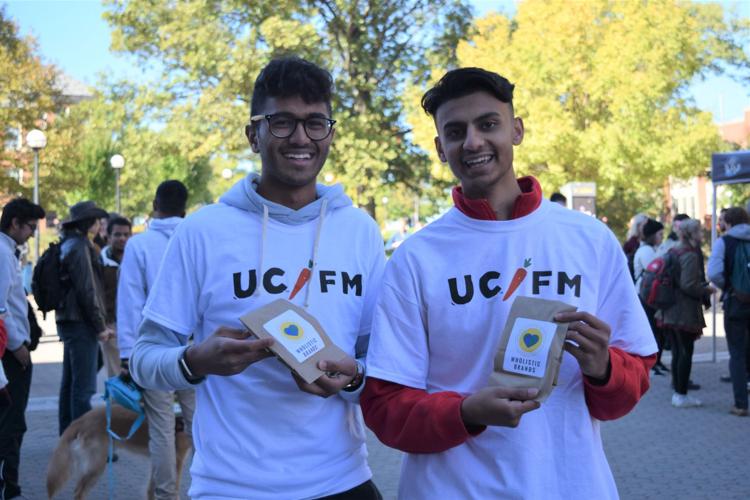 The University of Cincinnati Undergraduate Student Government (SG) will host its annual on-campus farmers market this week.
The event will be held along MainStreet Oct. 9 from 11 a.m. to 3 p.m. The market will feature a variety of local vendors offering products for students and faculty to purchase, said Sara Zandvakili, campus life committee chair for SG.
The University of Cincinnati Farmer's Market (UCFM) has been a staple event that connects students with local vendors and even offers the opportunity for students with businesses to sell their products, said Chandler Rankin, student body president for SG.
"I'm excited because it's also a great chance for our organization to promote sustainability by giving students tote bags and educating them about the importance of preventing as much waste as possible on our campus," Rankin said.
Nearly 10 vendors will attend the UCFM this semester, including Diane's Heavenly Delights, Kartal's Pure Honey, Mt. Kofina's Olive Oil, Grandola Granola, NoBake Cookie Dough and Eli's BBQ, according to Zandvakili.
The Office of Sustainability, the UC Beekeeping Club, Soul Sidekick Studio and Kate Huang, a UC student selling succulents, will also be present at the farmers market.
"The goal has shifted from providing local options for students to creating a connection between local vendors and students," Zandvakili said. "UCFM is a great way of bridging the gap between UC students and the Cincinnati area. Having events like UCFM show our students what the Cincinnati community has to offer."
SG will pass out free, reusable tote bags and stickers to students to help raise awareness for the event, said Zandvakili. 400 tote bags will be available as supplies last.
"We want to give these tote bags to students for free as a part of the farmers market, but also to create awareness of how using it actually does promote sustainability rather than throwing it away," she said.