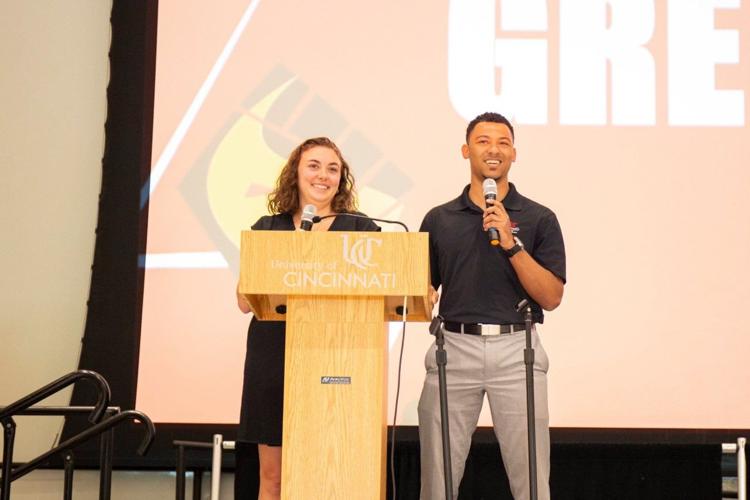 The University of Cincinnati Undergraduate Student Government (SG) released its Fall 2019 report Jan. 21, summarizing and detailing what the organization achieved last semester.
Student body president Chandler Rankin and vice president Abbie Smith reflected on the accomplishments of their administration, which will come to an end in March following the 2020 elections.
"We've tried to think through the lens of long term advocacy and also short term successes and wins for the organization and for the overall student body," Rankin said about his and Smith's running platform. "Our term isn't that long, so we advocate for what will last well beyond our term and what things we can tangibly accomplish in our 12 months."
The administration has followed through with many of its platform promises since being elected to office in March 2019, including expanding mental health resources, providing free menstrual products in university bathrooms, addressing issues with sexual assault on campus and more.
Over the summer of 2019 SG developed a partnership with FC Cincinnati to provide discounted tickets for UC students, making $25 tickets available to students for $10. They also voted to establish a program to provide free chargers for students to rent from Langsam Library in November, which started last month.
Rankin and Smith's Mental Health Champions initiative officially began at the beginning of the spring semester and has already received positive feedback from participants. The program consists of student-nominated faculty and staff members who go through special education and training about mental health to better recognize emotional distress and how to approach students who may be struggling.
"We are already hearing about the impact that some faculty and staff members have been able to make through their interactions with students because they learned better language to use or they gained the confidence to do so through this program," Smith said.
Before the end of its term, the administration hopes to effectively implement the Survivor SAFE (Sexual Assault Forensic Exam) Fund, which was a central aspect of its platform. The fund would essentially centralize financial resources for victims of sexual assault and cover additional medical costs that may arise after administering a rape kit and other necessary services at UC Health.
There is currently a small working committee consisting of Women Helping Women advocates, the victim services coordinator from Public Safety and representatives from the Student Wellness Center and University Health Services.
Rankin and Smith plan to present a bill to the senate within the next few weeks to secure an allocation of SG's budget for the initiative.
Another platform position they hope to make progress toward is establishing a larger composting system on campus. Health code restrictions have previously prevented SG from being able to expand this service to MainStreet or other parts of campus outside dining halls, Smith said.
"We recognized that this might not be something we able to accomplish within the term," she said. "But this is apart of the larger conversation in an effort to address sustainability."
There is a task force in place working on smaller initiatives to roll out before the end of Rankin and Smith's term. They are also working to release a guide to lay out opportunities for students to learn how to live more sustainably on campus.
Rankin and Smith hope to see the work of their administration carry over to the next duo that will take office and maintain a continuous, positive growth within the organization. Student government elections for the 2020-2021 school year will take place March 4-6.