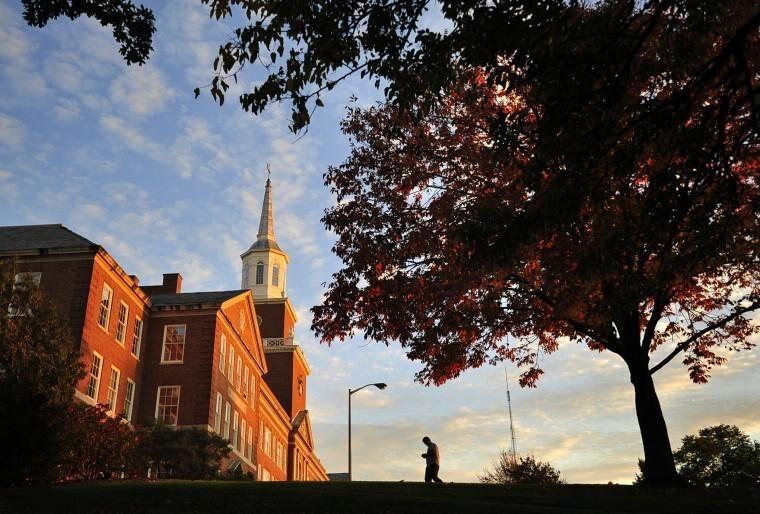 The University of Cincinnati's (UC) Undergraduate Student Government (SG) passed a resolution Wednesday night calling on officials to remove Charles McMicken's name from campus property. 
Student leaders approved the resolution with 23 votes in favor and two abstentions – sending a clear signal to UC administrators of the student body's desire to discontinue the use of McMicken's name. 
The resolution recommends the university should replace McMicken's name with the names of noteworthy minority alumni. 
"... The legacy of Charles McMicken as a white nationalist, slaveowner and racist is disgusting and appalling to an institution that preaches diversity and inclusion," the resolution reads. 
As a trader, merchant and property owner in Louisiana, McMicken is known to have bought and sold slaves as part of his regular business dealings. Although he is not thought to have owned or operated any plantations, he did use enslaved labor at his homes and at a store he owned in Louisiana. 
McMicken was a businessman from Pennsylvania who regularly traveled through Cincinnati for his trading enterprises. Though he was never educated himself, McMicken was an active supporter for higher education. After his death in 1858, McMicken left behind roughly $1 million to establish the University of Cincinnati.
Due to a stipulation in his will that bequeathed real estate to the city of Cincinnati "for the purposes of building, establishing and maintaining as soon as practicable, after my decease, two Colleges for the education of white Boys and Girls," many attribute the founding of UC directly to McMicken. 
In late 2018, UC President Neville Pinto appointed a group to study and submit a formal report on McMicken's life and legacy. 
Following a recommendation from the president, UC's Board of Trustees voted in late 2019 to formally disassociate McMicken's name from the College of Arts and Sciences (A&S). 
The use of his name in association with A&S had been largely informal since the late 19th century. Despite his name being attached to the college's flagship building, McMicken Hall, the direct use of his name in relation to the college itself fluctuated until 1953 when it was used more consistently. 
However, trustees also agreed to Pinto's recommendation to continue the use of McMicken's name outside the college.
In their resolution, student leaders criticized Pinto's previous recommendation to trustees to keep McMicken's name in use on campus property, though he was quick to recommend the removal of Marge Schott's name from the university's baseball stadium. 
"We value the voices and diverse viewpoints of our students, faculty, staff and alumni," university spokesperson M.B. Reilly said in a statement. "As a learning community, we realize such symbols must be open to further examination, reflection and dialogue. As this work continues, we appreciate the collective input from our campus partners." 
Rather than completely erasing every trace of McMicken's name from university property, the resolution proposes that "a plaque recognizing McMicken's donation will be placed near the three pillars that also recognize historic African American graduates of the university. The plaque would inform readers of the history of UC's beginning and how this land became the university." 
Senator-at-Large Janice Rotich said the removal of McMicken's name is a much-needed change. 
"This is a point of trauma for Black students on campus, especially as he did trade our ancestors into slavery," Rotich said. "And rather than erasing history by taking his name off of the building, I think it's just the revocation of commemoration of this man." 
A&S Senator Dillon Trafzer, one of the bill's authors, said next steps include meeting with university officials in effort to move forward with removal of McMicken's name. Doing so requires approval from the board of trustees. 
Resolution bills are only valid for the fiscal year in which they are passed, according to SG's bylaws.