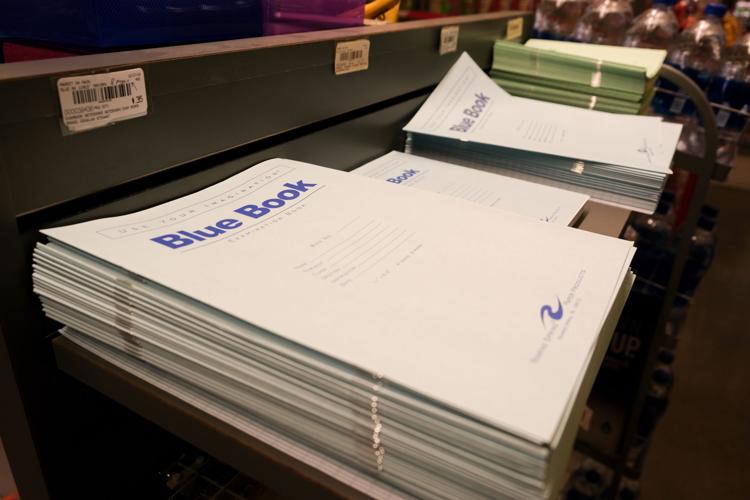 Just in time for mid-terms, the University of Cincinnati's Undergraduate Students Government (SG), is making blue and green examination books available to students at no cost for the remainder of the school year.
At its weekly senate meeting Feb. 12, SG unanimously voted to allocate $1,250 from its budget toward buying enough blue and green books for every UC student through the end of the spring semester.
Being that this initiative was spearheaded by his administration, student body President Chandler Rankin said he got the idea for the legislation while at conference of student body presidents from across the country.
Specifically, he cites a similar initiative by the Undergraduate Students Association Council at the University of California, Los Angeles (UCLA).
From there, conversations with university administration began as to how to make these books free at UC as well, said Rankin.
Acknowledging the low cost of blue and green books – generally 50 cents per book, he still believes the bill could help relieve some slight financial stress for students.
"I think if we're requiring a resource for students, it is within [SG's] scope to be able to provide it instead of putting the additional burden on them to do so," he added. "It may not break the bank for some of our students, but for others it's an additional thing that has to be paid for."
Rankin also noted that at a rate of about 5,000 per year, UC does not go through nearly as many books as UCLA which use approximately 32,000.
But even at that rate, this bill gives SG the opportunity to at least reach out to about 1,200 students a semester, he said. "I say that's [a] considerable impact."
While it will only last until the end of this year, a possibility does remain for this initiative to be replicated next year whether it's under the new administration or not.
In fact, conversations with UC Campus Services about what this initiative might look like in the future are already underway, with the current bill acting as a test run, said Rankin.
Citing the low cost to the university to stock these books, it may also become prudent for UC to adopt this initiative on its own, he said, however, adding that nothing is set in stone.
"I mean when you look in the grand scheme of things for our university, if they can provide that they might go ahead and do it," he said.  
But even if the initiative isn't adopted by the university, Rankin would like to see SG continue to pass similar legislation beyond his time in office.
"It would be my hope that in some way, shape or form Undergraduate Student Government passed this semester considers what this initiative should look like and how we can continue to provide a similar service to our students," he said.
The bill is officially slated to go into effect Feb. 26, with the blue and green books then being made available at select retailers on campus at no cost to students.