The University of Cincinnati Undergraduate Student Government (SG) appointed four leaders for the 2019-20 administration during its Wednesday senate meeting.
Here are the students that were selected:
Speaker of the Senate — Emma Rich
Emma Rich, who previously served as senator for the College of Nursing, was selected as speaker of the senate. Focusing on three platform points, Rich hopes to further implement Robert's Rules of Order — an oft-cited manual for parliamentary procedure in the U.S. that aims to prioritize fairness.
Understanding the rules is a fundamental aspect to the position, Rich said. In a presentation, Rich said accountability is the biggest area the senate needs to improve upon. She also wants to improve training to ensure senators understand the expectations of their roles, and she plans to use her platform to advocate for several student issues.
Rich gave credit to outgoing speaker Vineela Kunapareddi, saying she perfectly embodies what a leader looks like.
"I think she has done a perfect job at the position, and so I'm not here to rip apart what the speaker looks like and completely reform it," Rich said. "I just want to enhance what she has already done."
Internal Holdover Senator — Joanna Rebitski
Joanna Rebitski, who previously served as senator for the College of Medicine, was selected as internal holdover senator. Rebitski plans to focus on three platform points: communication, collaboration and accountability.
Rebitski plans to enhance accountability by introducing an anonymous feedback form, having tribunals craft a budget and conducting regular tribunal check-ins.
She also stressed the importance of tribunal retreat in the summer or fall, which would allow students to "focus on networking between different tribunals and build relationships so that they can collaborate moving forward," she said.
External Holdover Senator — Karl Dierking
Karl Dierking, who previously served in the executive cabinet as director of athletics and spirit, was selected as external holdover senator. Dierking highlighted three platform points: encourage, empower and educate.
He plans to focus heavily on collaboration and wants SG members to step beyond their titles and create a voice for the student body. He also wants to highlight SG directors and initiatives through social media spotlights.
"You cannot encourage people to do any of these things if they do not feel empowered to do it," Dierking said.
Treasurer — Reiley Cowart
Reiley Cowart, who served as director of federal policy this year, was selected as treasurer of the senate.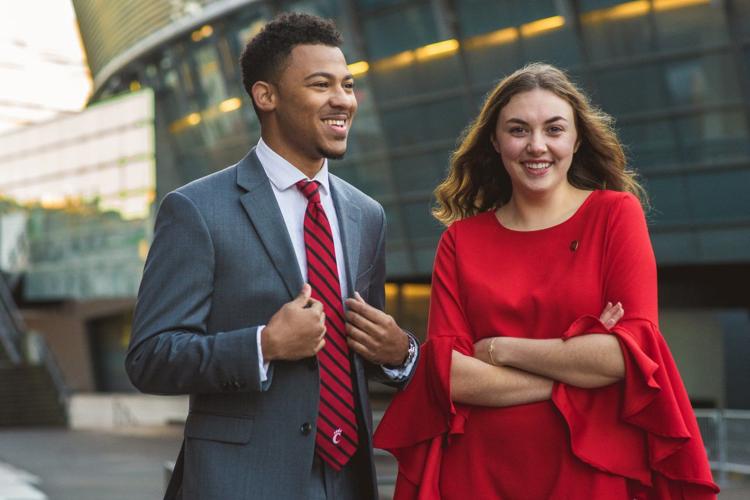 Cowart stressed the importance of collaboration, saying SG can better communicate with tribunals and various offices to ensure funds are properly allocated.
Additionally, Chandler Rankin and Abbie Smith were sworn in as president and vice president, respectively. Seven at-large senators, all of whom were elected by the student body, were also sworn in.
Related: Here's who will lead SG in 2019-20