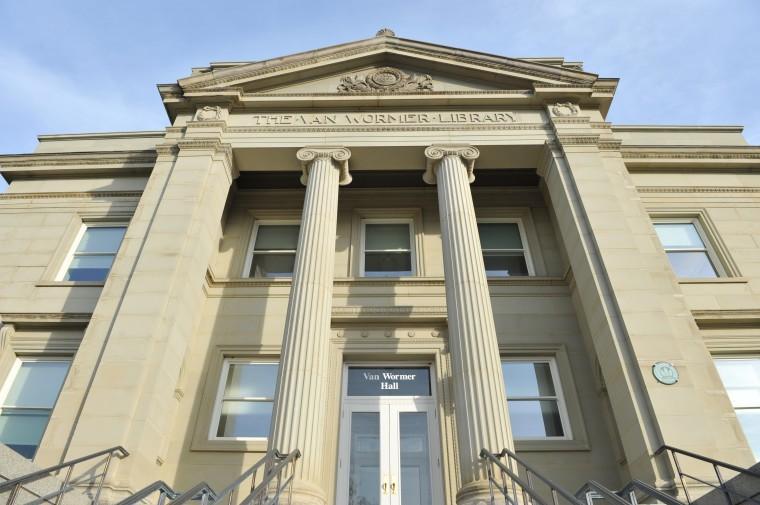 Starting salaries for top administrators at the University of Cincinnati (UC) are rising, and some faculty worry it's part of an ongoing cycle of competition that isn't in the university's best interest. 
Valerio Ferme, former dean of the College of Arts and Sciences, was promoted to chief academic officer in June and officially began his new role on Aug. 3 with a starting salary of $485,000. 
On paper, his salary is more than that of his predecessor, Kristi Nelson, whose starting pay in 2017 was $480,000. However, adjusting for inflation shows Ferme is making roughly 9% less than Nelson was during her first year as provost. Still, provost salary growth over the past nine years has far exceeded the rate of inflation. 
Pay for provosts at UC has surged in the past decade. Since 2012, the position's starting salary – adjusted for inflation – has increased by 105%, according to public records and data collected by the Buckeye Institute, a conservative think tank based in Columbus, Ohio. 
"UC salaries are benchmarked against peer institutions, and this compensation falls in line with the approximately 130 national peers that are also recognized as Research I Universities by the Carnegie Classification of Institutions of Higher Education," university spokesperson M.B. Reilly said in an emailed response to a question about the university's justification for the increase.  
While it is often argued that the university needs to offer competitive pay to attract the best candidates for administrative roles, that same argument is not used for other employee groups, Faculty Senate Chair Greg Loving said. 
"And so, it comes off as a bit disingenuous when you only apply it to the people making, by far, more than anyone else at the university," he said. 
The university could've saved as much as $1.2 million in 2020 – a year in which UC's financial stability was in doubt due to the COVID-19 pandemic – if salaries of just 11 high-ranking central administrators had grown with inflation instead of outpacing it, according to a joint budget report by the UC chapter of the American Association of University Professors (AAUP) and Faculty Senate.
Median salaries for managerial employees from 2013 to 2020 grew at a rate that far outpaced both inflation and the salary growth of any other employee group, according to the report. And from 2012 to 2020, total base salaries for employees with presidential or provost titles grew by 73% and total base salaries for those with dean titles grew by 26%.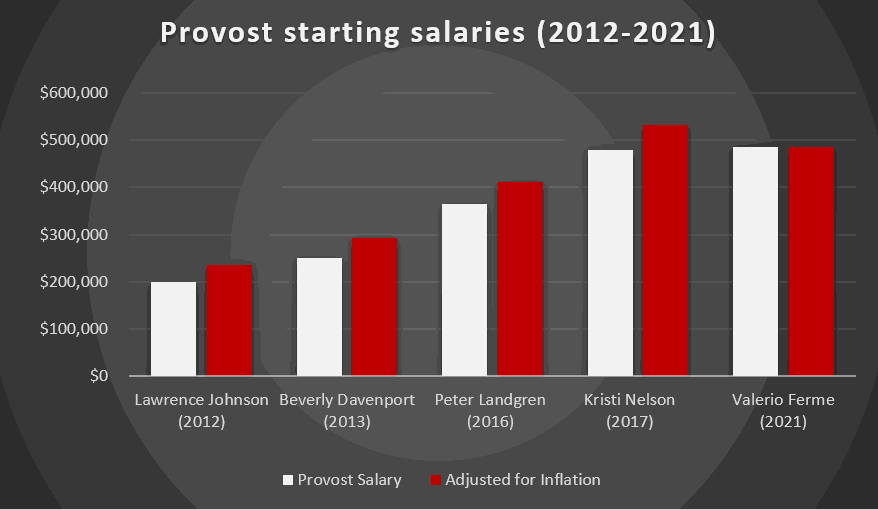 In comparison, faculty salaries only just kept up with inflation while salaries for adjuncts and many office staff lagged behind the inflation rate. It's worth noting, however, that the university spends the most money in total on instructional salaries. But that makes sense considering post-secondary teachers made up 39% of UC's workforce in fall 2020, according to university data.
Spending on central administration salaries rose due to higher pay and an increased number of administrative employees, the budget report found, adding the rise in college-level administration salary spending was driven solely by higher pay.
"One of the things that causes the increase in spending … is not necessarily individual salaries, but the number of people who have those kinds of jobs," said Phoebe Reeves, vice president of the UC chapter of the AAUP. "Although the individual salaries are also much higher than what most teaching faculty make."
And this issue isn't unique to UC. The number of administrators as well as spending on administrative salaries rose "considerably" over the past decade, the national chapter of the AAUP found in a report released in July. Overall, spending on administrative salaries per full-time equivalent student increased by 24% at public colleges and universities. 
"Everybody's struggling with this," Reeves said. "And it's been an ongoing issue for a couple of decades." 
Both Reeves and Loving said the rise in administrative salaries is due in part to a "arms race mentality" among decisionmakers in higher education. 
"And it's compounded by the fact that more and more people seem to see upper administration as more like corporate, CEO type jobs," she said. "In other words, it's about their upward career path, rather than staying long term with an institution and building relationships." 
Frequent turnover within the administration has created frustration among some faculty who have worked at UC for decades, Reeves said, adding those making decisions to cut resources will often not be around to see the long-term impacts. "… We just want to be able to do our jobs the best we can," she said. 
Loving also likened the model governing academic administration at UC to corporate America, adding that approach is unsustainable, especially when it comes to salaries.   
"You can't just keep paying the new person more than the last one made forever," he said. "There has to be some logic as to why they're getting the money they are based on the experience that they have."
The increase in spending on administrative salaries is just one piece of an ongoing discussion about the university's priorities. Faculty have complained that permanent budget cuts, the long-flawed budget model and the athletics deficit are detracting from the university's core academic mission. 
Loving said administrators are listening to faculty concerns but they feel trapped in a "bubble of competition," which translates into prioritizing spending on things like athletic facilities and lavish amenities. 
While she has never worked closely with Ferme, Reeves said she is optimistic about his tenure as provost. 
"It's really great that we have an internal hire who already knows a lot about the university and what students and faculty value," she said. "I actually really am hopeful that he's going to really do the work that will benefit our students."
Though it is unlikely issues faculty have raised regarding spending and the university's priorities will be resolved any time soon. "It's hard to create institutional change quickly," Reeves said. "It's like turning around a very big boat."