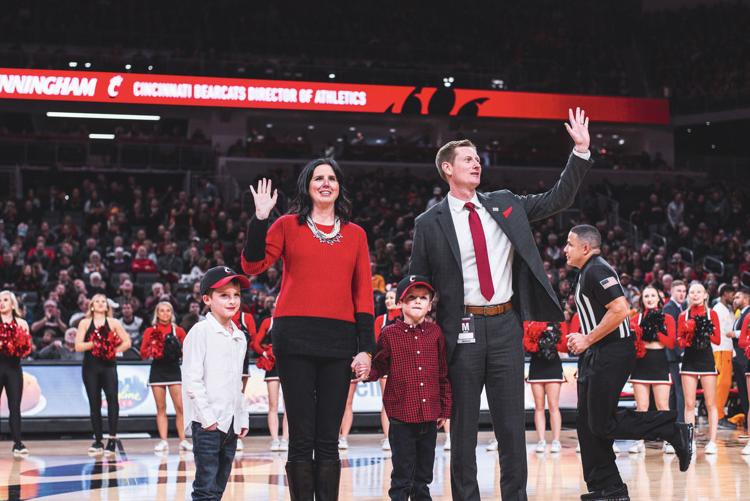 Hunter Elmore, a fourth-year industrial design major and honors student at University of Cincinnati, rarely attends athletic events on campus.
Yet over the past four years, Elmore has paid almost $5,000 to help subsidize deficits in the UC Athletic Department.
"I don't think UC is a school that is outwardly renowned for its athletic programs," Elmore said. "It's more of a center for learning than anything, at least in my experience and my reasoning to go there. I think that sacrificing our budget and our tuition, and obviously if we could pay less tuition to get the same education, it seems kind of ridiculous that we're overpaying for that."
If current trends continue, UC's athletic deficit will only get worse.
In 2005, UC's athletic deficit was $5.6 million, significantly less than several other public universities in Ohio. Records show that in 2019, it was $29.7 million — a five-fold increase.
These annual deficits, paid for with tuition and other general fund dollars, have taken an enormous financial toll on the university's bottom line.
Over the past 12 years, deficits in the athletic department have totaled more than $250 million, according to UC's NCAA Revenue & Expense reports from 2008 through 2019.
John McNay, a history professor at UC's Blue Ash campus, has tracked what he calls UC's "destructive deficit" since he began teaching at Blue Ash in 2000.
"It is totally irresponsible but, through several administrations, the university appears totally committed to squandering greater and greater financial resources on playing games," said McNay, who also serves as president of the Ohio Conference for the American Association of University Professors. "We know boosters provide a lot of pressure and we all enjoy watching the athletic contests. But what gets lost in all this is the reason the university is here — the academic mission."
The News Record emailed UC spokesperson MB Reilly multiple times requesting an interview with UC President Neville Pinto to discuss the athletic deficit. Reilly did not respond to the requests to interview Pinto.
Mike Bohn served as UC athletic director for six years before leaving in November 2019 after the University of Southern California hired him as its athletic director. He initially agreed to be interviewed for this story, but later Brandon Sosna, USC Athletics Chief of Staff, said Bohn was no longer available.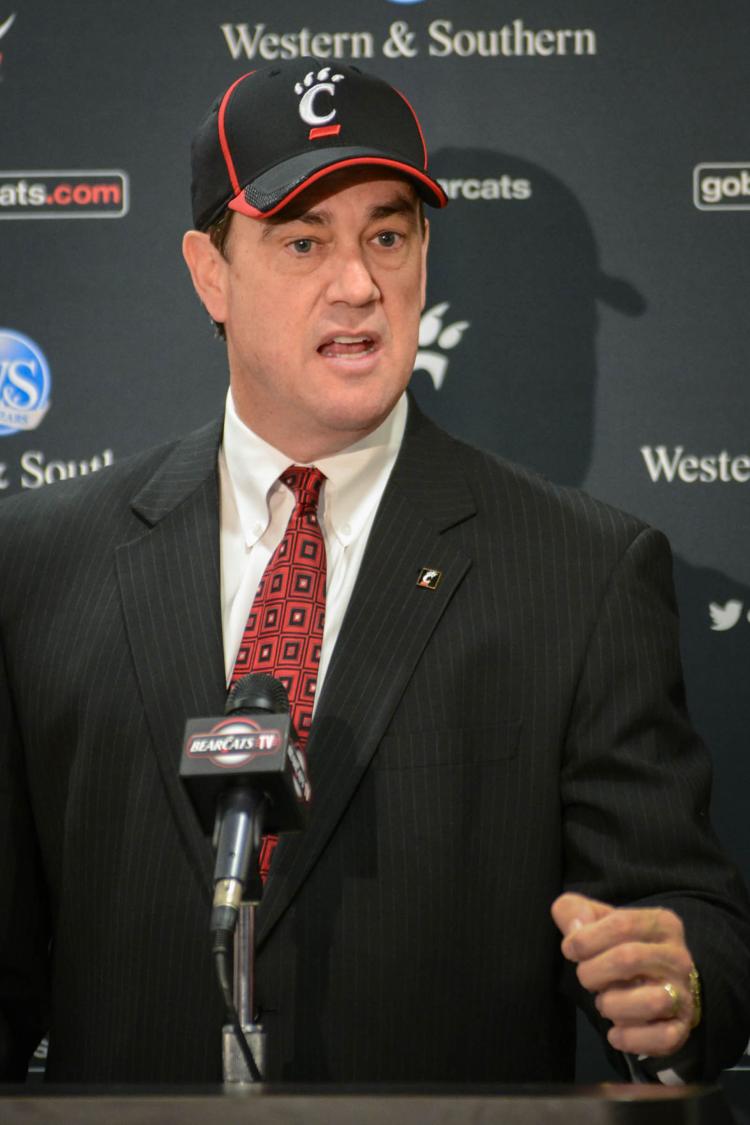 Records show that during Bohn's tenure at UC, the athletic deficit totaled more than $160 million—a 79% increase over the previous six years.
In December 2019, UC officials announced they'd hired John Cunningham, formerly the Deputy Athletics Director for Administration at University of Minnesota, to replace Bohn.
In an interview with The News Record, Cunningham said he was aware of the ongoing deficits in UC athletics and instructed his staff to thoroughly examine the Athletic Department's spending.
"One of the first things I did was meet with all of my staff and address our financial situation," he said. "I just made sure they understood that we need to be tremendous stewards of any resources that we get from the university."
Cunningham said over the years UC officials decided to use tuition and other general fund dollars to cover the athletic deficit and that he relies on their judgment.
"That's a university decision," he said. "I am going to rely on those at the highest levels of the university to make the best decision possible in terms of our student fees."
However, at a student government meeting in February, Cunningham said, "We have to be very honest about it and transparent about it… We cannot compete on this national level [without the subsidy]."
In its bid to compete at the national level in 2019, the UC Athletic Department spent $66.8 million. Less than 14% of this—$9.3 million—was used as scholarship aid for UC's 383 student-athletes, records show.
Officials spent more than $13 million on coaching salaries, two-thirds of which went to 20 coaches on the football and men's basketball teams, records show. Another $8.3 million went to athletic department administrators.
In all, athletic department officials spent $21 million on coaching salaries and administrators—twice as much as it spent on student athletes.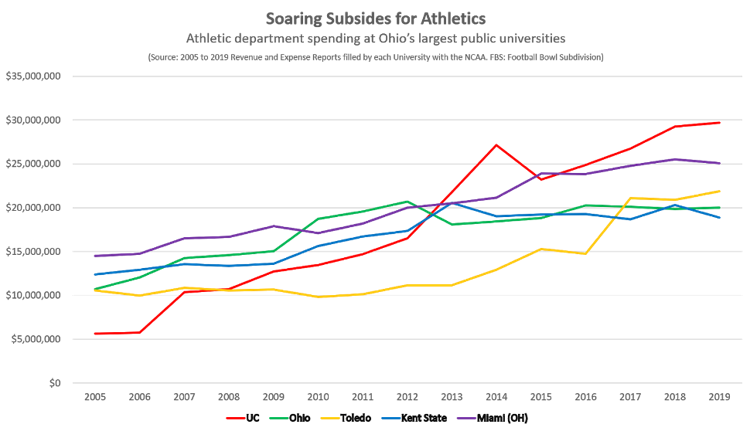 Fifteen years ago, the UC Athletic Department's budget deficit was $5.6 million—significantly less than the athletic budget deficits at Ohio University, the University of Toledo, Kent State University and Miami University, records show.
By 2019, UC's athletic budget deficit soared more than 500% to $29.7 million—significantly more than the athletic deficits at those same schools.
By comparison, Ohio University's athletic budget deficit rose by 96% during the same period to $19.9 million in 2019. At Kent State University, the athletic budget deficit rose by 53% during this period to $18.8 million in 2019. 
UC's athletic budget deficit escalated significantly after Santa Ono became president in August 2012 and continued during his tenure, which ended in July 2016. The athletic deficits have continued to rise each year under President Pinto.
UC's 2019 report of a $29.7 million athletic budget deficit is the largest athletic deficit in the university's history, surpassing $29.2 in 2018.
McNay said more transparency from university administrators is a vital step to addressing the current subsidy. He also said students should not be forced to cover the cost of the UC Athletic Department's soaring deficits.
"Most students have no idea that they are paying so much for something that the majority of students never attend," McNay said. "It would be best if the university provided students with an 'opt out' choice. No student should be forced to pay for something so peripheral to their education."