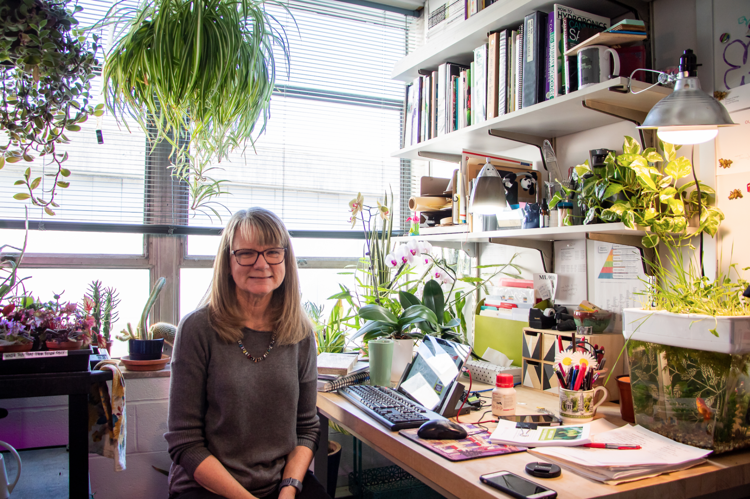 As premier horticulture expert and educator, Sue Trusty has her hands in all the cutting edge when it comes to plants — these days, that means cannabis. As the only full-time horticulture staff member, Trusty pools knowledge from local experts and her medical marijuana meetup group in order to push the program forward. The open-armed cannabis industry is slowly but surely making its way into Ohio, and her students leave her classes with real, hands-on expertise in specialized growing methods.
---
The News Record: You teach classes in cannabis and hemp. What's the reason for that?
Sue Trusty: Cannabis is big business. It's becoming available in more and more states, and students are interested in it, but more importantly, you can get a really good-paying job in the cannabis industry. Even before Ohio started doing it, I thought, 'I should learn more about this.'
So, I got a Faculty Development Grant to go to California and see what it was all about, and then Ohio passed it just for medical cannabis. I met a lot of people who were getting their businesses going, and they said, 'We get hundreds of applications, and the people who are applying are people who use cannabis, maybe not in the best way. Maybe they're interested, but they have no experience or training at all.' So, I'm thinking, 'We need to train the students to grow cannabis!'
TNR: What does the law look like in Ohio for cannabis right now?
ST: All cannabis sativa is what you think of as marijuana and what you think of as hemp. Some varieties produce THC, and those varieties are marijuana, and then the varieties that produce less than 0.3% THC are considered hemp. But everything was prohibited federally in the U.S. in order to keep people from using THC — it's the same plant. In 2018, the Farm Bill, which was passed at the last minute, like in December of 2018, lifted the federal prohibition on hemp — not on other cannabis. But everybody can't go out and start growing hemp, because it was up to the states to see what that would look like.
So, in Ohio now, you can grow hemp, but you have to have a license, you have to apply for it and you have to fill out a lot of information about how you're going to grow it and what you're going to do with it. Or, if you're a school or university and want to research it, you don't even need a license, you can just grow it.
TNR: What classes are you piloting on the subject?
ST: I'm actually teaching a class for the first time in May: it's called Hops and Hemp Field Experience. Hops and hemp are botanically related — they're two plants of very few plants in the same plant family and have a whole lot in common. Hops are what they use to bitter beer, and the microbrewery industry is exploding.
TNR: I've heard hemp is somewhat of a wonder-plant. What will you grow it for in this class?
ST: Oh, you would not believe all of the fantastic things you can do with it! The hemp we're going to grow in several different ways. You can grow hemp for fiber — for ropemaking, cloth, paper — you can make building materials out of it. It's like a biological glue, so it's like an all-natural building material that's not wood. The hemp plant is really tall — like eight feet tall, if you grow it that way, and it has all of these really strong fibers in its stem. You can grow it for seeds, which are very nutritious for animals or people, or oil, which is CBD oil and very popular right now for its medical purposes. In that way, you would spread the plants out more; they would be shorter and bushier and have more flower-heads. And then the most labor-intensive, if you were going to grow drug cannabis, you would grow it a completely different way.
TNR: You also have an introduction to cannabis class — what's that like?
ST: The intro is a survey course. It's really interesting because I have like 20 guest speakers — I don't know everything there is to know about cannabis, you know! I'm learning as much as I can. So, in the first third [of the class], they learn the history, anthropology, law, the politics surrounding it; all the background — that's all guest speakers. Even substance-abuse people come in to speak because a certain number of people do get addicted to cannabis. Then, the second third is how to grow it: I teach that, because I grow things! And in the last third, it's all about what happens after you harvest that plant. There's lab testing that has to be done while you're growing it and after, then it gets processed into flour, gummies, oils that you can vape, brownies, edibles; you know. So, we have people who come to speak in all those fields — we have testers, processors, dispensary people, patients [and] doctors. I know all the local players pretty well; we all meet once a month for the medical marijuana meetup. So, this course goes over everything, and [the Hops and Hemp course] is the hands-on course.
TNR: What does the future look like for this subject at UC?
ST: What we're putting together is a certificate program, which is at the last step for approval. Students can take those two classes, the survey and the hands-on, and then three more classes [to] get a certificate. This is intended for, say a business major or maybe a chemistry major, to get into the business-side or processing-side of the industry. The reason the certificate came about was because all of the guest speakers from UC who come and speak in that first bit of the survey class were saying we should do a certificate! We have all these classes that all work together — cannabis is out there, and people are incorporating it into their coursework.