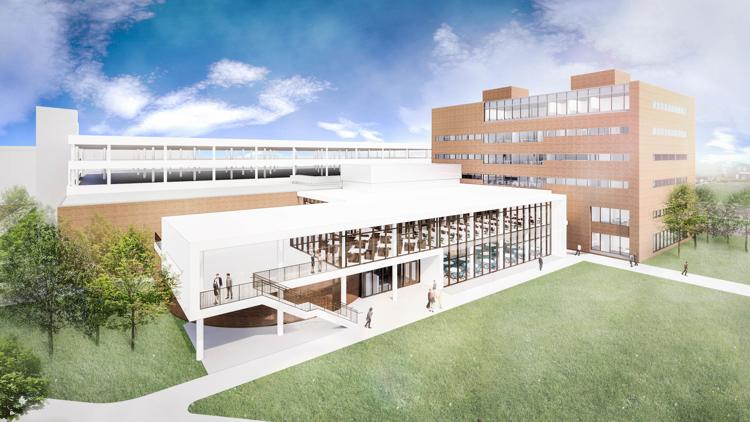 The University of Cincinnati continues to proceed with plans to renovate the old Carl H. Lindner Hall at 2925 Campus Green Drive into a new facility for the College of Law.
The renovations, approved by the UC Board of Trustees Oct. 24, 2017, will cost $40 million. The building is currently being used as a temporary space for employees of French Hall West, which is undergoing a heating, ventilation and air conditioning renovation. Construction will begin in fall 2020 after departments move back to French Hall West.
UC has signed a contract with Skanska USA, which previously completed work on Fifth Third Arena and the UC Medical Center, to complete the renovations, reported the Cincinnati Business Courier. BHDP Architecture has been selected as the architect for the project, and Perkins + Will will be the programming and design architect for the project.
The renovation has a targeted completion date of 2022. 
"I feel very fortunate to be leading the college of law at this time,"said Verna Williams, newly appointed dean of the UC College of Law. "It's an important marker in our history—it will be a brand-new building to us. I'm thrilled about the whole process and I'm looking forward to getting started." 
From new windows to new walls, the 84,440-square-foot facility will be completely transformed.The 32-year-old building's mechanical and electrical systems will be replaced, and a glass-enclosed addition will be constructed. Classrooms will be enlarged with space for faculty and students to gather and study.  
"We heard from students that they really wanted places that they could study in, which we really don't have a whole lot of in this current building," Williams said. "There's going to be lots of places for people to gather — I think that's going to help." 
Other amenities include new state-of-the-art technology, wider hallways, more office space for faculty and staff, a law library with several floors and a large auditorium to host community events. The building also has a goal to earn the Leadership in Energy and Environmental Design (LEED) certification, a point-based rating system for evaluating new construction developed by the U.S. Green Building Council. 
"We're not starting from scratch—we're taking an existing structure and renovating it, adding to the sustainability of the process," Williams said. "It sends a message that we are living the values that we espouse." 
The new location will allow the law school to feel more integrated with the campus and will help to promote interdisciplinary studies and degree programs with nearby colleges.  
"The law is a profession that touches all different disciplines," Williams said. "There's no better way to inculcate our students with that value than to actually be on campus and to work in collaboration with different colleges. As a small college, we benefit from that and it's one of those things that I've always wondered why we haven't done more of."
The UC College of Law previously considered building the new facility at the banks in downtown Cincinnati. Decisions were made to stay on campus instead of moving to the riverfront. By keeping the law school local rather than moving downtown, the school ensured that law students' connection to campus culture remain strong.
"It will be great because we remain part of the greater university community," Williams said. "It's a possibility that we would be isolated [downtown] — so for us to be on campus is a big deal. I think it's important for us to be part of the larger university because we're stronger as a part of it."