Currently being debated in Washington, the Republican-sponsored tax bill could have massive implications for many Americans struggling with student debt.
According to the Pew Research Center, roughly four in 10 people under the age of 30 have student loan debt. The tax bill going around in the Senate would keep most student loan policies intact.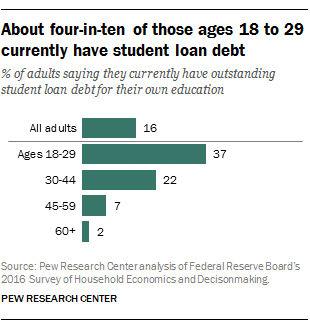 However, the House bill would make large policy changes compared to current law.
If Republicans succeed and get a plan to President Trump's desk, it is likely that the bill will be a mesh between the two House and Senate bills. It is possible that this bill will affect all students that deal with student loans.
Current U.S. policy allows individuals with incomes below a certain level to subtract up to $2,500 of student loan interest each year. The House bill on taxation wants to eliminate this deduction to clear room for the national deficit.
According to the Federal Reserve Bank of New York, student debt totaled $1.34 trillion nationally at mid-year 2017.
"Try not to get into [student debt]," a Fifth Third Bancorp investment executive said. "You have to research the options that you can get, and you're much better off if you can get someone to cosign. If a student can avoid taking on any loans whatsoever, it's going to benefit them in the long run."
The median bachelor's degree borrower owes a median of $25,000, while those seeking graduate degrees owed a median of $45,000, according to the Pew Research Center.
The Institute for College Access and Success has several recommendations for recent graduates to keep in mind regarding paying back student debt.
"It's important to keep track of the lender, balance and repayment status for each of your student loans," the institute writes. "When federal loans come due, your loan payments will automatically be based on a standard 10-year repayment plan. If the standard payment is going to be hard for you to cover, there are other options, and you can change plans down the line if you want or need to."
If you are looking for someone to talk to about your student debt situation, visit the One Stop Student Service Center on the second floor of University Pavilion. Each regional campus has their own version of One Stop as well.
You can email One Stop at onestop@uc.edu or call them at (513)-556-1000.
If you want to file a complaint about your student loan servicer, contact the Department of Education or the Consumer Financial Protection Bureau.
"There are various programs that will forgive all or some of your federal student loans if you work in certain fields or for certain types or employers," the institute writes. "Public Service Loan Forgiveness is a federal program that forgives any student debt remaining after 10 years of qualifying payments for people in government, nonprofit and other public service jobs."
To find out more about Public Service Loan Forgiveness, visit IBRinfo.org.