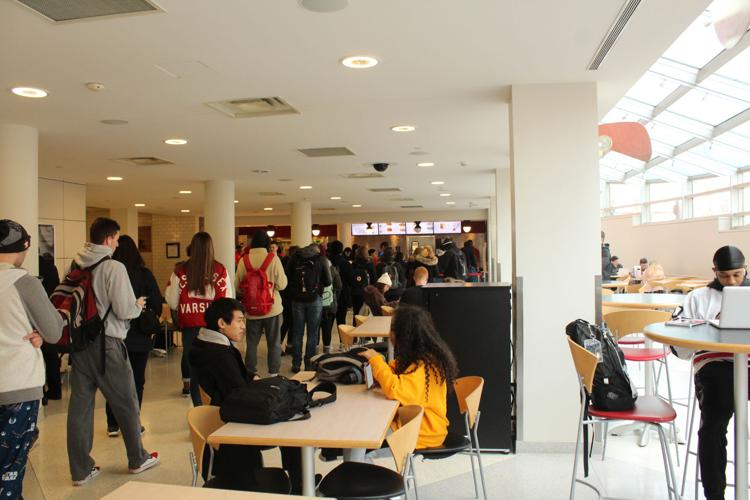 The University of Cincinnati's Department of Food Services is looking to bring two new additions to the Tangeman University Center (TUC) food court, in an effort to meet the changing demands of students.
Representatives from Food Services spoke to UC's Undergraduate Student Government (SG) Feb. 12 during its weekly senate meeting to discuss the new additions coming to the TUC food court in the near future.
Although nothing has been finalized just yet, the potential brands that will likely be coming to TUC are Qdoba Mexican Eats and Panda Express, said director of Food Services Katy Wahlke to the members of SG.
As UC's campus continues to evolve, Food Services hopes to accommodate more and more students every year, Wahlke said. The move is also an attempt to increase the popularity of other brands in the food court, she said.
"It's pretty easy to see just from looking at the lines where the most popular locations are," said Wahlke, citing Chick-fil-a as the dominant brand in TUC.
While Food Services only announced the arrival of two new brands, it plans to replace four of the five brands currently in the food court, said Wahlke. However, Chick-fil-a will remain.
The four brands in question are Taco Bell, Burger King, MainStreet Pizza and Greens to Go & KumaNeko Sushi.
"We want to stay fresh and we want to keep current, it's just the cycle of changes," she said.
As plans have not been finalized for the remaining two brands, Food Services is not yet ready to make an announcement, she said.
Those employed at TUC's current restaurants will likely be transitioned into one of the new brands, said Wahlke. In making its decision as to which brands should be pursued as new additions to the food court, Food Services surveyed student opinion.
"We're looking for all kinds of ways to connect with students and get student feedback," she said.
No timeline was given as to when these new brands are expected to arrive at TUC, and Wahlke did not immediately respond to additional questions from The News Record.
In answering questions from student body senators, the representatives from Food Service also touched on what will happen to the space that once house the old Starbucks in the Steger Student Life Center.
That space has remained vacant ever since the Starbucks was moved to the new Carl H. Lindner College of Business last year.
Having been reacquired from Food Services by the university, the space will no longer serve as a food service space and will likely be renovated into a student lounge instead, said Todd Duncan, senior associate vices president of campus services, who was also at the meeting.
However, a formal announcement regarding the future of the space is not likely until fall 2020.