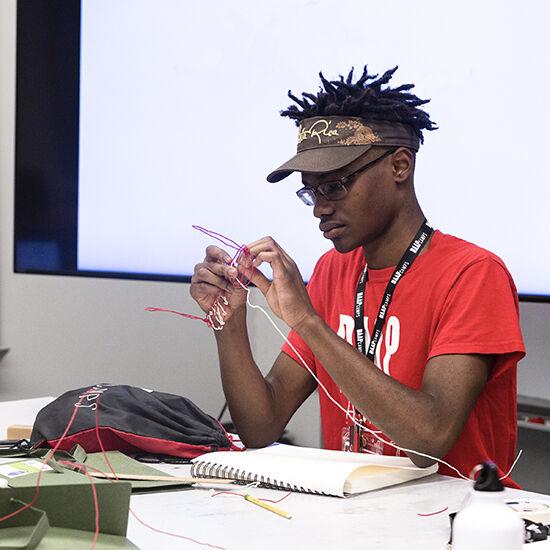 Procter & Gamble (P&G) is partnering with the University of Cincinnati's College of Design, Architecture, Art and Planning (DAAP) to bolster diversity and inclusion in the design program. Three scholarships - created by P&G and with the help of DAAP Dean Timothy Jachna, UC alumna Alexis Schrimpf and the President of the UC Foundation, Peter Landgren - will be implemented to increase underrepresented voices in the field of design. 
Scholarships are available for five graduate students, 12 undergraduates and 30 high schoolers to attend DAAPcamps, an annual summer program. 
The scholarships are focused on increasing diversity, which includes anyone underrepresented in the design industry: racial minorities, the LGBTQ+ community, folks with disabilities, those who have grown up with adversity and more. The scholarship is intentionally broad to stay true to a "non-discriminatory environment," according to Landgren.  
"They [P&G] need people who come from different backgrounds, to be able to speak from the voice of that ethnicity, LGBTQ community, and so on," Landgren said. "Procter & Gamble wants to make sure they serve the world, and if they are all white, they're not going to serve all the world."
One example of how P&G currently recognizes the importance of diversity is through SeeMe Beauty. The skincare line is designed for women over the age of 50, or people who have gone through skin changes due to menopause. This type of inclusivity would not have happened without hearing older voices, according to Landgren. "Think about the magazines that we look at and [advertisements on] Sephora," said Landgren. "They're [only] catering to people [in their early 20s] by and large."
There aren't enough diverse voices in design because some students aren't comfortable with the idea of being a designer, according to Landgren. "One of the interesting aspects of this is [the number of people] in high school who don't know that design is an [option]," said Landgren. "You don't necessarily have to come from an art background. That's part of the high school component of this, to open people up—especially in our Cincinnati public schools—to what design fields are, and that you don't have to be a beautiful artist to become a designer."
Rather, becoming a designer requires the craft of storytelling, according to Landgren. To diversify design by creating makeup for all skin tones, clothing for all sizes, makeup marketed for all genders and more, designers need to understand each consumer's story and how to address their needs.
Thinking of becoming a designer? Landgren provides a question for students to ask themselves: "You have to be comfortable with yourself and have a knowledge of others, because there's a story to be told. So, are you a good storyteller?"