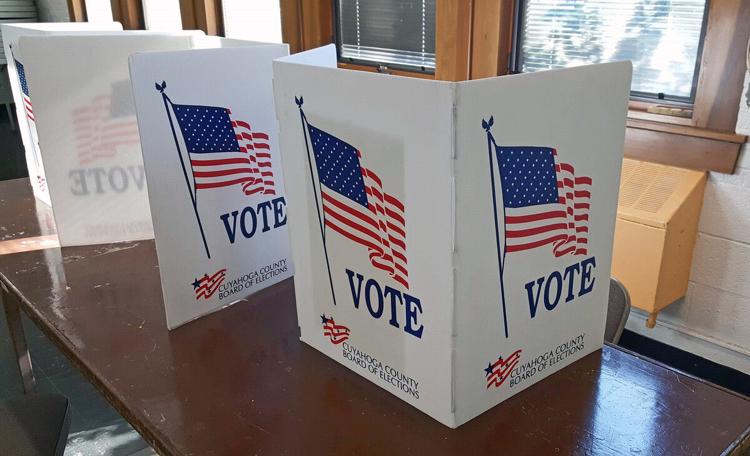 With the Oct. 5 registration deadline quickly approaching, student leaders at universities across the state are calling out problems in the online voter registration system that could deter students living on campus from voting in the upcoming election. 
On Sept. 16, the University of Cincinnati's Undergraduate Student Government (SG) passed a resolution demanding the Ohio General Assembly and Secretary of State Frank LaRose address a "discrepancy" in the state's online voter registration system.
That discrepancy has stymied students across the state from registering to vote online using their campus address, student leaders say. 
Instead, students looking to register to vote using a campus address are being directed to change their permanent address with the Bureau of Motor Vehicles (BMV) or fill out paper registration and deliver it, in person or by mail, to their local board of elections. 
However, student leaders at UC say this only creates additional barriers for students, some of which lack access to reliable transportation or postage.
"We're seeing an incredibly important election occurring within the next couple of months and there's a large population of students who aren't able to register," said Josh St. Pierre, chair of SG's Government Relations Committee. 
The registration deadline is now just weeks away, but this is not the first time student leaders from across the state have attempted to address the issue. 
Last year, the Ohio Student Government Association (OSGA), which represents approximately 500,000 public university students, approved its own resolution calling on LaRose's office to address the issue, which it characterized as a "glitch."
OSGA Director Joe York said the resolution was sent out, but could not confirm whether it reached state officials. 
"It's not a glitch. I would say it's bait and switch," said David Niven, professor of political science at UC, who served as a speechwriter for former Ohio Governor Ted Strickland.
Like many other states, Ohio does offer online voter registration, but it is not as straightforward as it sounds, he said, adding that many are unaware the state requires those registering to vote online to have a valid Ohio driver's license.
Ohio law requires that any new voter attempting to register online must submit information that matches the BMV's database, said Maggie Sheehan, a spokesperson for LaRose's office. "If the information does not match, a voter will be directed to complete the paper voter registration form." 
The paper registration form does not require a new voter to have a driver's license. 
Anyone who already has a valid driver's license can change their address through the BMV's website, which should allow them to register online, Sheehan said.  
But many young people do not have a driver's license, Niven said. "If they do have a driver's license, it's almost certainly not linked to a college address."
Research shows that approximately 52% of 16 to 19-year-olds are licensed drivers, the lowest percentage among any age group.
"The laws were not created to encourage student participation," he added.  
The state of Ohio launched its online voter registration system in 2017. Officials at the time touted the system as being more secure than paper registration.
According to reporting from the Dayton Daily News, as a Republican state senator, LaRose sponsored legislation in the Ohio General Assembly that created the online registration system.
"[LaRose] is somebody who talks a lot about increasing access and talks a very good game about facilitating participation," Niven said. "But, in the end, the system that he proposed for online registration leaves an awful lot of people out and it certainly leaves out most college students." 
Though online voter registration has been around for a number of years, the high turnout of this upcoming election is putting the system's flaws increasingly in the spotlight, Niven said. "Nothing matches the intensity of a presidential election."
After receiving statewide reports of students not being able to register online, the American Civil Liberties Union of Ohio (ACLU) has begun to take a heightened interest, said Collin Marozzi, a policy strategist for the Columbus-based organization. 
"Universities around Ohio are large population centers," Marozzi said. "And if there's a significant portion of a student body that is having issues and facing additional hurdles to registering to vote that will have a detrimental impact on people's faith in our electoral system."
But given the infancy of this issue, the ACLU is not prepared to pursue legal action, he said, adding that instead the group will lobby state officials for a resolution before the October registration deadline. 
The organization is currently in litigation with LaRose's office regarding the state's signature-matching process for absentee ballots. 
Voting-rights groups also filed a lawsuit seeking to dismiss LaRose's directive to limit the number of ballot boxes for absentee ballots to one per county. A state judge recently ruled against that directive, but LaRose has declined to change his stance and will possibly seek an appeal. 
Given the influence of student voters on election outcomes, partisan debate surrounding students voting from their campus residences has existed since the ratification of the 26th amendment in 1972 lowered the voting age to 18, experts say. 
During national elections, Democratic candidates generally receive more support than Republicans from voters in college campus precincts, according to a 2015 analysis of election data.  
"So, to the extent that you can discourage students from voting, you're helping to tilt the electorate toward the Republicans," Niven said. 
Polling data shows that President Donald Trump currently has a narrow lead over Democratic candidate Joe Biden in Ohio. Trump won the state by eight percentage points in 2016. 
The pandemic, coupled with delays within the United States Postal Service and
continued election interference efforts, has already put this election in uncharted territory, Niven added. 
"You put all that together, and this isn't a little bit different than anything we've done before," he said. "This is entirely different than anything we've done before." 
Trying to change the state's online voter registration system would require either amending the law in the Ohio legislature or challenging the law in the courts, St. Pierre said. "It's not going to be fixed by Oct. 5." 
Leading up to the deadline, student leaders at UC are looking to raise awareness about paper voter registration, he said. "We're going to do everything we can to get physical forms in students' hands."