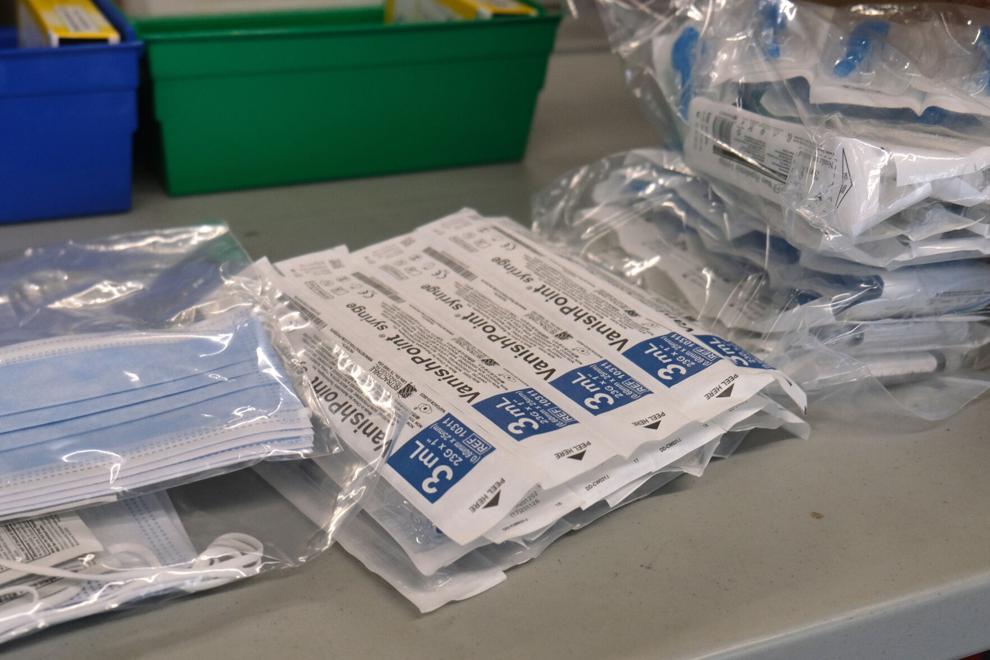 High-ranking officials at the University of Cincinnati (UC) expressed concerns among themselves leading up to the announcement of a university-wide COVID-19 vaccine mandate.
In anticipation of the U.S. Food and Drug Administration (FDA) giving full approval to the Pfizer COVID-19 vaccine, administrators deliberated over whether to swiftly implement a vaccine mandate for students, faculty and staff, according to emails obtained by The News Record through a public records request. 
The university announced Aug. 3 that in response to revised guidance from the Centers for Disease Control and Prevention, it would implement a universal indoor mask mandate. Officials at that time were also recommending the campus community get vaccinated against COVID-19 but had not made public any plans to issue a requirement. 
Just a few days before the start of fall semester, Dr. Dustin Calhoun, chair of UC's COVID Response Team, emailed top officials a link to a New York Times article reporting the Pfizer vaccine was expected to receive full FDA approval within days. 
"What is everyone's gut on whether this changing [sic] things for us?" Calhoun asked. 
Public institutions in Ohio are prevented under a state law from requiring vaccines that do not have full FDA approval. 
In response, officials had concerns about implementing a vaccine requirement too soon and without proper consideration. 
"My two cents – I'd stay the current course due to many decisions that need to be vetted regarding consequences, process, etc.," Tamie Grunow, senior associate vice president and chief human resources officer, said in an email. 
Valerio Ferme, UC's chief academic officer, expressed concerns about students who already received the Moderna and Johnson & Johnson vaccines and possible consequences for announcing the switch to a vaccine mandate so early in the semester. 
The university administered thousands of doses of Johnson & Johnson vaccine to students at its on-campus vaccine clinic last semester. 
"We are in a period of transition as people move on campus, and I fear that having to explain that the recommendation becomes a requirement AND that we need to say that it is a requirement that can only be fulfilled by Pfizer vaccination might be too quick a transition on the spot," Ferme said in response to Calhoun's email. 
"I do think however that it might give us an opportunity to see how other are reacting to it nationally," Ferme said. "I would ask all of us to look at news, information, Chronicle of Higher Education, InsideHigherEd and other such publications THIS WEEK. Then revisit. Not too quick, not too slow." 
Addressing the provost's concerns, Calhoun said the Moderna and Johnson & Johnson vaccines would be recognized as fulfilling the requirement, even though the university cannot legally require those vaccines.
"We would definitely not require (for both regulatory and medical reasons) Moderna and J&J recipients to revaccinate," he said. "Purely medically speaking, I am certain that a vaccine requirement provides the most protection to our campus while posing very, very little medical risk."
Calhoun noted that implementing a mandate just days into the semester might lead to backlash from parents and students, as well as legal action against the university. 
No lawsuits have been filed in Hamilton County or federal court against the university regarding its requirement for the campus community. However, a federal judge recently denied a motion seeking to halt employee COVID-19 vaccination mandates imposed by five local hospital systems, including UC Health. 
On the second day of classes, the day after the Pfizer vaccine was given full approval, UC President Neville Pinto asked the campus community to offer input on a possible vaccine requirement while the university studied vaccine mandates at other public institutions. 
Officials already knew other local universities were planning to announce a COVID-19 vaccine mandate, emails show. 
"We will be requiring the vaccine beginning in the spring semester," Doug Ruschman, associate vice president for marketing and communications at Xavier University, said in an email to UC officials Aug. 24. "As for timing, we will likely be sending out our message tomorrow (Wednesday) afternoon. If you hear back from anyone in which timing may be the same for your campus, feel free to let me know and we can connect." 
UC announced its vaccine requirement on Sept. 1, following similar announcements from Xavier and Miami University. 
Students, faculty and staff who are not already fully vaccinated must receive their first dose of the COVID-19 vaccine by Friday, with those receiving a two-dose vaccine required to be fully vaccinated by Nov. 15.
Members of the campus community who fail to meet the requirement deadlines must submit to weekly COVID-19 testing. Students who are not fully vaccinated and not given an exemption by spring semester will be unenrolled from classes and university employees may be subject to disciplinary action.  
More information on vaccines and the university's coronavirus policies and procedures can be found here.