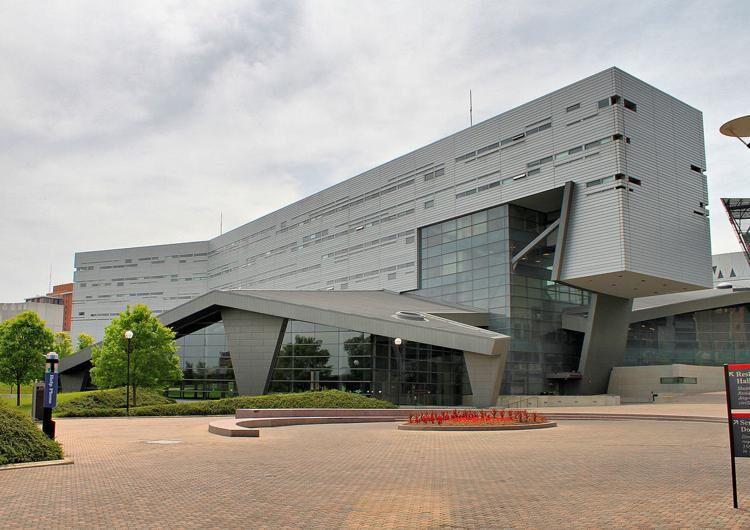 The overwhelming smell of chlorine and the humid feel when walking past the campus recreation center (CRC) is what comes to mind for most students when thinking of the University of Cincinnati's (UC) indoor pool. However, hidden along the walls in chairs towering high above the crowds of swimmers sit the CRC lifeguards, observing the participants like spiders, ready to make the motions at any moment to provide life-saving action. 
Becoming a campus lifeguard is one of the more unique job opportunities available to students at UC. Over the years, when there has been a shortage of lifeguards working, UC created an initiative to provide a free Red Cross certification class to allow more students the opportunity to give this job a try. That's how second-year music composition student Liam Kornoely first got to dip his toes in the water of lifeguarding. 
"I got my position as a lifeguard when I received an email from Autumn Cleverley saying that they were offering a free certification course at the [center] over winter break," said Kornoely. "I really liked the fact that they were willing to train me for free because lifeguard certifications go for around $200 to $300." 
After his training, Kornoely had to work a specific number of hours as a tradeoff for the free training, and he says it's been smooth swimming ever since. 
Fourth-year student SJ Jacobs sought to be a lifeguard because of his previous experience. Jacobs has been lifeguarding for six years and has been with the CRC since his first semester. 
"I chose to apply to be a lifeguard at UC because I lifeguarded throughout high school and liked my job," said Jacobs. "I am passionate about the sport of swimming and drowning prevention, so lifeguarding is a great way for me to get paid for doing something I enjoy." 
Most lifeguards were or are still swimmers. Being a lifeguard allows them to keep part of their former passions on campus with the added benefit of getting paid.
"I was a swimmer my whole life, so I spent a lot of time at the pool, and a lot of my friends from high school got certified, so I figured it was something that would interest me," said Kornoely. 
While a deep passion for swimming was the draw for many current lifeguards, what was more surprising was the bonds they found within the CRC lifeguarding community. Long hours spent at the pool, sometimes with little to do, many lifeguards forge strong bonds with those around them.
"My favorite part of the job is getting to know the other staff members at the [center]," said Jacobs. "I've met a lot of my friends through working at the [center], and there is plenty of time to talk with other guards during my shifts."
But, not every shift can go swimmingly. After all, their primary role is to create a safe and aware atmosphere for the pool. Luckily for Jacobs and Kornoely, neither have had any genuinely terrifying experiences yet, but they still encounter many day-to-day issues.
"There's a lot of problem-solving that's involved with lifeguarding," said Kornoely. "Say two people want the same lane, you must compromise with them as to who gets that lane. Also, working with the other guards knowing where to put each other depending on who's reserved the pool for when."
Quick thinking and even quicker reflexes are learned skills on the job.
"I would compare lifeguarding to being a cheetah because you have to be alert and respond quickly to emergencies," said Jacobs. 
Lifeguarding is a job students find themselves returning to semester after semester for many reasons: accessibility, passion, friendships and more. The heroic nature of what they can do is an added bonus as well. The reality is that not every day will turn into a life-saving action moment, but that's okay for the CRC lifeguards. Having the bonds created in the CRC is compensation enough. 
"I really enjoy hanging out with the other lifeguards and staff at the [center]," said Kornoely. "Everyone is just super friendly."