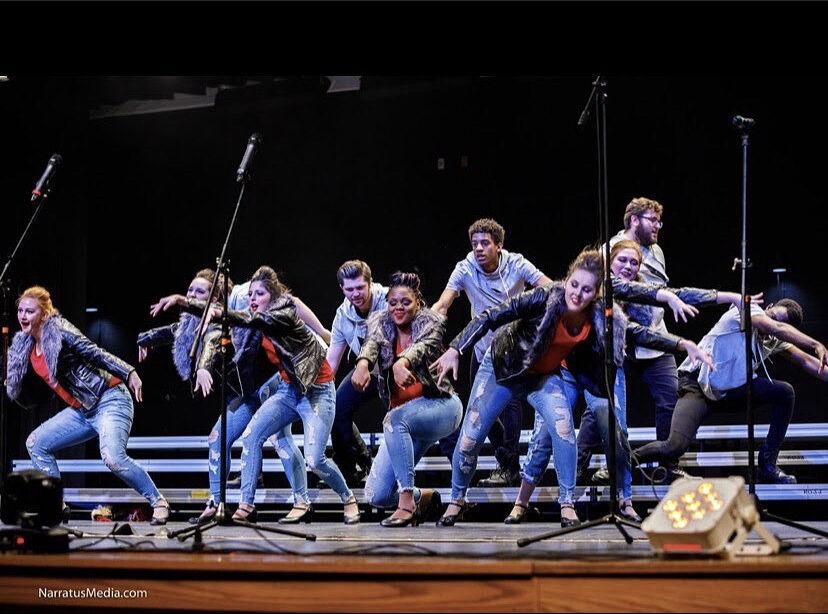 The lights dim and the curtain opens, revealing Queen City Sound District (QCSD). It's quiet – so much so that even the lightest of coughs or the lowest of murmurs could be heard throughout the theater.  
The spotlight focuses on the stage as the faint sound of a piano fills the hushed Ross High School auditorium. Now the group, split into two and crouched, starts to rise. Let the show begin.   
What followed was an energetic, 15-minute performance, complete with vocals, choreography and costume changes.  
"You're at this high school with a ton of other show choirs," said Danielle Veigel, a fourth-year chemical engineering student and president of QCSD. "As someone who loves both the music and theatrics of it, it's really awesome to see all these different schools compete at something you love."  
QCSD, a show choir group at the University of Cincinnati (UC), competed at Ross High School's Legacy Championship against Wright State University – pre-COVID. Now, like many small performing groups dependent on live shows and in-person rehearsals, QCSD is struggling with the pandemic.  
"I am wearing a lot of hats right now because we are trying to rebuild post-COVID," Veigel said.  
What has proven most difficult is QCSD's competitors, or lack thereof. Their primary competition, Wright State, has seen its show choir dissolve throughout the pandemic. That leaves the "first competitive collegiate show choir in the nation" with no opponents. 
"We would love to continue competing," said Veigel. "But the issue is there are not any other competitive collegiate show choirs."   
Brynn Giffin, a third-year aerospace engineering student and long-time member of QCSD, misses competition because of the confidence that performing gave her – not only in singing and dancing but also in life outside of the club.  
"It was nice for me to have a presence like [QCSD] on campus," she said. "It helped a lot."  
Giffin also touted the sense of community within the group. 
"It felt very close," she said. "Even though a lot of people were at different places – like I was not super experienced – everyone felt welcomed."  
Grace Fischer, a third-year aerospace engineering student and QCSD's creative board co-chair, also misses performing. Still, she recognizes that perhaps the most important part of this group is the friendships she makes. She said the moments that the group spent outside of rehearsal are the ones that stick out in her mind the most. 
Specifically, during the pandemic, the group couldn't meet or perform, which put all the show choir things on hold. The club still wanted to stay close, so they started hosting semi-regular game nights as a solution to this distance. One night the group tried their hand at the online multiplayer game Among Us.  
"I hadn't played Among Us before, but I won," she said. "Everybody is just such a good sport and so kind." 
One of the reasons this group is so close-knit may be that many of the club's members are engineering students. "I think we all need an outlet for creativity," Fischer said.  
However, the group says QCSD is for everyone, not just future engineers.   
Ellye Tibbets, a first-year communications student and QCSD's social media manager, is learning just how welcoming the group is as she begins her first semester with the club.  
"At first, it was intimidating," she said. "I'm new to this environment, and I'm actually the only first year in the choir."  
It didn't take long for Tibbets to get settled into the group. "They definitely hyped me up and made me feel good about myself," she said. "Which is very rare." 
Tibbets said she did not have the same positive experiences in high school choirs, none of which were show choirs.  
"Oh wow, a show choir" she remembers thinking when she found QCSD on CampusLink. "I haven't been able to do that since middle school – it's been a long time." 
Veigel makes it a point to say that no matter how long it's been, QCSD is for everyone. "I think it's important to keep things that you love in your life," she said.  
As an academically focused person, Veigel understands how difficult it can be for new college students to carve out the time to enjoy life. She had trouble balancing everything when she arrived at UC. Music filled her daily life in high school, but her laser focus on school almost made her forget about the joy of music. 
"I had forgotten how much music brought to my life," said Veigel. 
For Veigel and the rest of the club, that is what QCSD is. An escape from the monotony of higher education; an outlet for creativity; a community that builds up, never tears down; a place to have fun and be themselves. Nothing could stop QCSD's little family, not even a pandemic.  
"It fulfilled a part of my life that I was missing," said Veigel. "Music really means a lot to me and it was important I found ways to keep it in my life."