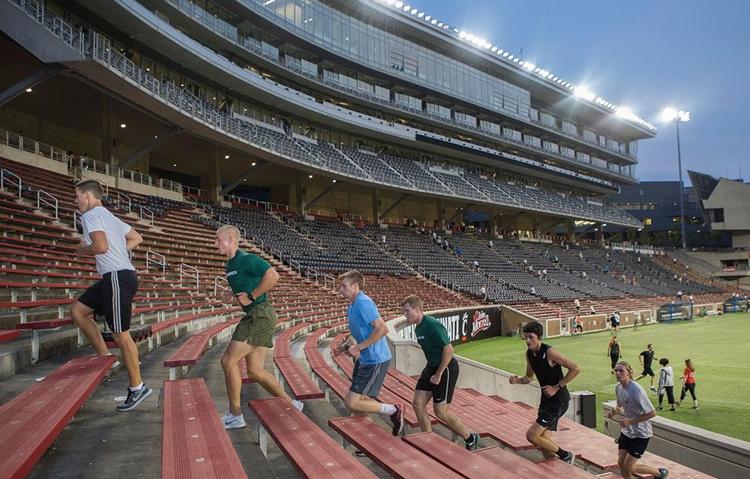 The University of Cincinnati Office of Veterans Programs & Services (VPS) and the Army and Air Force Reserve Officers' Training Corps (ROTC) detachments will host the fifth-annual 9/11 Memorial Run.
Registration will begin in Nippert Stadium at 5:30 a.m. Wednesday, Sept. 11, and the run will begin at 6:46 a.m. The free event will last 54 minutes and remembers the first responders and civilians who died in the 2001 attacks on U.S. soil.
"We started the run because we saw the importance of remembering of 9/11 and the victims that were killed as a result of those events," said Abbey Wulf, program coordinator for VPS. "We found the importance of highlighting that and remembering them in the best way that we could think of possible."
Participants will climb 2,071 steps, symbolizing the 110 floors of each of the World Trade Center towers. Those who wish to attend without running the stairs can choose to walk laps on the field's turf or around the top of the stadium stands. This way, everyone can participate, Wulf said.
Although the run takes place earlier than the actual events on the day of the attacks, the Memorial Run is timed to specific moments from 18 years ago. Participants will take breaks when key events occurred, such as when the second airplane struck the South Tower as well as the crashes of Flight 93 and Flight 77. The breaks will conclude with the moment when the Federal Aviation Administration (FAA) grounded all flights across the country.
Organizers will distribute 500 T-shirts commemorating this year's 9/11 Memorial Run in exchange for a suggested donation of $10. Proceeds will go toward the creation of a discretionary relief fund for veterans, first responders and dependents that are UC students in emergency situations. This year will mark the first year organizers will be able to distribute funds raised in previous runs.
About 700 people participated in last year's event, according to Wulf. She hopes even more will come out to Nippert Stadium this year.
"It's a good way to remember the people that died — it's a way to realize the importance of the day and the impact it had on so many people's lives," she said.