Candidates have announced their campaigns for senator-at-large positions within the University of Cincinnati's Undergraduate Student Government (SG).
Students will be able to submit their votes on Blackboard from 8 a.m. Wednesday, March 13, until Friday, March 15, at noon. Election results will be announced at 6 p.m. March 15.
Related: Rankin, Smith launch 2019-20 SG presidential campaign
Here are this year's candidates and their platforms: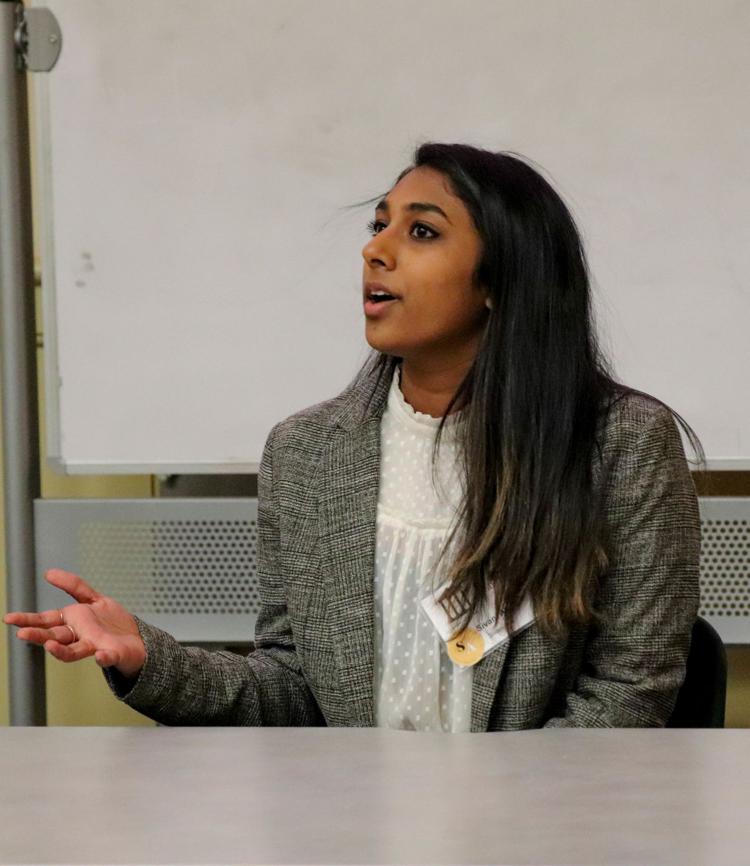 Sivani Alla
Sivani Alla, a second-year medical sciences student, centered her campaign on four platforms: creativity, accessibility, transparency and sustainability.
Alla's platform goals:
Develop a bright mural designed by UC students on the exterior of Langsam Library
Create a "Rest+Reboot" station on campus with massage chairs to ease student stress
Add more printing stations on campus
Post signs for accessible routes in and around campus buildings
Create a job fair and increase visibility of on-campus work positions
Create a user-friendly database for students to access statistics on classes and professors
Organize a spring cleaning sale where students and organizations can resell old items
---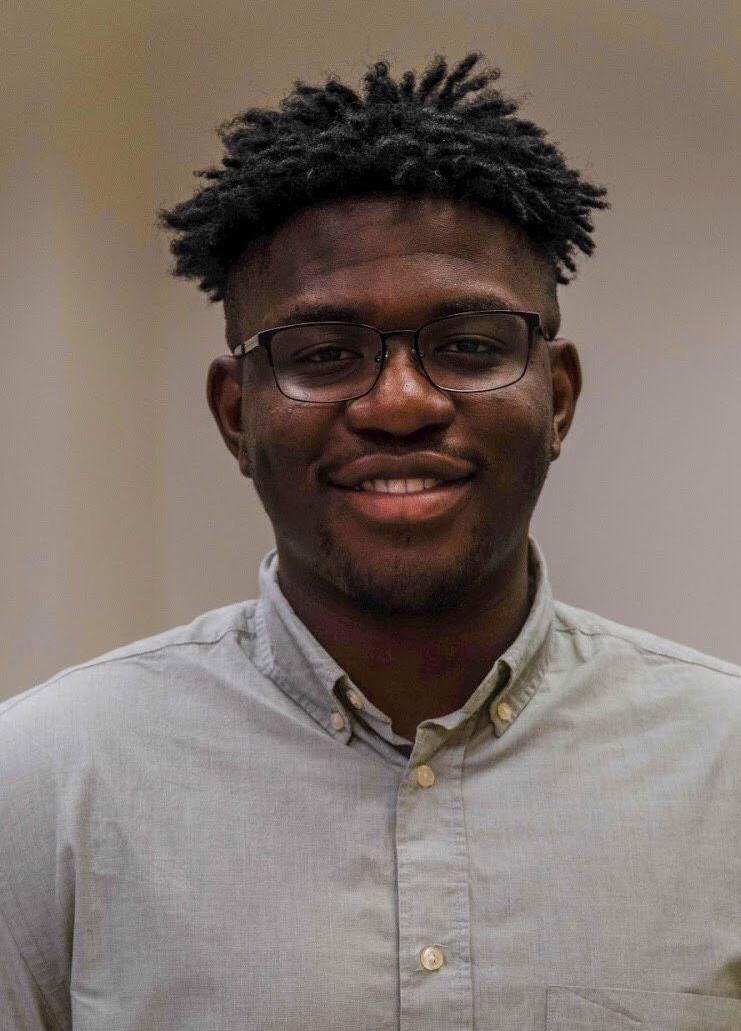 Kofi Amponsah
Kofi Amponsah, a second-year biological sciences student, based his platform on the saying, "Life isn't about finding yourself, it's about creating yourself." His campaign's Twitter bio states that he hopes to inspire students to create their own passion through genuine encouragement, passionate conversations and memorable service.
Amponsah's platform goals:
Create new programs to train student organization leaders on conversation and leadership skills
Improve UC shuttle services to encourage student involvement
---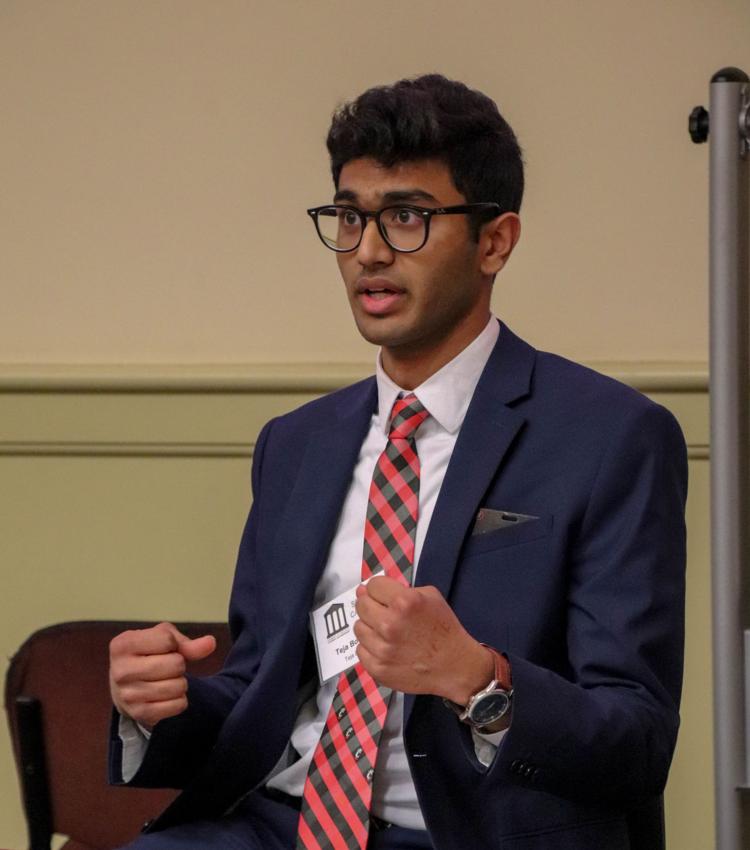 Teja Bollimunta
Teja Bollimunta, a second-year chemical engineering student, is the chief-of-staff for the current SG administration.
Bollimunta's platform goals:
Build a relationship with tourist attractions, including museums and professional sports teams, to request discounted student tickets and expand shuttle routes to these locations
Expand Bearcat Card service to new vendors on campus and downtown
Start a research career fair with a "hands-on learning experience"
Offset textbook costs by creating a textbook bank for students
Implement a co-op car policy with local car dealerships to lease vehicles to UC students during co-op semester rotations with an opportunity to purchase the car after the lease expires
Create a carpool platform for students to find rides to work
Work with UC Public Safety to improve email notifications by improving notification time, including relevant information and adding trigger warnings to make students feel safe on campus

---
Reiley Cowart
Reiley Cowart, a second-year medical sciences student and SG's director of federal policy, focused her campaign on four platforms — sustainability, affordability, academic accessibility and mental health.
Cowart's platform goals:
Implement composting in dining halls and partner with local sustainability efforts
Advocate at a state level for tax-exempt textbooks
Increase the per-semester credit-hour maximum from 18 to 21 hours
Implement a peer-to-peer, non-emergency call service
---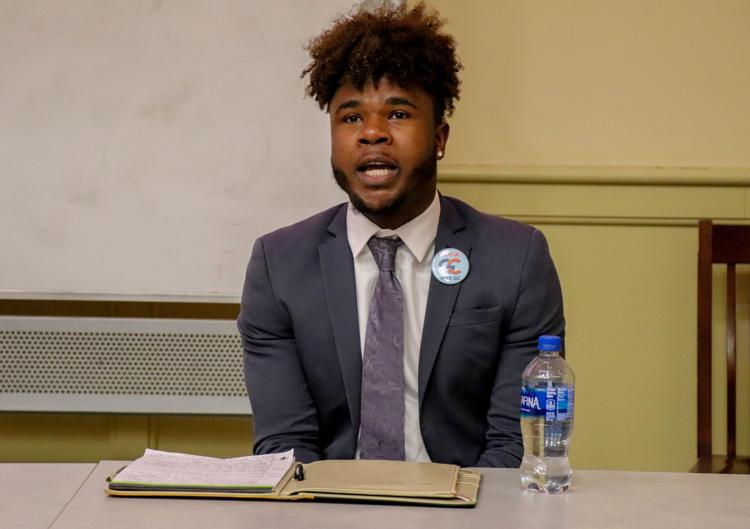 Gerald Crosby
Gerald Crosby, a second year marketing student, based his campaign on the slogan, "Alone it's a fight, together we UNITE. Vote GC for UC." UNITE is an acronym that stands for update, nurture, invest, teach and energize.
Crosby's platform goals:
Enable credit card payments for vending machines and laundry facilities
Implement Apple Pay support in dining halls
Invite marginalized groups from branch campuses to student senate meetings
Create a site within CampusLink where students can display their work
Host interactive programs to teach "the importance of politics/SG"
Create a newsletter that highlights students on social media and encourages volunteering on and off campus
---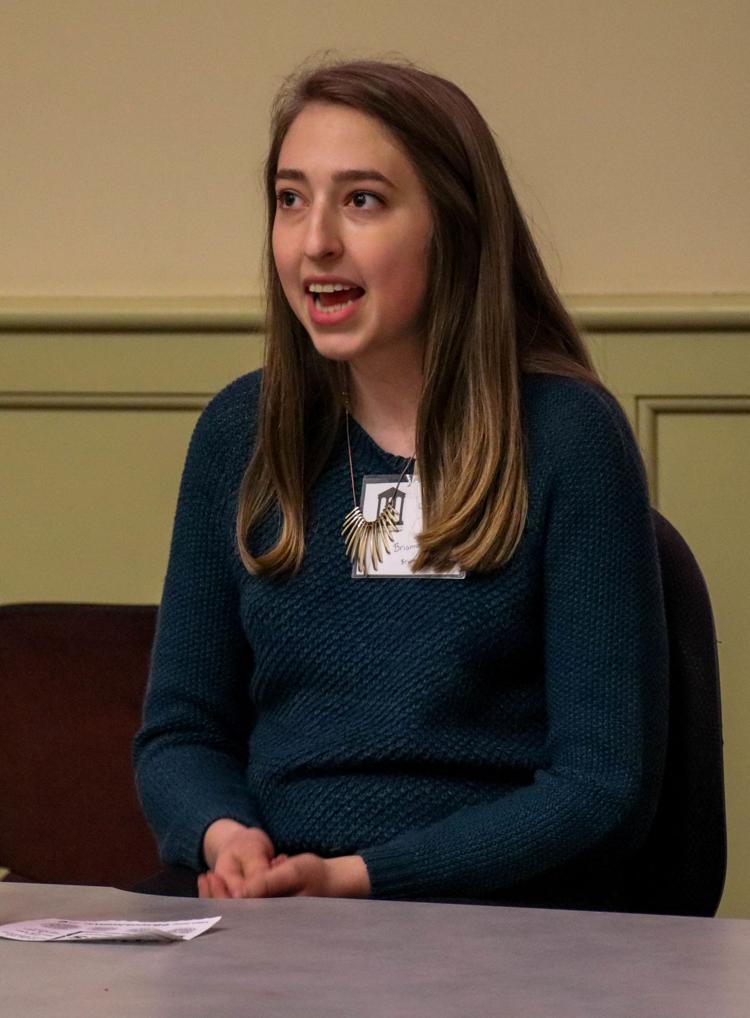 Brianna Jones
Brianna Jones, a second-year psychology student, sits on the current SG staff as executive director of housing and food services.
Jones' platform goals:
Add more charging stations with cords around campus
Create more accessible walkways on campus
Add more chairs and tables in Langsam Library
Create a checkout reserve system in Langsam Library for group study rooms
Ensure a 4 Paws For Ability service dog park on UC's main campus
---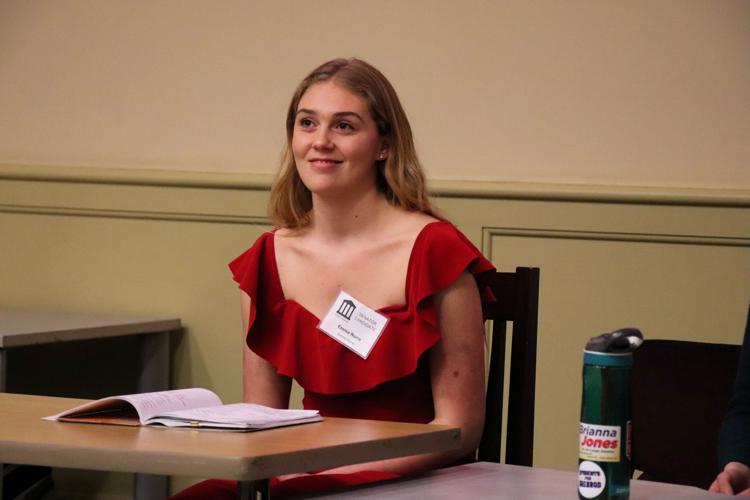 Emma Nurre
Emma Nurre, a first-year information technology (IT) student, based her campaign on the slogan, "New Vision. New Direction. Vote Nurre." The campaign focuses on six platforms: student debt, sexual assault, transportation and housing insecurity, IT presence, innovation and multidisciplinary collaborations.
Nurre's platform goals:
Combat student debt by raising the campus minimum wage
Raise awareness about sexual assault by promoting the resources available to students
Push to require more comprehensive and intersectional Title-IX training
Work with UC transportation to update shuttle routes
Create a morning version of NightRide, or give students an Uber, Lyft or Bird allowance
Install digital locks for lockers in the CRC gym and add Bearcat Card-friendly locks to on-campus housing
Work with UCIT to update the UC Mobile, NightRide and shuttle service apps
Promote scholarships, grants and resources available to students through the University Funding Board and 1819 Innovation Hub
Host a series of webinars and information sessions to inform students of diverse backgrounds about collaboration, product development, marketing and digital resources
Create a spring and fall "makers market" for student-run businesses to sell their products and promote their services
---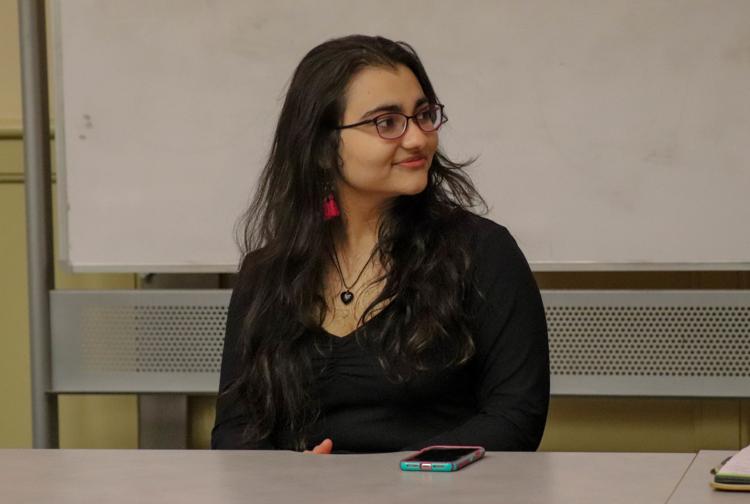 Aashka Raval
Aashka Raval, a first-year exploratory student who plans to declare as a computer science student this fall, centered her campaign around four platforms: academic resources, health and nutrition, equity and inclusion and mental wellness.
Raval's platform goals:
Advocate for lower textbook prices
Collaborate with the Bearcat Pantry so students can donate used textbooks in exchange for volunteer hours
Add printers to residence halls
Work with the learning commons to add a resource for students to learn and enhance their coding skills
Work with the Student Wellness Center to offer free public nutrition and dietician workshops complemented by one-on-one sessions for personalized plans
Hold LGBTQ+ specific sexual health workshops to spread awareness and establish educational resources for students interested in regular sessions
Initiate a Counseling and Psychological Services (CAPS) feedback system where patients can fill out a form after each counseling session, allowing the organization to track the progress of each student and provide the most effective treatment possible
---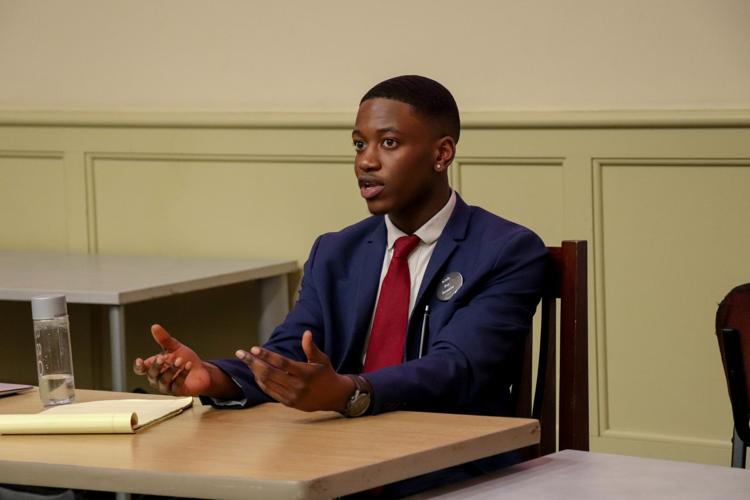 Kish Richardson
Kish Richardson, associate justice for SG's student court, is running a campaign based on four platforms — knowledge, acceptance, respect and empathy — or K.A.R.E, for short.
"I feel that being the voice for the student body is imperative," Richardson said in an email. "I want to be able to be a voice for the Student Body At-Large, particularly for those minority communities that too often feel as if their voice isn't truly heard on campus."
Richardson's platform goals:
Engender change on campus by empowering students to enact change themselves
Ensure minority communities' voices are equally represented in SG
---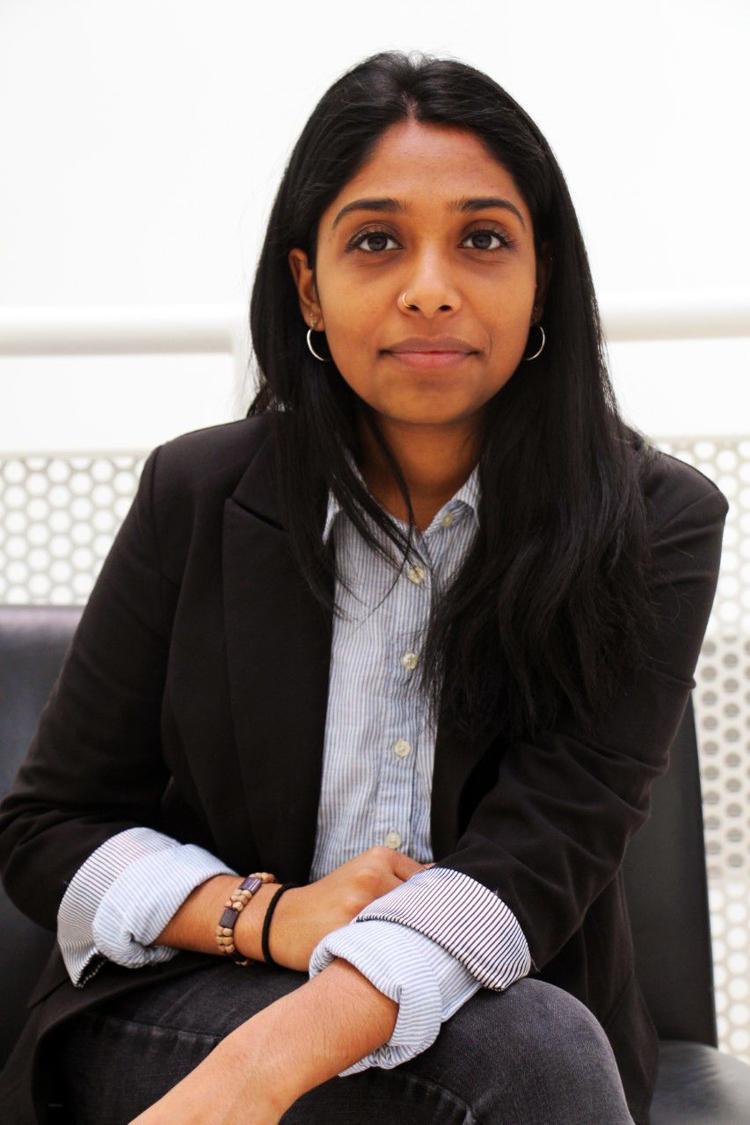 Sarvani Vemuri
Sarvani Vemuri, a first-year psychology student, based her campaign on three platforms: "Make Campus Smarter," "Unify Cincy" and "Invest in Success."
Vemuri's platform goals:
Integrate live digital updates on parking availability across all UC platforms
Create digital wayfinding for the quickest routes between buildings and around construction
Make a point-of-interest map that details gender neutral bathrooms, printers and vending machines
Implement live traffic updates on school days and during special events
Expand UC shuttle service to provide transportation to art events in Cincinnati
Partner with arts organizations in Cincinnati
Establish a partnership between UC and rideshare companies
Create opportunities for upperclassmen to apply for university-wide scholarships
Increase the number of printers on campus, and add printing stations to dining and residence halls
Develop a year-round commerce space where students can sell their products
---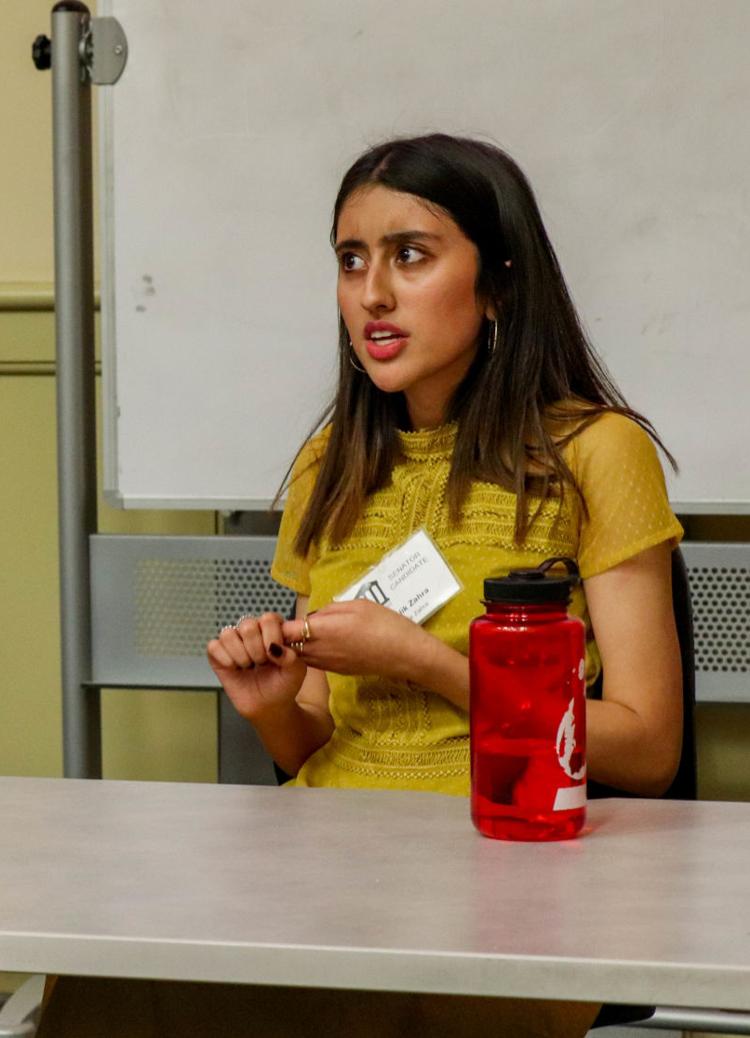 Faalik Zahra
Faalik Zahra, a first-year biology student, designed her campaign to focus on four platforms: food diversity, resource accessibility, student discounts and campus sustainability.
Zahra's platform goals:
Add halal, kosher and vegan options in dining halls across campus
Bring back "Boldly Bearcat" ice cream
Add irons in laundry rooms of residence halls
Add laptop, phone chargers and headphone rentals in Langsam Library
Collaborate with food delivery services, including Doordash and Postmates, to acquire a student discount for on-campus deliveries
Offer more discounts in grocery stores on and near campus
Add more recycling bins on campus and launch initiatives to raise awareness about environmental conservation