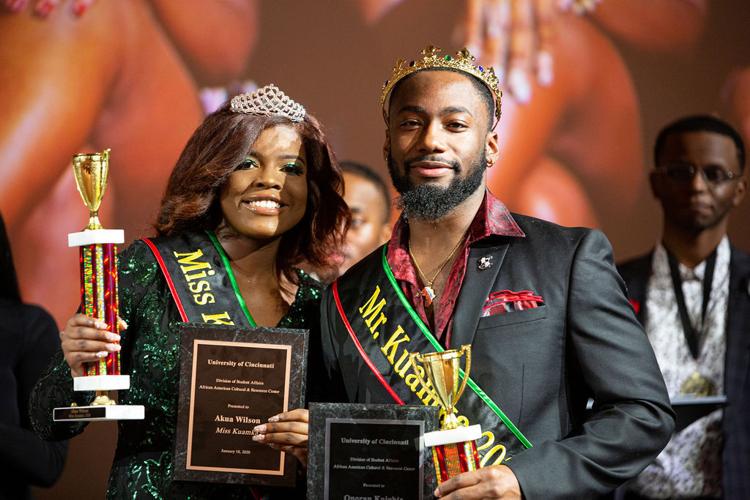 The University of Cincinnati's African American Cultural Resource Center (AACRC) hosted Kuamka Week Jan. 13-18 to induct the 2020 Kuamka King and Queen for next year.
The duo will represent the AACRC for a year as the face of the center. Quoran Knights, a third-year mechanical engineering student, and Akua Wilson, a second-year student studying both criminal justice and women's gender and sexuality studies, took home the crowns as Mr. and Miss Kuamka.
"Kuamka week has always been something I look forward to," said Knights, a Columbus native. "It's always been a week of excitement and celebration of excellence, especially in the African American community."
During the Red, Black, Green and Gold Ball — the final event of Kumaka Week — the freshmen are involved in transition and are introduced to the center itself. Students learn about the AACRC's success and look forward to the upcoming year.
Knights and Wilson were both a part of transition their first years. They were both given mentors, and Wilson's mentor happened to be Lauren White, Kuamka Queen of 2018.
"When I first came on campus, I wanted to do so much change and Lauren made me understand that you can't change something you don't understand," Wilson said, a Philadelphia native.
She spent her entire first year understanding what students need on campus. Once Kuamka came around, Wilson had so many ideas brewing that she felt like it was just "supposed to happen," she said.
Knights described that he was "voluntold" to run because of the things he has done on campus to represent the black community. AACRC representatives believed he would be a perfect representation to lead others and learn the ropes.
During Kuamka Week, Knights and Wilson had to crunch a semester worth of a student leader lifestyle into one week. They had to juggle the start of the semester with interviews, a question and answer segment and a talent competition.
Wilson described the experience as "hit the ground running" as she didn't get back to campus until Saturday. "It was pressure like make diamonds type of stress," she said.
Knights and Wilson both agreed that the most challenging part of the week was the question and answer portion but maintained that it made them better public speakers. They didn't know what questions were until the moment of, and the questions got harder as they went on, they said.
For the talent portion of Kuamka Week, Knights performed a spoken word. It was the first time he had ever written poetry.
"I'm not really a performer, so being in front of crowds is not my scene," Knights said. "I prefer to plan the work behind the scenes."
Afterward, people told him he looked comfortable, so he's taking that into consideration to try and do more speaking in front of others.
"Just because I'm comfortable doesn't mean somebody else doesn't need to hear it," Knights added. "I may help somebody with just speaking."
Wilson was the complete opposite for the talent portion — she performed a tap and contemporary dance. She has been dancing for about 15 years and was very comfortable on stage, she said. Wilson is also the assistant director for Black Arts Collaborative, a dance group on campus. She said she wanted to share something she loves in the competition.
If it was not for the other candidates coming together and forming relationships, it would have been a long, hard week, Knights and Wilson agreed.
Each Kuamka candidate selects platforms ranging from the importance of mentorship, increasing dialogue for racial and cultural reconciliation to creating awareness and prevention strategies to combat bullying.
Knights' platform, dubbed "Stay The Course," focused on the improvement and retention of African American students in the College of Engineering and Applied Sciences (CEAS).
First-year students tend to transfer out of the major to something that may be easier and more feasible. Knights wants them to find their passion in engineering and hopes to implement mentorships with upperclassmen to check up on mental health and host workshops. Knights wants to break the stigma that students of color don't need help, he said.
Dubbed "Dissolving Division," Wilson's platform incorporates empathy into people's mindsets to create a further sense of community. She described how UC doesn't have a huge sense of community in terms of a wider Bearcat community, storytelling, listening to people and understanding other's experiences.
"A lot of the time, the voices of not only marginalized groups but groups on campus are not heard because they're misunderstood," Wilson said. "They're being spoken for rather than speaking for themselves."
Knights and Wilson both described the experience as surreal. Kuamka leaders are the first people first years are introduced to at the AACRC.
"I went in there with the expectation of 'I'm going to get something out of the process,'" Knights said. "We were all great candidates that whoever won I wouldn't have been mad. We deserve this."
Besides being Mr. and Miss Kuamka, Knights and Wilson won individual awards at the ceremony as well — Knights won awards in the essay, interview and platform portions, while Wilson won in interview and question and answer.
During their rein, Knights and Wilson want underclassmen to know that what they are doing is obtainable.
"We're humble, we're in a place of a higher leading position but we're also human and getting used to that people are going to look up to us," Knights said. "We're learning each step each day trying to figure out what best we can do and just enjoying the experience."
They not only want to be mentors, but friends as well.
"Showing that I'm just a student and I have issues and I'm crazy and that's fine," Wilson said.