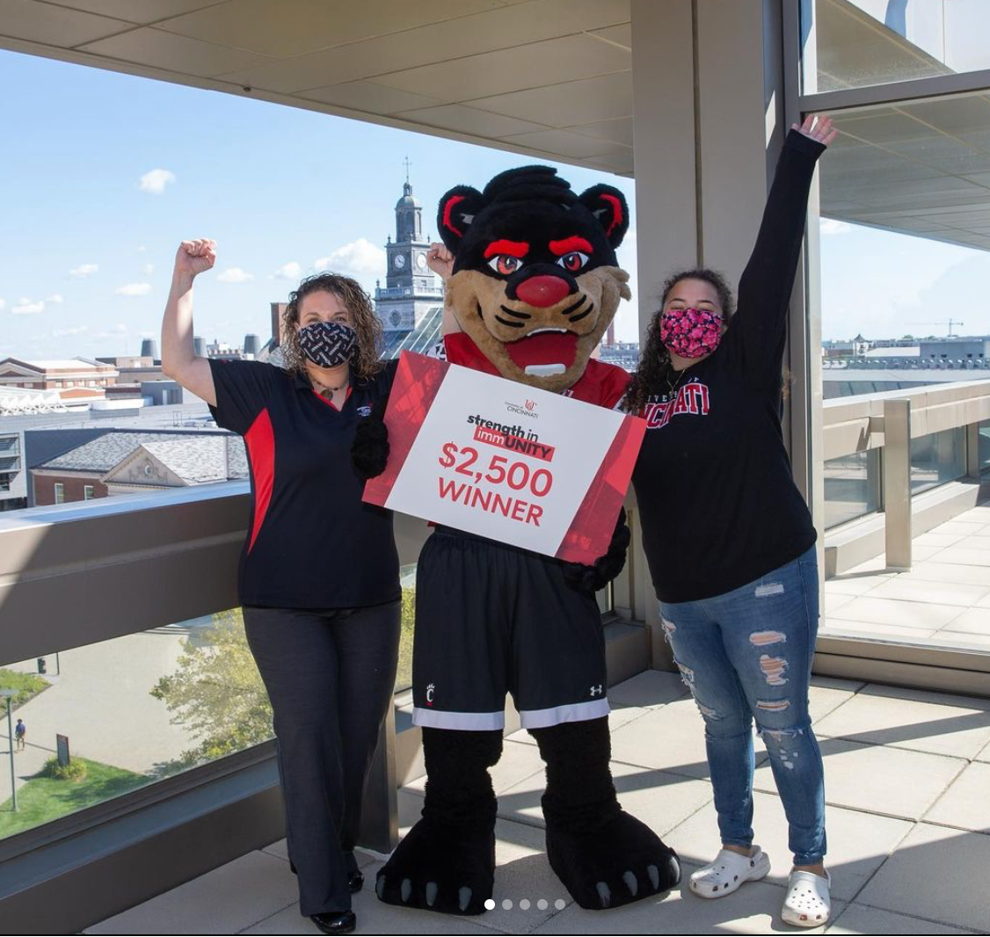 First-year political science student Kyla Geitner was in the library studying with friends. It seemed like a very ordinary scene at first, until Geitner let out an ecstatic scream. She sheepishly quieted down right away as everyone around her gave her odd looks. Her friends were concerned something terrible had happened. Her friends understood when she shared the news; how could Geitner be expected to contain her joy? She had just won $2,500.
As part of a vaccination initiative, the University of Cincinnati (UC) has held weekly gift card drawings for students and faculty who willingly shared their COVID-19 vaccination status. This drawing, called "Strength in Immunity," was created to encourage students to get excited about being vaccinated. When Geitner first shared her vaccine record, she never expected anything to come of it.
"I was so surprised," said Geitner. "I honestly forgot that I was entered into the drawing."
For her, winning this prize felt like a reward for already doing what felt like a natural choice. She recalls that as soon as the vaccine was available for her, she readily sought to get it. 
"The safety of my family is what drove me to get vaccinated," said Geitner. "I did it for my grandma, she's my best friend and I wasn't able to see her much during quarantine."
After Geitner explained her big winnings to her friends, the next person she contacted was her mother. Her mother was in just as much disbelief as Geitner; neither felt like they could process the news they were hearing. Geitner said her mother assumed it must be fake at first, but it wasn't. Geitner has big plans to help her family with her winnings, so calling them first felt like the natural thing to do.
"I am using the money to help my family pay for upcoming medical bills; they have done so much for me, especially with college," said Geitner. "So, with this money I want to help relieve some of the pressure off their backs."
Geitner's selfless spending of her funds matches her humble outlook on winning. She was just grateful that people her age have the opportunity to receive the vaccine and she believes everyone able should do the same. Geitner sees the new vaccine mandate at UC as a positive step in the right direction.
"I couldn't be happier about the mandate, everyone needs to be vaccinated and colleges requiring vaccinations is a great way to increase the [percentage] of Americans vaccinated," said Geitner. "I hope many more do."
Geitner described the experience as exhilarating, and she hopes her story can inspire others to follow in her footsteps. She never imagined she had a chance of winning something like this; she still feels caught in a dream.
"I couldn't believe it, I've read about the other people who have won and I feel unworthy of this award since I'm just a freshman," said Geitner. "I've only been a part of this school for four weeks, but wow, what a way to start college."