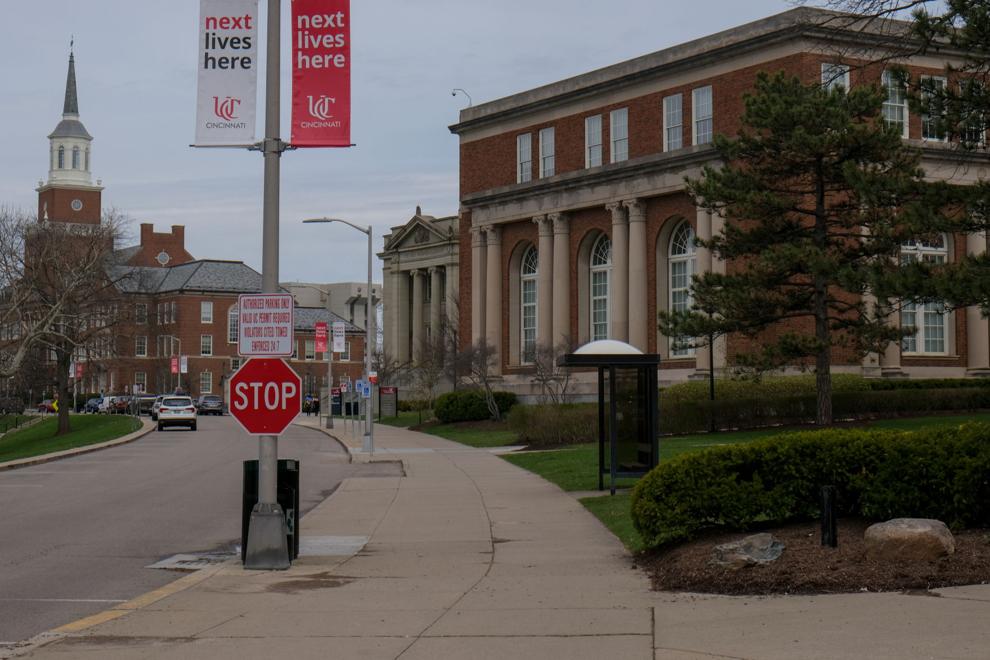 When COVID-19 caused the university to shut down last March, very few people would have predicted that we would still be in this crisis one year later. These unprecedented circumstances meant that University of Cincinnati (UC) students and faculty had to adjust to keep everyone safe while also providing a quality education. As students came back to campus this past fall, it seemed the administration had thought of everything: mitigation testing, staggered move-in times for campus residents and even a COVID-19 app. One thing seemingly forgot, though, is its commuters. 
With the hybrid model splitting classes between in-person and online, it's not unusual for students to have back-to-back in-person and online classes. Though it's a hassle for on-campus residents to go from their dorm to class and back without being late, commuters can't go back and forth from home to campus in a matter of minutes. This leaves them no choice but to spend their entire days on campus, taking all their classes – online or not – on campus.  
One of these students is Justin Sikkema, an environmental studies student in his final semester at UC. "I didn't really feel there was any thought of 'oh this might be tough for commuters,'" said Sikkema. 
Sikkema, who makes a 30-minute commute from Loveland, has back-to-back classes, some of which are in-person while others are online, meaning he had to find somewhere on campus to log on to his online courses. At first, Sikkema didn't know where he could do this. He tried the library, but it was too noisy and busy to be conducive to learning.
"I never really found a great place," Sikkema said. He now sets up in an unoccupied classroom in the Old Chemistry building, but there is no denying that being in public takes away from learning. "At home … it feels like I can stay focused," Sikkema said. "[Taking a class in public] is a little weird." 
Sikkema's trouble finding a spot on campus to take his online classes isn't unique to him—many commuters face the same issue. With 88.7% of UC students living off-campus, this may be more of a problem than one might think. With the lack of a designated space for commuters, it's unclear to some commuters where they can take their classes. Public spaces like Lindner Hall, Tangeman University Center (TUC) and the campus libraries are often too loud to take a class, and the private rooms like those in Langsam Library have been closed as a COVID-19 precaution.
Perhaps due to a disconnect, students and staff view these public spaces differently. "Our library absolutely gets loud, but different floors are different spaces," said Deborah Tenofsky, Head of Research, Teaching and Services at Langsam Library. "If one environment isn't working for you, you can move to a different floor and try that." 
Despite how students might feel, Tenofsky said, "Commuter students may feel lost in the shuffle, but I hope they know that's not the case. I really want students to understand that we are here to help them." 
Another commuter experiencing issues with the hybrid model is Lindsey Keith. "Because of COVID restrictions, I wasn't sure where I could sit and hang out," said Keith, a student who transferred to UC for the 2020-2021 school year. She took all of her classes online during the fall, and the spring semester is her first with in-person classes. 
Last semester she had scheduled an in-person class but was advised to switch it to an online one to avoid the struggles of being a commuter during the hybrid model. This semester, she decided to deal with those struggles as she believed her Spanish class is best taken in person. 
Keith, an international affairs student who commutes from Northern Kentucky, said, "[I thought] maybe I'll just go to my car and use my data." Luckily, she found a place in TUC, but it's still difficult to take her class. Given that TUC is a busy place, dozens of people pass Keith as she is taking her class, making it difficult to concentrate on her Zoom meeting. 
Desperate for a solution, Keith says that even just a table facing the wall would be better than her current situation. The lack of a single place that commuters can go to to take their classes or study makes these common difficulties hard to avoid. 
"One place to go to, and you know your seat is there – that would be helpful," Keith said, noting that she has no way of knowing if such a place exists. "They could do a better job with offering help or saying that specific places are for us to get stuff done as easily as someone who can go back to their dorm."
Although general issues surrounding the hybrid-learning model have been brought to the attention of student government, there haven't been any specific complaints about the commuter experience, according to Lindsay Macey, a student senator in her second year at UC who also commutes 20 minutes. Despite being a relatively short commute, this is long enough so that Macey is forced to stay on campus to take both her in-person and online classes.    
Although there haven't been any formal conversations specifically surrounding the difficulties commuters have faced during the pandemic, "that doesn't mean the issue doesn't exist. From my own experience, I can attest that it does," said Macey. "There have been many discussions, though, about how the university is adapting to the pandemic." 
While conversations regarding student life are happening, the only updates that student government receives are through the student body president, who attends weekly COVID-19 meetings. Still, these updates usually only include campus case numbers, according to Macey.
It feels like a watered-down experience," said Kelcey Mucker, a fourth-year journalism student who commutes daily from Lawrenceburg, Indiana, and argues that the hybrid model is not only difficult to manage but is also detrimental to learning. "I feel like I was getting the skills to be able to talk to people better [before the pandemic]," Mucker said.  
The problems for commuters extend beyond just learning. Parking is tricky even in non-pandemic times, but commuters who live too far from campus to walk have no option but to deal with the parking struggles. After her classes, Keith said she "speeds walks back to my car, so I don't have to pay extra." Whereas Sikkema, who parks on the street, said parking is a "hit or miss." 
With parking passes costing upwards of $300, Mucker doesn't even bother trying to get a spot close to the university and instead opts to park at a friend's apartment and walk to the university. "I just couldn't justify spending that much to come up there only two to three times a week."
Despite the shortcomings of the hybrid model for commuters, students say professors understand the circumstances. "They were very much a saving grace," Sikkema said.
"There was a time my car broke down and couldn't make it to class, and [my professor] told me not to worry about it," said Mucker.
With promising news on the vaccine front and the university announcing plans for increased in-person activity for next semester, it seems that by fall 2021, the hybrid model could be mostly a thing of the past. Until then, UC's commuters will hunt for the best spot on campus to go about their learning.