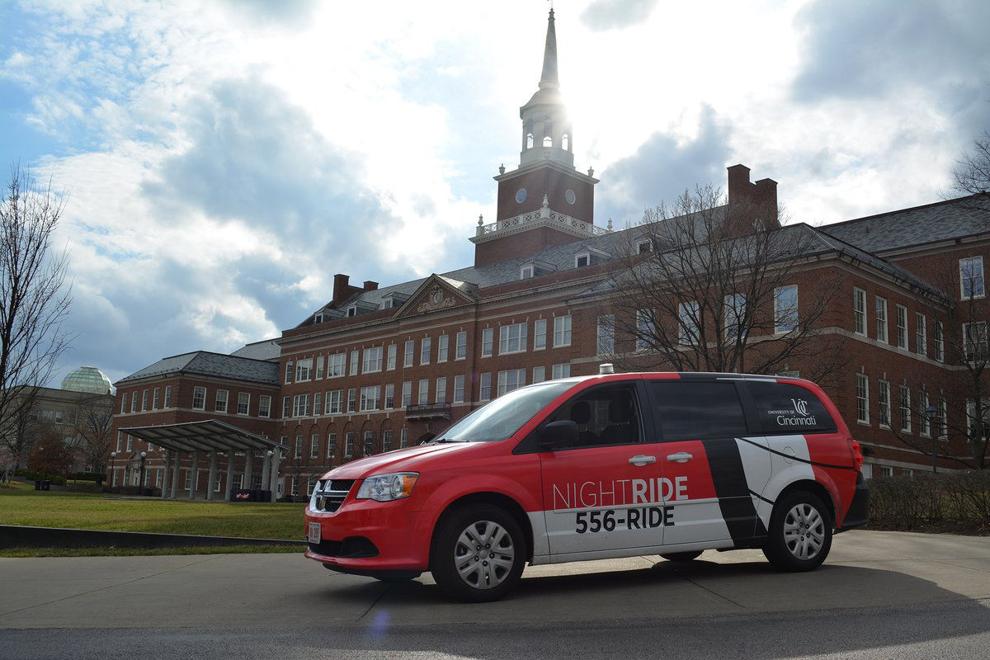 The coronavirus pandemic caused a drastic departure of student workers at the University of Cincinnati's (UC) NightRide, which is temporarily halting service due to a shortage of staff. 
Since 2019, NightRide has lost nearly 30% of its student workers, who make up the majority of the service's employees, according to data obtained by The News Record through a public records request. 
"Last year, when the university shut down, the majority of our student workers went home and either did not return to campus, or did not resume their employment with NightRide," Kelly Cantwell, spokesperson for UC's Department of Public Safety, said in an email. 
"In addition, with fewer students on campus, we had very few applications and were unable to replenish the staffing," Cantwell said. 
Students work as drivers, navigators and dispatchers, Cantwell said, adding each van has a driver and navigator, with one to three dispatchers in the office taking calls and routing vans. 
Other than the 23 student workers currently employed with NightRide, there are two full-time staff members, according to employee headcount data. 
NightRide provides safe nighttime transportation to hundreds of students, faculty and staff. But the service has experienced a steep drop in ridership since the beginning of the coronavirus pandemic.
Average nightly ridership was 409 in 2019. That number dropped to 124 in 2020, though the university did not operate the service from April to July and in December of that year as a result of COVID-19. 
Average nightly ridership is at 91 so far this year – a decline in ridership of nearly 78% from 2019 to 2021.
NightRide services are suspended until the university hires enough staff to resume operations. 
Normally, NightRide operates from 8 p.m. to 2 a.m. and "provides on-demand safe transportation for students, staff and faculty within one mile of UC's main campus," the university's website states.
Riders can request service using the NightRide app, which is available for download on the App Store and Google Play, though a Bearcat Card is required.
NightRide made several operational changes in response to the pandemic such as requiring riders to wear face coverings – regardless of vaccination status; present a green pass from the COVID Check App; and cutting van capacity in half.
While it remains to be seen how long NightRide will be shut down, Cantwell said students who feel uncomfortable and are in need safe transportation should contact university police at 513-556-1111.
"We encourage students to walk with at least one other person at night, if at all possible," Cantwell previously told The News Record, adding the university's Bearcat Guardian app is another resource students might find helpful at night.
The app has a safety timer feature which allows students to choose a friend, family member or UCPD as their "guardian." That guardian can track the student as they walk home, and they will also receive a notification when the student turns off the timer or if it is not turned off before the timer expires.
There is also a 24-hour emergency call feature "that allows for location sharing, and a chat feature that allows students to send messages, including photos and their current location, to UCPD," Cantwell said.
Anyone interested in working for NightRide can apply here.