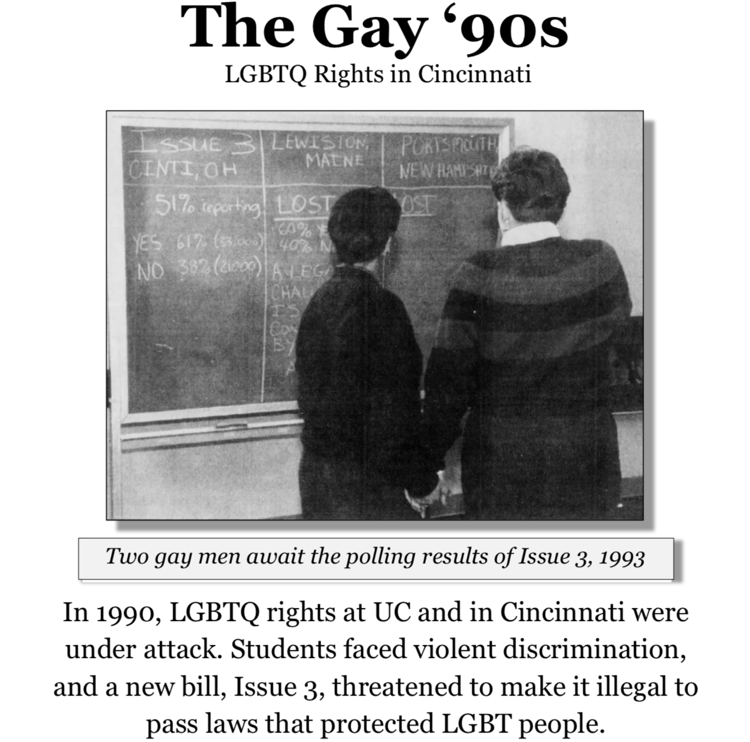 When Francesca Rietz Marcotte decided she wanted to pursue filmmaking, she made a commitment to herself that — whenever possible — her film crew and ensemble would be made up of women, people of color and queer people. That commitment to foster visibility for minority groups began with a class project at the University of Cincinnati.
Rietz Marcotte began her fourth year as a digital media collaborative student by reflecting on her work highlighting societal public space versus private space. Eager to expand her knowledge, she enrolled in an introductory course for public history.
The professor of that course, Rebecca Wingo, studies indigenous and displaced people and the American West. Wingo came to UC two years ago with the goal of creating a class that could train students to see their world differently and inspire them to make the society reflect who they are.
In her introduction to public history course, Wingo divided her students into teams based on their interest. She took her class to the UC research archives for an assignment that involved curating mini exhibits on their chosen subject and posting flyers in bathroom stalls.
"If you can choose what you research, and you start to see the ways in which archives are or are not representative of what you want to study, that's when you can really start to see how history is made and how history has excluded other voices or how it has marginalized communities," Wingo said.
Rietz Marcotte, along with four other students — Sachiko Morita-Mullaney, Emma Hynes, Madison Demay and Emily Brehm — dove deep into the archives and found small windows into gay culture in Cincinnati. To understand what it meant to be queer in Cincinnati in the past, the group decided their project would cover gay history.
"I do not see [LGBTQ history] talked about as much on campus," said Morita-Mullaney, a second-year political science and Spanish student. "We have the LGBTQ Center, but we don't know about the past of the LGBTQ community on campus."
Relatively unaware of queer history in Cincinnati, Rietz Marcotte said she wanted a better understanding for herself as a queer person, but also as a student on campus.
"Groups and clubs are not for everyone, and I feel like it is important to show people who maybe don't have access to that, or don't really want to go on that route, that there are still ways to learn about our history here," Rietz Marcotte said.
The group found that the archives on UC's LGBTQ history are limited. However, they found many photographs and a publication titled "Clifton Magazine" that offered stories from UC students in gay relationships in the '70s and '90s. In addition, they found an article about a failed attempt to start an LGBTQ club in the '70s and a student's research paper highlighting the feminist movement.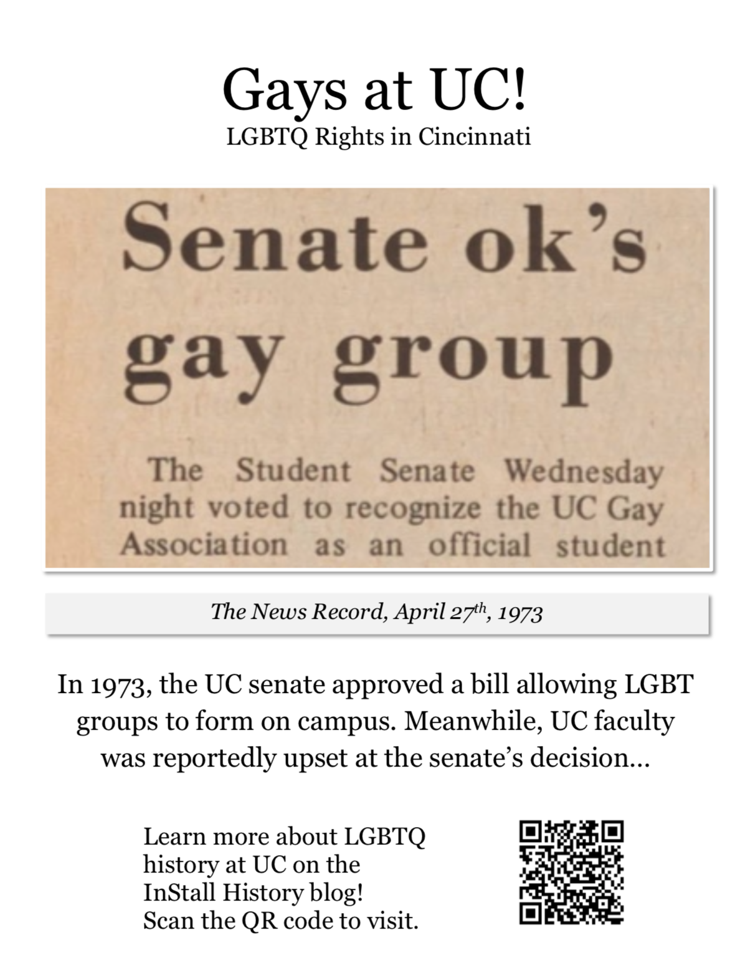 "There's just a lack of recording of the history which is always very depressing because history forms the future; history is how we know the past, history is everything," said Morita-Mullaney. "Not having anything to look back on is kind of really sad, because you don't know how far you've come."
Hampered by the poorly documented history of the queer community at UC, the group decided to focus on how Cincinnati legislation was affecting UC students, in addition to the student accounts provided by Clifton Magazine.
From their archival research, the students were able to piece together a history on the increasing visibility of LGBTQ students on UC's campus in the '70s. They included quotes from students who had experienced harassment and faced protestors who used gay slurs, chanting for the bombing of the gay population.
In addition, Rietz Marcotte and her classmates wrote about an issue that was proposed in the '90s to prohibit the enactment of laws that protected the rights of members of the gay community. In 1993, this issue passed with support of 62% of Cincinnati voters.
Titling the project "InStall History," the group put their findings onto posters and spread them across university bathrooms. Each poster had a QR code that linked to a blog site offering more information about queer history in Cincinnati.
After its semester-long work, the group was disappointed to learn that their project got the least amount of online engagement compared to other group's projects.
"I think a lot of people who aren't in [the community] and don't deal with it, don't know the reality of it and they kind of side-eye it because they hear about it all the time," said Demay, a second-year urban planning student.
Still, the group is proud of their effort to foster visibility for the community and create informed allies.
"It's important to know that there are people out there like you, and people that care about your history, and so I thought [InStall's History] would be great for students to see that we're a group and we researched LGBT history at UC," said Hynes, a second-year political science and history student. "Here it is, this is about you."
InStall History posters continue to hang on UC bathrooms across campus, and the student's work can also be read here.