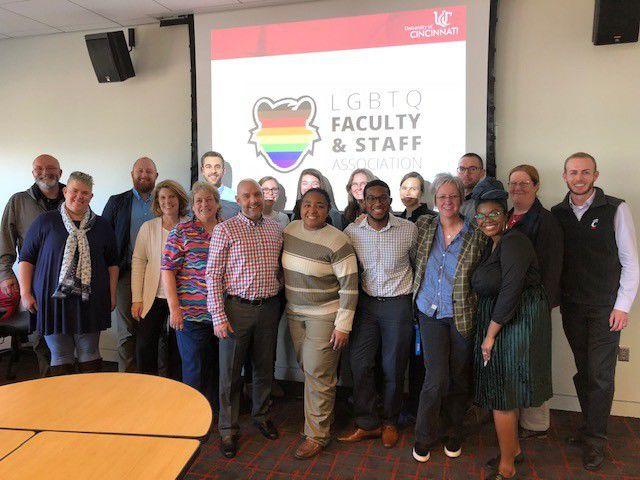 Working at The University of Cincinnati for 13 years now, Amy Lind was department head of Women's Gender and Sexuality of Studies (WGSS) in the College of Arts and Sciences when she began to help develop UC's Lesbian, Gay, Bisexual, Transgender and Queer (LGBTQ) Faculty and Staff Association.
Lind noticed UC had a black faculty association, a Latino faculty association and the LGBTQ Center for students, but nothing for LGBTQ faculty and staff. Collaborating with the then director of the LGBTQ Center, Jayson Douglas, she decided to make a faculty and staff association for all LGBTQ employees.
After submitting a proposal and garnering support from fellow professors and the Associate Provost for Faculty Development and Special Initiatives, Keisha Love, the LGBTQ Faculty and Staff Association were officially established in September 2018.
The organization had seven concrete objectives listed in their proposal:
Launch a LGBTQ Faculty and Staff Association to connect dispersed faculty and staff on all campuses.
Enhance opportunities for LGBTQ faculty success in teaching, research and service.
Enhance opportunities for LGBTQ staff success.
Ensure the LGBTQ community is an essential part of UC's inclusive environment.
Support the LGBTQ Center and LGBTQ student organizations on campus.
Strengthen UC's relationship with Greater Cincinnati LGBTQ communities.
Create a Sustainability plan for long-term LGBTQ faculty and staff enhancement efforts.
Quickly after its establishment, the association hosted its inaugural luncheon on Sept. 17, hosting about 60 faculty and staff.
"We are creating community," Lind said. "We are spread across campus from sports management to the college of arts and sciences. We're just now getting to know each other."
Being a member of the LGBTQ community herself, Lind recognizes she is one of the few faculty and staff who is out as LGBTQ on campus. Now the director and faculty chair of UC's Taft Research Center, Lind recalled when she was the department head of WGSS.
"We as a department (WGSS) received threats," Lind said. "I have never been targeted personally, but I have felt the micro-aggressions when sitting in various classroom settings. People don't understand what it is like to be queer. I can present as straight. Some people can't. As an educator, I constantly have to decide whether I'm going to out myself to argue against someone's queer or trans phobia."
Constantly working to increase LGBTQ visibility at UC, Lind will be teaching a queer studies class at the 4000 level in spring 2020. Additionally, UC is working toward developing an LGBTQ graduate certificate.
"I think some of the older faculty who identify in the LGBTQ community, it's hard for them to come out and we need to recognize that and have these conversations," Lind said. "We as staff, faculty, and students need to be recognized and acknowledged."
In the coming weeks, Lind and the LGBTQ association will decide new goals and initiatives, like collaborating with students and the LGBTQ Center, for this year at its fall board retreat.