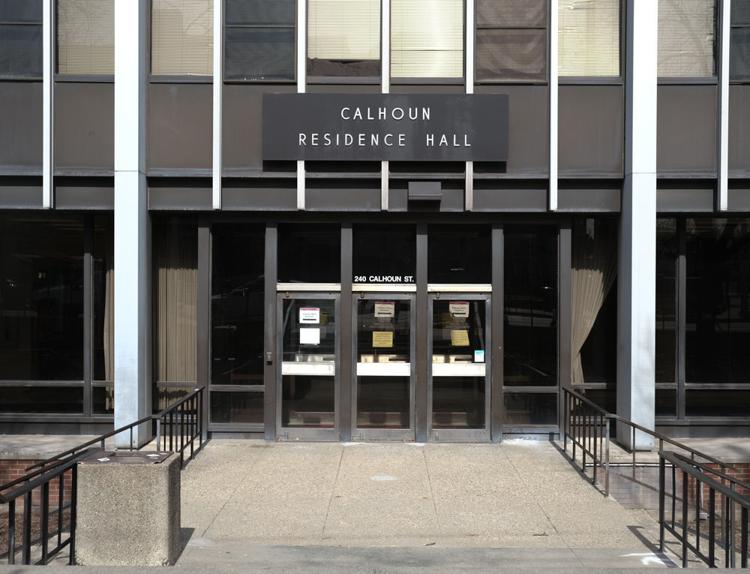 Every year, thousands of students at the University of Cincinnati move into campus housing for the classic freshman dorm experience. Due to COVID-19, this year is one like none other. 
The usual crowds of students and parents were replaced by a socially distanced move-in week. 
Each hall has put in place a mandatory mask policy, and the communal bathrooms are being cleaned every few hours, including a deep cleaning overnight. 
Marina Manos is a resident advisor (RA) at Siddall Hall. She went through a two and a half week-long virtual training to prepare for students moving into the dorm.
"Training this year was nothing like what we have done in the past," Manos said. 
Usually, training would include policies on situations such as noise complaints and roommate disagreements. This year, RAs were trained on politely asking students to wear a mask and how to encourage their residents to stay healthy and safe. 
"The residence hall is a very different environment and experience this year," said Manos.
There will be no general room swap options, according to the university's website. "Room swap will be limited to extenuating circumstances and administrative moves only."
The communal kitchenettes that were available to residents are no longer open for use. In the communal bathrooms, shower shoes are very encouraged, and deep cleaning will be happening every night. In addition to cleaning procedures and hygiene recommendations, plexiglass has been added between all sinks to prevent the virus's spread. 
The elevators now only allow two people in the space. 
"I am an RA on the ninth floor, and I am caught between waiting ten minutes for the elevator or walking up nine flights of steps," said Manos. 
All triple rooms in Siddall are now doubles, and all quad rooms are now triples, bringing max capacity on each floor to 49, rather than last year's max capacity of 53. According to Carl Dieso, executive director of housing at the University of Cincinnati, these policies could be subject to change within the first couple of weeks. 
"What we want to do is get everybody settled, make sure everybody understands how to be safe, and then as we get to the second or third week of classes, we'll take a look at how things are progressing, and then see where we can make some adjustments," Dieso said. 
Still, there is one part of Manos' job that remains slightly normal. The rounds made at night, where RAs pace different hallways to make sure everything is going smoothly, will still happen. The participating RAs will have to wear a mask and social distance as they make the rounds. 
Schneider Hall and the Campus Recreation Center (CRC) residence halls will serve as a quarantine space for students who test positive for COVID-19. They will properly quarantine for about two weeks there. When they test negative, they will be allowed to return to their original dorm hall. 
As for the social aspect of dorm life, residents will not be allowed to visit their hallmates' room. However, RAs and dorm halls are still planning events for community building. These events will either take place virtually or outside, abiding by social distancing guidelines.