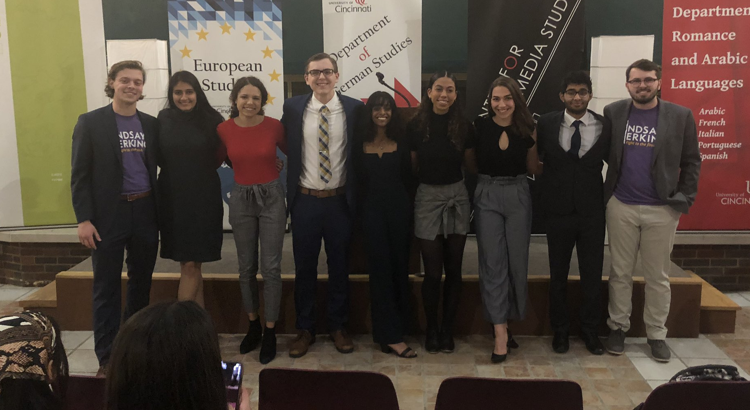 Two students who ran unopposed as a slate have been elected by popular vote to become the next president and vice president of the University of Cincinnati Undergraduate Student Government (SG).
Logan Lindsay, a fourth-year computer engineering student, will be the student body president for the 2020-21 academic school year. His running mate, Karl Dierking, a fourth-year mechanical engineering student, will be student body vice president.
Lindsay and Dierking centered their campaign on four platforms: accessibility, inclusion, sustainability and next.
"It is truly an honor to have the opportunity to represent the student interest at the administrative level," said Lindsay. "We are more than excited to work for you and watch our 12 platform points come to fruition over the next year."
Additionally, eight senators were elected to fill seats in SG. Of nine candidates, the following students were elected:
Joe Kroger, a first-year student double majoring in political science and secondary education, centered his campaign on four platforms: sustainability, academic success, community involvement and sexual assault prevention. His platform goals included establishing a community garden, increasing the semester credit hour maximum from 18 to 21, creating a volunteer initiative to offset the costs of parking tickets and promoting Bystander Training Implementation to encourage sexual assault prevention.
Neha Chawla, a second-year student majoring in computer science with a minor in women's, gender and sexuality studies, currently serves in the SG cabinet as the director of student technology. Her platform goals included promoting new technology innovation, creating outreach programs for Cincinnati Public School Students, develop a student life resource pamphlet and establish a Women's Day conference.
Taylor Allgood, a first-year international affairs student with a double minor in French and women's, gender and sexuality studies, is a recent graduate of the SG Mentorship Program (SGMP) and currently serves as secretary of senate. Allgood based her platform on the acronym STAND – sustainability, transform, adulting 101, networking and diversity and inclusion. Her platform goals included expanding UC's current composting system, crafting a new mural on campus, implementing monthly workshops that cover multiple topics, creating a website for students and alumni to market their businesses and ensure UC students will not be academically punished for missing class due to religious purposes.
Makayla Stover, a second-year student studying communications with a minor in sociology and certificates in public relations and digital engagement, currently serves as the SG press secretary under the current administration. Stover's platform goals included expanding the Bearcat Promise, prioritizing mental health by expanding the Mental Health Campions initiative, increasing campus safety by adding lighting across campus and reintroducing Campus Watch, implementing an airport shuttle program, putting printers in residence halls around campus and implementing a university-wide diversity and inclusion course requirement.
Adit Kulkarni, a first-year chemical engineering student with a minor in materials sciences, is a graduate of SGMP, his recent campus involvement includes Model U.N., CEAS Tribunal and the American Institute of Chemical Engineering. Kulkarni centered his campaign around four platforms goals, including creating an umbrella initiative where students can pick up and drop off an umbrella at designated locations, adjusting UC's third-party contracts to push for free laundry in all dorms and apartments, expanding Bearcat card uses and improving shuttle services.
Raphael Hicks, a second-year chemical engineering student, is also a graduate of the SG Mentorship Program. He has previously been involved in SG as the equity and inclusion chair for CEAS Tribunal, vice president of collegiate affairs and executive director of equity and inclusion for the current administration. Hicks focused his camp sign on three platforms: accessibility and student amenities, Bearcat inclusiveness and community outreach. His platform goals included creating a map of accessible travel routes on campus, increasing the amount of printing stations on campus, developing career and self-defense training workshops and more.
April Gable, a second-year student studying political science and communications with a certificate in organizational leadership, is currently an ambassador for the College of Arts and Sciences (A&S), a student representative on the A&S Board of Academic Misconduct and a resident adviser at Daniels Hall. Gable based her platform on the acronym SOAR — sustainability, operations, art and reference. Her platform goals included creating and distributing informative labels for recycling centers around campus, improving signage for shuttle, decorating campus with student-led creative spaces and informing students on how to maximize campus services through an online resources guide.
Nuha Syed, a first-year student studying health sciences, served on the SG committee of governmental relations, as well as the Muslim Student Association and Minority Association for Pre-med students. Her platform goals included working with the Women's Center to put on an event discussing women's experiences on campus, working with UC dining halls to incorporate food to accommodate religious holidays, providing information for students about sexual assault and harassment and putting content warnings on readings/films to protect victims of sexual attacks.