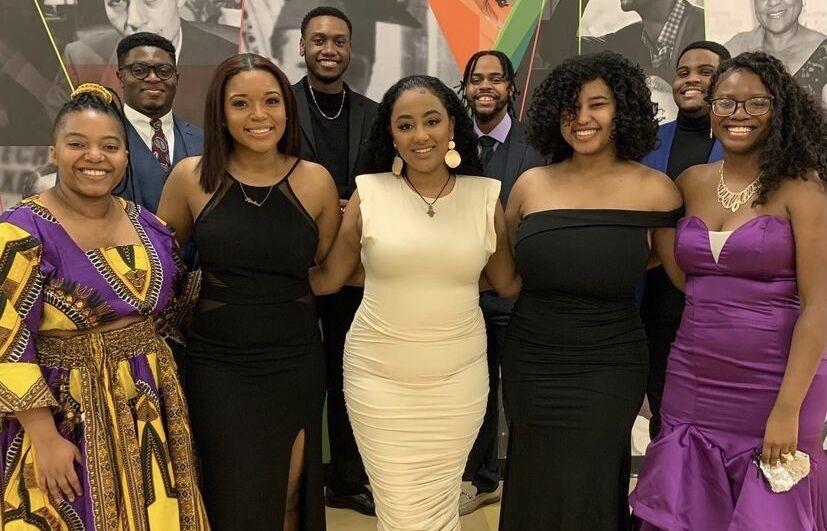 The University of Cincinnati's African American Cultural Resource Center (AACRC) kicked off Black History Month hosting Kuamka Week, Feb. 1 – 6, to induct the 2021 Kuamka King and Queen to be student representatives of the AACRC. The theme for the 22nd annual Kuamka was "Fix Your Crown."
Out of nine students, Myles Twitty, a third-year jazz trumpet performance student, and Kristina White, a third-year medical sciences student, took the crown as Mr. and Miss Kuamka 2021.
Kuamka is a Swahili term that means "in the beginning," and is celebrated with a week full of campus events. Due to the coronavirus pandemic, Kuamka looked a little different than usual. All of the Kuamka Week events had to shift to being virtual, and students had to tune in to virtual platforms to participate. 
Throughout the week, students competed in different areas to become the next Mr. and Miss Kuamka. The week celebrated academic and leadership excellence, highlighted virtual social programming and more. The candidates competed in an essay, were interviewed, presented their platform, participated in a Q&A and presented a talent. Each day during Kuamka Week featured a different virtual event, including Meet the Candidates, Graduate Paint Party with Soul Palette, Transition Rites of Passage Program, Talent Showcase Competition and a 90s vs. 2000s Verzuz Battle.
Kuamka Week concluded on Feb. 6 during the Virtual Red, Black, Green and Gold Ball. The ball is the largest event of the week and it celebrates academic excellence and the Kuamka Court. Usually, students can dress up in formal wear and African garments to attend the ball in Tangeman University Center's (TUC) Great Hall. This year there was a virtual photobooth sponsored by Student Activities and Leadership Development (SALD) for students to show off their outfits from home. 
The Kujifunza Recognition ceremony is a huge part of the Kuamka Ball, which recognizes the academic achievement of UC students. Kujifunza is a Swahili term that means "learn." This year, each Kuamka candidate was a Kujifunza recipient receiving a GPA of 3.0 or higher. 
Raphael Hicks, a third-year chemical engineering student, and BrieAnna Reedus, a third-year nursing student, were Mr. and Miss Kuamka 2021 runner-ups.
Mr. and Miss Kuamka 2021 received a $500 book scholarship, and the runner-ups won a $150 book scholarship. All of the Kuamka candidates were also rewarded with a participation certificate and a framed group photo. 
Twitty and White will attend events on and off-campus and implement a platform they are passionate about. The platform consists of a project or an initiative they would like to execute in the community, whether on campus or throughout Cincinnati. 
White's platform is titled "How To Save The Life," and her goal is to implement life-saving techniques in a way that will stick with Black UC students.
"I would like to implement trainings, videos, graphics or anything I can to spread the message and let people know that if something happens to you, this is what you could do to save your life or if something happens to someone else, this is how you can help them to save their life," White said.
Twitty's platform is titled "Melanin in Music." and is geared to encourage Black youth to get involved with Fine Arts in Cincinnati.
"My goal is to partner with Cincinnati Public Schools (CPS) to recruit students, host masterclasses and teach music lessons online for the youth, and even encourage College Conservatory of Music (CCM) students to get involved with the initiative as well," Twitty said. 
Twitty and White express that being Mr. and Miss. Kuamka 2021 is a blessing, and they are extremely grateful to hold the prestigious title and have an impactful reign. 
"All the long days and technical preparation was well worth it," said Mercedes Jones, program manager of the AACRC. "The Kuamka pageant is not an easy experience and this group committed to doing it while living in our virtual world."