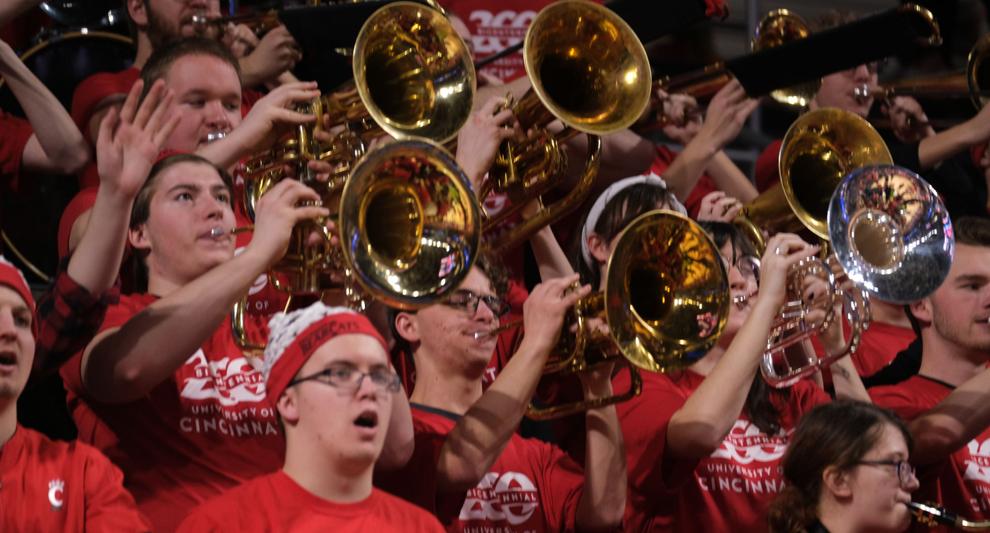 As the Bearcat Marching Band faces fill the Zoom call screen for the weekly band council meeting, the member's faces light up. Greetings of reverberating laughter from the computer audio fill the members' rooms. Though they are all separated by screens, at the moment, they still feel together. 
As band council president Brett Lauerhass, a fourth-year engineering major and trumpeter, calls for attention, they begin their meeting with a positivity line. Each member present is invited to share one good thing that happened to them that week. One student shares a delicious taco they had for lunch, another shares they received an A on a midterm. Each moment is celebrated equally.
Composed of elected student officials, the University of Cincinnati band council provides the marching band social experience to band members. Being the leadership council of the second-largest organization on campus would be a daunting task to many. For the 2021 band council, they take on their roles with a sense of professionalism and dedication even amid COVID-19.    
The band council's primary goal is to "provide an enhanced experience to the band," explained Lauerhass. This enhanced experience focuses on creating social events for the band.
"Obviously, formal and informal are our biggest events," said Laurhass. "The other big events we do actually take place two weeks before the school year starts during our first rehearsals of the school year."
The first two weeks before the fall semester are dedicated to band camp, a time for new members to learn what marching band is all about at UC. The band council hosts nightly events after rehearsals each day focused on building bonds in the band.
Another event the band council helps organize is band buddies. This system pairs an upperclassman with an incoming freshman to give them a familiar face in the band and a support system for starting college. For Caitlyn Scherpenberg, a second-year at Northern Kentucky University (NKU) and color guard member for bearcat bands, this system made her band experience much less daunting. "I love the band buddy system," said Scherpenberg.
NKU doesn't have its own marching band. If students there wish to have the band experience, they can join the Bearcat Band instead. 
"Watching the buddies charge down the steps to welcome us was the first big moment of band camp that absolutely amazed me; it made me proud to be in this group," said Scherpenberg.
Caitlyn's buddy her freshman year was a clarinet player who offered advice about band and navigating the new world of college. 
"Since I am a non-UC student, she took the time to show me all the special traditions," said Scherpenberg. "It really made the group feel like home for the first time."
Traditions are the heart of the UC marching band. The council's publication coordinator is third-year Sarah Dieterich, an English and communications major and mellophone player. She believes traditions are what brings the band together.
"The band has been full of change, whether that be staff, location or marching style," said Dietrich. "The one consistent thing throughout our history has been our traditions and finding ways to honor them."
Dietrich is responsible for internal communications in the band, maintaining meeting records and publishing a newsletter about band affairs. Another part of her job is writing different parts of the band experience, whether that be traditions, history or game day information.
"Sometimes it's mentally exhausting to care so much for the band, but I think one word I would use to describe band council is memorable, for sure," said Dieterich. "I never intentionally tried to get this role. I got nominated, ended up going for it and now I'm in so deep."
Sarah is not the only executive team member to find themselves accidentally in a role they never imagined. The council's treasurer, Jun Tanaka, a second-year accounting major and trumpeter, recalled a similar story for his role as well. 
"One of my friends in the council nominated me originally, and I don't know on a whim I decided you know what? [I] might as well run for it, nothing can go wrong," said Tanaka.
Band council is entirely funded by the marching band member's dues. A lot of pressure rests on the executive board to think of ways to ethically spend these funds to help the entirety of the band and create events people want to be at.
With COVID-19, they've had to reinvent the way they operate. Along with moving weekly meetings online, they've found ways to take their traditional events and put them in a COVID-safe format. 
"It's been very difficult, but I have an extraordinary leadership team," said Lauerhass. "Our informal earlier this fall was entirely on Zoom. I think it ended up being fairly successful, though." 
Other COVID-safe events have included online game nights and a socially distanced pumpkin painting event. "I still think our band events are important during COVID, I know for me this is my time to destress," said Tanaka. 
For the foreseeable future, the band's social events will continue to be online. However, this digitalization hasn't stopped the unbreakable ties in the marching band. For most members, it has made them stronger than ever. 
"My favorite memory with the band is just being there however I can," said Tanaka. "We become a family at the end of the day, we go through the same joys and pains of marching band, we bond together."