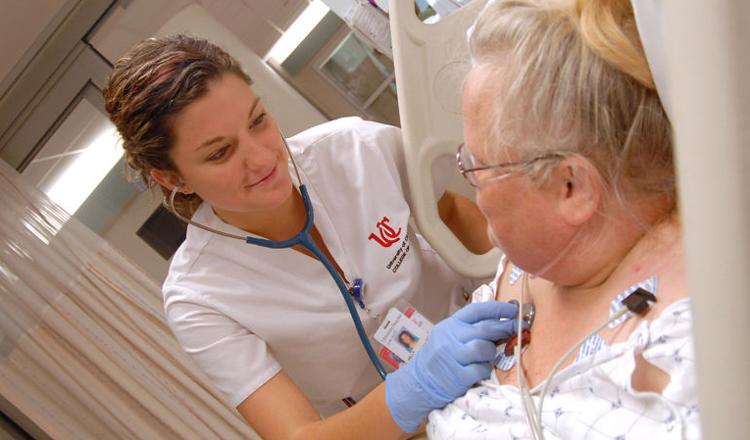 As the university's affiliated health system substantially increased the minimum wage for its employees last month, researchers and health industry experts have said the change may not be enough.
UC Health announced Sept. 18 its decision to increase its employees' minimum wage to $14 per hour. The raise, going into effect this coming January, will increase the wages of about 1,700 employees and cost UC Health approximately $1 million.
With more than 14,000 local employees, UC Health is the city's fifth-largest employer according to the Cincinnati Business Courier — outranked only by Kroger, Cincinnati Children's Hospital, Cincinnati/Northern Kentucky International Airport and TriHealth. The provider has four inpatient and 58 outpatient facilities spread throughout Greater Cincinnati.
"At UC Health, we are proud of the work our employees and clinicians do to care for others," said UC Health President/CEO Dr. Richard Lofgren, in a press release. "We know our employees have a choice about where they work – and together we share in the responsibility to make UC Health the place where patients want to receive care and where employees and clinicians want to care for others."
The health care industry in Cincinnati is in a period of rapid growth, according to data by the Bureau of Labor Statistics (BLS). As of August, the industry employed more than 170,000 people in the Greater Cincinnati area, which also includes parts of Kentucky and Indiana — an increase of about 19,000 jobs from ten years prior. This trend is being repeated across the nation.
"As a healthcare organization, we have a responsibility to our patients – but we also have a responsibility to our people," Lofgren said. "This is an investment in our employees and their families, who help us each day to live into our purpose: to advance healing and reduce suffering."
Research shows this increase might not be enough to alleviate the effects of poverty experienced by some health care workers who are not certified practitioners of medicine. Low-wage health care workers are defined as being those with a wage lower than $15 an hour, according to a study published this year in the American Journal of Public Health.
Health care workers constitute the majority of those employed by the health care industry, with women and women of color specifically being more likely to fall under the classification of low wage. The study showed 87% of the health care workers identified as impoverished were women and nearly 5% of all people living in poverty in the United States were health care workers or their children.
According to the study's authors, Drs. Kathryn Himmelstein and Atheendar Venkataramani, a universal adoption of a $15 minimum wage could dramatically reduce the rate of poverty for low-wage health care workers nationwide. However, it would also cost the health care industry about $28 billion, which some argue would be unjustifiably expensive.
UC Health's announced increase is substantial compared to the Ohio minimum wage of $8.55, but falls just short of the statewide mean wage of $14.27 for health care support occupations, according to BLS data from 2018.
"Many researchers, including me, think the new [minimum] wage should be tied to the cost-of-living in the area. Since Cincinnati is not as expensive as, say, Seattle or New York, perhaps $14 or $14.50 is good enough, at least for now," said Dr. Paul Leigh, professor at the University of California Davis Department of Public Health Sciences, in an email to The News Record. "But [UC Health] should make a commitment to keep raising the wage with inflation each year."
Approximately 7% of female health care workers are uninsured, according to the study. Failure of the industry to sufficiently raise their minimum wage may, ironically enough, actually lead to poorer health outcomes for worker and their families, read the report.
The study concluded higher income is vital to improving health outcomes for all workers nationwide, and therefore, health care institutions should look inward when designing and implementing efforts to address socioeconomic determinants of health.