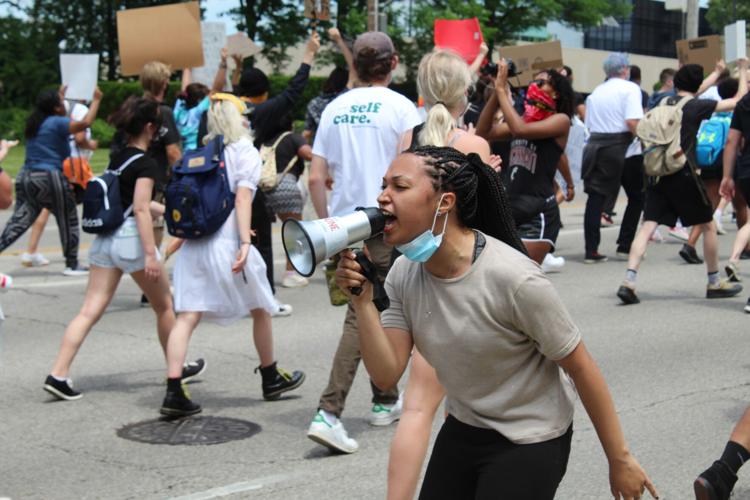 A sea of protestors took to the streets near the University of Cincinnati (UC), calling for an end to systemic racism within American policing and seeking justice for the victims of police violence.
The demonstration – which marked the sixth day of protests in Cincinnati following the death of George Floyd at the hands of a white Minneapolis police officer – began June 3 at 1 p.m. in a university-owned parking lot on the corner of Clifton Avenue and Probasco Street.
Protestors trickled in by the dozens, carrying signs made from the back of pizza boxes and wearing masks – a stark reminder that a pandemic still grips the nation.
Before the march began, protestors gathered around in a circle to listen to speeches from organizers who recited poetry and talked about their own experiences as people of color in America.
"It's time we demand justice," said Myriam Wane, an education major at UC, who organized the protest.
Though she had been a part of earlier demonstrations in Cincinnati, Wane felt that bringing a protest to the university would increase the movement's visibility.
"If it's downtown people don't have to go down there, but when it's home at UC people can't ignore it," she said of the protest.
As the march began going down Martin Luther King Jr. Drive around 2 p.m., Cincinnati police officers on motorcycles formed a barricade to block traffic.
As they marched, protestors chanted the names of George Floyd and Breonna Taylor, an EMT who was killed by police in her home in Louisville.
Protestors also chanted, "I can't breathe," a reference to Floyd's last words as former Police Officer Derek Chauvin held him in a chokehold for over eight minutes.
"Justice isn't going to be easily achieved," said Kish Richardson, president of the United Black Students Association.
"We're definitely going to be calling on UC to hold our department's accountable," said Richardson. "Officers that were complicit in the death of Sam DuBose are still here."
The death of Sam DuBose by former UC Police Officer Ray Tensing in 2015 sent shockwaves through the campus community that still reverberate today.
In an email sent to students just an hour before the protest was set to begin, UC President Neville Pinto laid out a plan of action to address issues of systemic racism both within and outside of the university.
"To members of our Black community, please know we hear you. We stand in solidarity with you to end this horrific cycle," Pinto wrote. "We recognize our imperfections as an institution, and we remain committed to creating an environment in which all members are treated with dignity, respect and care."
Though organizers cited support from some local businesses, there are still some that are not quite ready to welcome protestors with open arms.
At Mr. Tuxedo, a formalwear retailer on McMillan Street, the storefront still bares remnants of the rioting from days before.
"We were just kind of standing in front of the store and the rioters were coming up the street," said manager Sean Kelley. "And right at the tail end someone from the crowd threw a rock through the window."
The next day, after the store's windows had been boarded up, someone spray-painted "RIP Sam DuBose" on one of the boards.
Though Kelley sympathizes with the protestors, he views the property damage that has accompanied some of these demonstrations as unnecessary.
The store had already taken a hit in business as the arrival of the novel coronavirus coincided with prom season, one of the busiest times of the year for retailers like Mr. Tuxedo. "That hurt," Kelley said of the drop in business.
Several businesses near the university have likewise boarded up their storefronts as a result of protests that turned violent at McMillan Street and Ohio Avenue on early May 31.
That same day approximately 307 people were arrested for violating a curfew imposed by Cincinnati Mayor John Cranley, many of whom were transported via Metro buses and held for hours without access to food, water or restrooms, according to news reports.
One UC student, who only wished to be identified by her first name, Maggie, claims to have been one of the protestors arrested and held at the Hamilton County Justice Center for violating the curfew.
"We got scattered by some tear gas," Maggie said. "They basically cornered us, police on all sides of the street."
She said that she was held on a bus for three to four hours before being moved inside the justice center, where she was then herded outside with other detainees where they were expected to sleep.
While this may have been the scene of the city's other demonstrations, it wasn't so for the June 3 protest at UC.  
Two UC police officers arrived early at the protest, offering their assistance to organizers as they were setting up. During the march they walked side by side with protestors who chanted, "hands up, don't shoot."