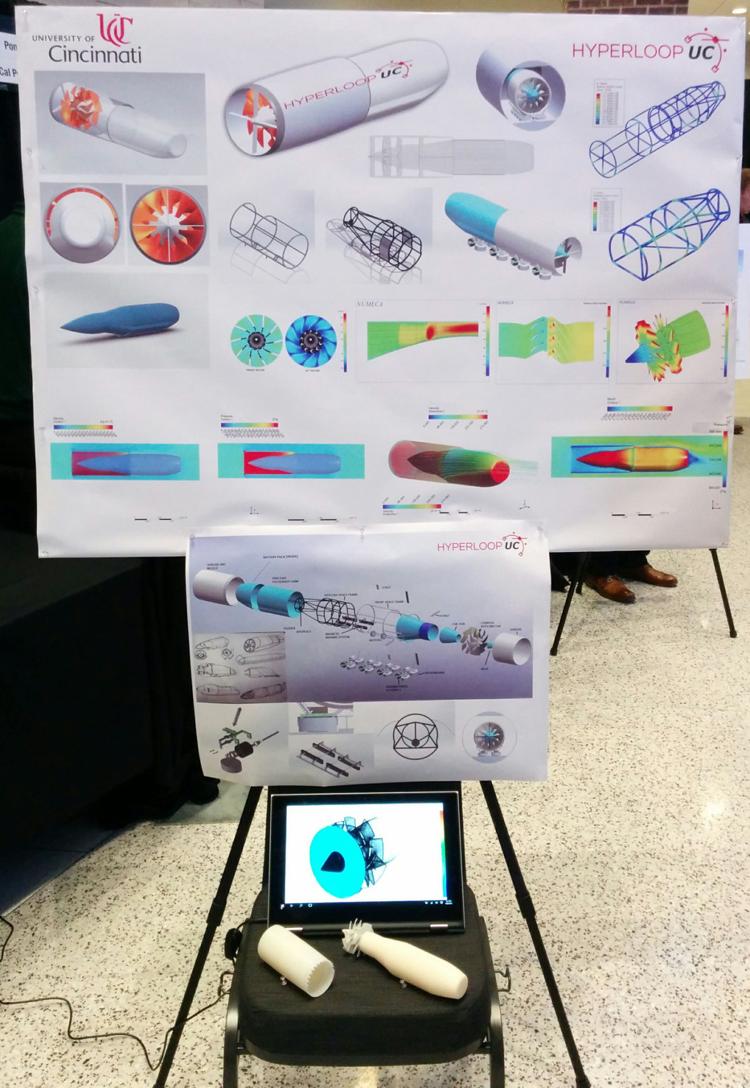 A University of Cincinnati group is one step closer to possibly seeing their design being used in a new transit system.
Hyperloop UC advanced to the final round of SpaceX's Hyperloop Design Weekend competition on Friday and Saturday against other universities from all over the globe.
Hyperloop is a conceptual method of travel — proposed by billionaire Elon Musk, CEO of Tesla Motors and SpaceX — that utilizes a pod propelled through a tube by air jet inlets.
The pod rests on small cushions of air created by tiny perforations through the pod's skis and placed inside a tube of low pressurization to minimize air resistance when launched.
The theoretical result is a pod that can transfer passengers from Los Angeles to San Francisco within 30 minutes, Musk explained in 2013.
UC's competing group, Hyperloop UC, traveled to Texas A&M University, in order to present its own pod design at the two-day technology event. The overall winner's design will be used as part of the inaugural hyperloop project.
Groups were whittled down from 170 participating schools in the semi-final round — UC is the only university from Ohio to qualify as one of the final 22 groups.
The process started on Aug. 15, 2015 with Hyperloop UC President Dhaval Shiyani, a third-year aerospace engineering graduate student, assembling a team and submitting an intent to compete all within the span of a month.
"The most difficult part is to find the right people — people who are motivated to work on something that will change transportation," Shiyani said.
Hyperloop UC submitted its preliminary design briefing against 1,000 other teams around the world and was one of 170 schools invited to participate in the Hyperloop Design Weekend.
Qualifying schools stationed a booth at the weekend and gave a presentation on their pod's concept.  Each concept was judged on feasibility, scalability and robustness.
The weekend competition was one of the final steps in a large competition where universities and independent engineering groups design a concept for a transportation pod to the hyperloop track's given specification.
UC's group was optimistic, despite going up against heavyweights such as the Massachusetts Institute of Technology (MIT).
 "We were always confident and always a contender," said Pushkaraj Bhagwat, a third year mechanical engineering graduate student.
"Some of the innovative features we have is a counter-rotating fan, which is a better compression system than a single stage fan, because of its torque balance, high-efficiency, high-pressure ratio," said Kiran Siddappaji, who is pursuing a masters and PhD in aerospace engineering.
As Hyperloop UC moves on to the final round, they have to fund and build their concept by June for testing on SpaceX's hyperloop track in Hawthorne, California.
Sid Thatham, a third-year chemical engineering graduate student, estimates $100,000 in development costs for the final design.
"We're still looking for members, especially marketing and business majors, not just engineers — we need to acquire sponsorships in a short amount of time," said Thatham.