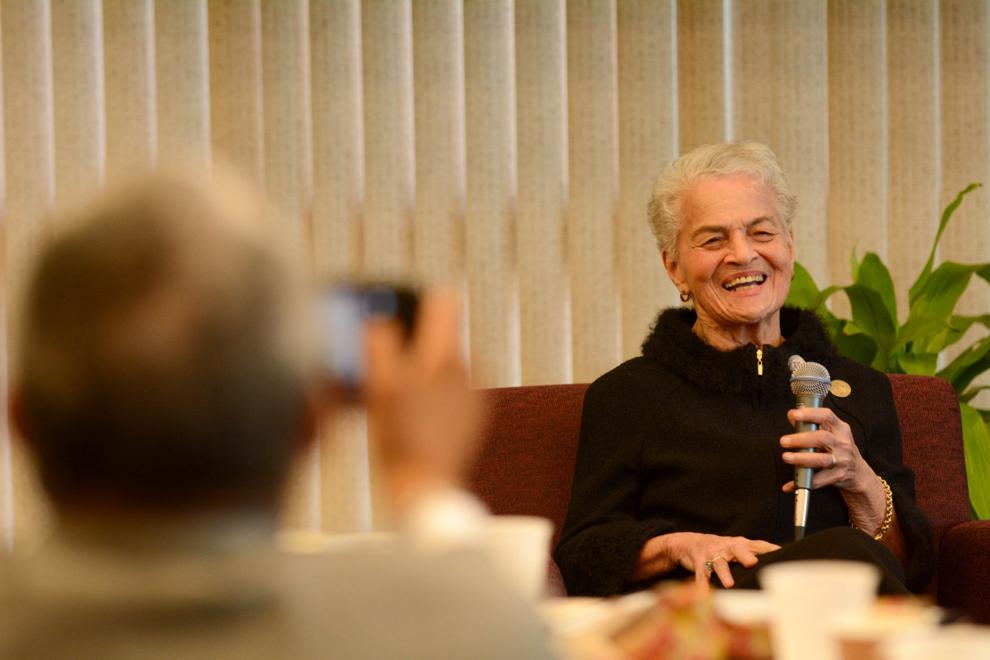 In 1942, Marian Spencer - born Marian Alexander - graduated from the University of Cincinnati with a B.A. in English and a wedding ring on her finger. She married Donald Spencer, a real estate broker and activist who founded Quadres, a music group for Black students. Already, Spencer was a loyal force behind civil rights for the Black community, working fiercely to allow Black students in the all-white school prom. This was just the beginning. 
Ten years after graduation in 1952, Spencer heard a radio advertisement inviting children to Cincinnati Coney Island to meet a local TV personality. Spencer called the radio station and asked if the invitation extended to all children. At first, they said yes, but when Spencer added, "We are negroes," the representative admitted that the invitation did not extend to Black children. Spencer promptly filed a lawsuit with the help of the NAACP against Coney Island and won, desegregating the park. 
In the early 1970s, Spencer began working to desegregate Cincinnati public schools on a large scale. She ran for the Cincinnati Board of Education in 1973, saying, "I don't have all the answers. But I have new ideas I'd like to put to work for Cincinnati." Although her campaign was unsuccessful, she gained connections and learned lessons that she carried forward.
In 1974, Spencer became the Chairperson of the Education Committee for the Cincinnati NAACP and held that position for 20 years. During this time, Spencer frequented events and gave speeches about the importance of desegregating public schools. 
Also, in 1974, Spencer took on one of the most influential cases for desegregation: Mona Bronson et al. v. Board of Education of the City School District of the City of Cincinnati, also known as the "Bronson Case." The NAACP and Spencer organized the plaintiffs for the case and argued that Cincinnati Public schools were operating as racially segregated institutions, in opposition to the Fourteenth Amendment. While segregation was legally outlawed in Cincinnati in 1887, de facto segregation was and still persisted in Cincinnati public schools. By 1984, they agreed to work on actionable steps that could lower the Taeuber Index, a tool used to measure how racially isolated schools are. According to the index, a score of zero means a school has no segregation, where alternatively, a score of 100 means the school is totally racially isolated. 
Spencer and the NAACP created alternative education programs designed for specialized skillsets to encourage a diverse pool of students. Hughes High School, for example, was designed for rigorous STEM education. Other local schools focused on business or arts. The creation of specialized schools and clustering racially isolated schools significantly changed Cincinnati's public schools' demographic makeup. By 1990, a year before the court agreement needed to be met, Cincinnati middle schools reached a Taeuber index of 32.6, well surpassing their goal. 
Spencer reached several achievements throughout this case, becoming the first African American woman elected to Cincinnati City Council, and the first woman to lead the local NAACP branch. 
Regarded as an "indefatigable, an unstoppable force of nature" by her loved ones, Spencer was not deterred by adversity. She is the granddaughter of a freed slave who taught her to combat injustice. As a child, she often saw the Ku Klux Klan parading down her street in her small town of Gallipolis, Ohio. These experiences pushed her to fight for herself and fellow African Americans in Cincinnati for her entire life. 
On July 9, 2019, Spencer passed away while in hospice care at 99 years old. Her fearlessness and ambition live on.