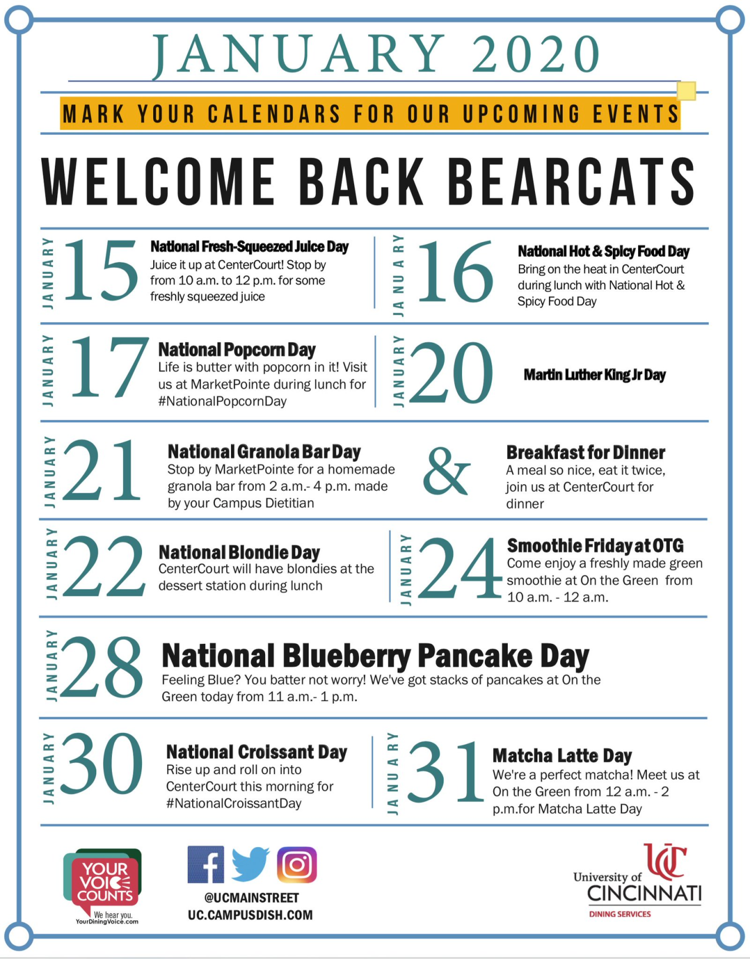 The University of Cincinnati dining services are hosting a variety of events throughout the month January to welcome students back for the spring semester. The events range from national holidays to fun breakfasts that will take place all month at the dining halls around campus. Here's what to look out for this month:
---
Jan. 15
National Fresh-Squeezed Juice Day
Head on over to CenterCourt for some fresh juice hand-squeezed from fresh lemons and oranges from 10 a.m. to 12 p.m. on Wednesday morning.
---
Jan. 16
National Hot & Spicy Food Day
Celebrate this national holiday with various hot and spicy foods during lunch at CenterCourt.
---
Jan. 17
National Popcorn Day
Visit MarketPointe during lunch on Friday for some fresh butter popcorn to properly celebrate National Popcorn Day.
---
Jan. 21
National Granola Bar Day
Enjoy some homemade granola bars made by the campus dietitian from 2 p.m. to 4 p.m. at MarketPointe.
Breakfast for Dinner
Head over to CenterCourt to have breakfast for dinner. The hall will be serving all your favorites from the most important meal of the day including pancakes, cereal, bacon and more.
---
Jan. 22
National Blondie Day
Satisfy your sweet tooth homemade blondie brownies on Jan. 22. The dessert will be served during lunch at CenterCourt during the day.
---
Jan. 24
Smoothie Friday
Start your morning off with a healthy and refreshing smoothie from On the Green. From 10 a.m. to 12 p.m., fresh smoothies will be available for students to enjoy for breakfast or lunch.
---
Jan. 28
National Blueberry Pancake Day
On the Green is celebrating this national holiday by providing students with homemade blueberry pancakes. Fresh stacks will be available from 11 a.m. to 1 p.m.
---
Jan. 30
National Croissant Day
Head to CenterCourt for a nice breakfast of fresh baked croissants to celebrate this national holiday.
---
Jan. 31
Matcha Latte Day
Get your caffeine fix at On the Green from 12 p.m. to 2 p.m. with free matcha lattes, the perfect drink to get you through a long day of classes.