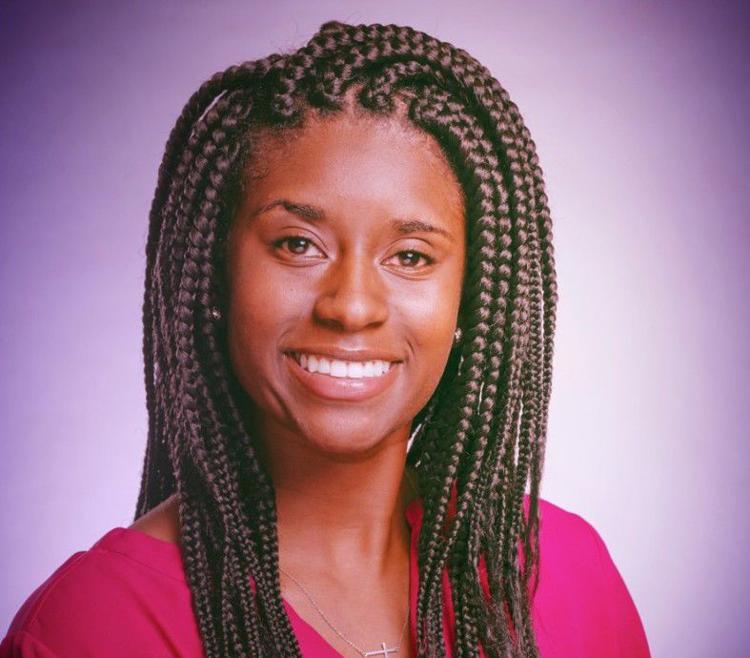 Arriana Bedgood's hands maneuver swiftly in the air, remaining close to her heart. The classroom is filled with art: paper maches of the human ear, paintings of hands and motivational quotes. She gives the class directions in sign language as another woman interprets what the teacher speaks with her hands.
Bedgood is one of eight American Sign Language (ASL) instructors at the University of Cincinnati and has been teaching her first language to students for seven months. She graduated from Cincinnati State in 2015, earning her associate's degree in ASL, and in 2019 she earned her bachelor's degree in social work from the University of Cincinnati. 
"I love teaching them how to interact with the deaf community," said Bedgood.
Today, her class is silent, paying close attention to what Bedgood signs. She gives the students a reminder that they must have two deaf community interactions by the end of the semester. She points to the whiteboard at a list of upcoming events, her handwriting in red Expo marker.
"You have many fun options," she signs. "You must interact with a few people in ASL. I know it can be scary, but that is how you will learn. It is good practice." 
Like the students in Bedgood's class, over 500 students are currently enrolled in an American Sign Language class at the University of Cincinnati. For some, ASL is a class that is required for graduation, for others, it is a choice. More and more students are taking ASL not only at UC, but all over the country. According to the Modern Language Association, ASL is currently the third most-studied language, with Spanish and French taking the lead. It is also the fastest growing foreign language in the U.S.
Hands that Learn: The students
Kat Denby is a second-year communication sciences and disorders major, who hopes to become a speech pathologist. She is pursuing a Deaf Studies Certificate, which requires her to take four semesters of American Sign Language, along with four separate classes about deaf culture and history. Denby hopes to use her ASL skills outside of the classroom and in her regular life after graduation.
"I hope to use ASL when I have my own children and when I begin working with patients with traumatic brain injuries or strokes," Denby said. The instructiveness in the classroom is what drew her to the language, she explained.
"We do not voice in class and have to sign or fingerspell if we have a question about something," she said. "I love the use of hands to communicate."
Another ASL student, Kaitlyn Cyncynatus, is in her third year. She has completed all four semesters of ASL and is working towards her bachelor's in neurobiology, with the goal of becoming a newborn intensive care unit doctor. People within her major usually take Spanish as their foreign language requirement, but Cyncynatus chose a different path.
"I really thought the language was interesting and wanted to have a different skillset applying to medical schools," she said. "I foresee myself using ASL in the hospital one day."
Cyncynatus encourages other students to take ASL because of how different the language is and how much fun the last two years have been for her. 
Other students choose to take ASL as an alternative to spoken language.
"I tried to take Spanish — my brother and my sister are fluent in it, but when I tried, I failed spectacularly," said Samuel Martin, a biology and chemistry student who is in his second semester of ASL in Bedgood's class. 
"I have never been good at anything with language," he said. "I didn't start speaking until I was four years old. Trying to learn how to pronounce stuff because I have a speech impediment was a whole mess. I tried ASL and really liked it. That's why I'm here today." 
Why American Sign Language?
Back in the class, Bedgood announces that for the next activity, each person will need a partner. This week, they are practicing the signs for family and relationships. Brother, cousin, girlfriend, husband — all said with the movement of a hand, a finger, a wrist.  
"Get with someone you don't know," Bedgood signs. "We are all friends here." 
The students in her second level ASL class look around, trying to find people they don't already know. Most people who take ASL know each other because of the small class sizes. 
"Now, I want you to each draw your family tree, Bedgood signs. "Take about 10 minutes for that. Then sign your family tree to each other. Make sure to ask questions about your partner's family too."
Ten minutes later, the students break out into conversation, but the room is silent. They sign their lineage to each other. Their hands and fingers dance. 
Bedgood's students testify to the benefits of learning to sign.
"My favorite part of ASL, even though I have only learned the basics, is that I can communicate with a deaf person," said Martin. "I think that is very special."
Cyncynatus agreed, saying, "I loved having one-on-one conversations that weren't scripted; that's how I knew I was learning so much." 
Bedgood said jokingly that her favorite part of being an ASL professor is teaching her students the dirty words. She likes the smiles and jokes that come with the job. 
"I love ASL and I love the use of hands to communicate," she said. "The more I learn about ASL and watch conversations, the more I see the beauty of the language."