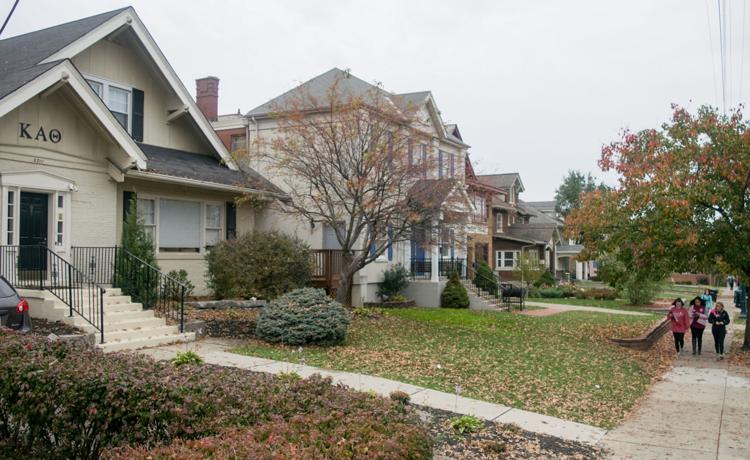 Fraternities and sororities took a hit in recruitment as UC's chapters work through the challenges of COVID-19. 
The inability to safely gather has deterred some students from rushing. In total, the Greek life community has 178 fewer members after formal recruitment than they did last year, according to the University of Cincinnati's (UC) Office of Fraternity & Sorority Life. 
COVID-19 has forced fraternities and sororities to re-strategize recruitment and restructure the social aspect of Greek life. 
"I've been in Theta Chi for about a year and a half, and it's been insanely different," said Alex Connolly, recruitment chair of Theta Chi. 
"We just had recruitment, and in my opinion, it was very difficult. For my fraternity, and I know a lot of other fraternities, it was difficult just to find people," said Connolly. "We've seen a lot of success in the past with events like welcome weekends, where we had a huge presence, but with COVID, it's really hard to meet any of the new freshmen." 
Connolly said Theta Chi ended up getting about six first-year students, as well as a few sophomores and juniors. There were five or six first-years interested in joining Theta Chi but decided to wait until the state of COVID-19 improves. 
"We're in a time where you can't really just go out and meet all these new people. You don't have in-person classes, so having that fraternity or sorority there that has already 70, 80, 90 people there and are all interested in being your friend, that's really attractive, especially during COVID," Connolly said. "But I understand some people might already have a friend structure down here and want to wait to rush until after COVID so that fraternities can offer them more."
Sororities have experienced similar struggles with recruitment. 
"Recruitment is so different this semester. Getting to meet interests in-person has always been a big part of our recruitment, so due to COVID, we did lose that aspect of recruitment. "said Delta Phi Lambda recruitment, philanthropy, social, and public relations chair, Gabrielle Bui.
Delta Phi Lambda is an Asian-interest sorority and is a part of the Multicultural Greek Council. Bui said that despite the difficulties of going virtual, they have been able to manage. 
"Our online presence is not that big, so it was harder for us to reach out and find girls to send our recruitment information to. We had our members share our flyer and information on their social media platforms, and we also had them text interests that they thought would be interested," Bui said.
Social media has been a tool in recruitment as chapters cannot rely on in-person meet-ups to give information and get to know potential recruits, but virtualizing recruitment has been challenging. 
"We basically had to take the plan that we had for in-person recruitment and just make it virtual, it was definitely a trying time, but we pulled it off," said Liz Geraghty, vice president of membership for Kappa Delta. "During recruitment, it feels so important to be in-person and understand how you feel when you're at a certain sorority's house. We kind of had to pivot while also making sure that our members are still getting the best out of their experience because a very exciting part of being in a sorority is recruiting new members."
Sororities are also emphasizing informal recruitment so that they can make up for losses during formal recruitment. 
"Each chapter lost about 15 people that they would usually get and, as a result, chapters participated in or will participate in what's called informal recruitment," said Leah Riben, the director of graphics for the Panhellenic Council and Chi Omega, a sorority with a membership of 145. "Informal recruitment takes place after formal recruitment and, if you're someone who's interested in panhellenic life but you didn't go through formal recruitment, you have the opportunity to approach different chapters individually."
Chi Omega has developed a couple of strategies to help lessen the transitional challenges for recruits and returning members. The chapter started a hiking club, running club, baking club, book club, and a mental health and wellness effort.
"In a way, there's a lot of really great things that have happened as a result of having to get creative with how we see each other," said Riben. "I'm hopeful these efforts stick around after COVID because I think it's a more meaningful way for us to be able to connect with one another and network, which is really cool."