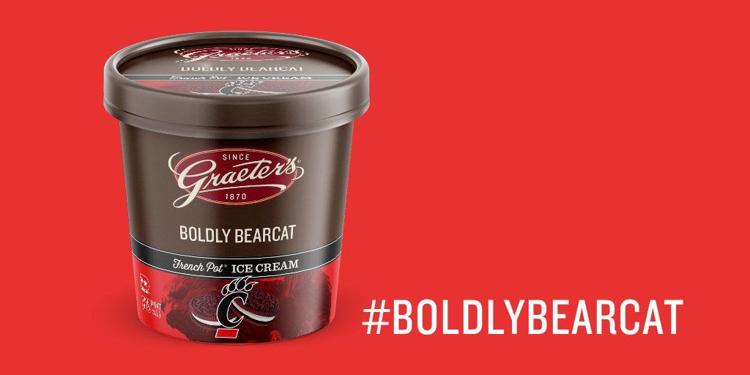 If the University of Cincinnati football team beats Ohio State Saturday in Columbus, Greater's has teased that it could begin offering the popular Boldly Bearcat flavor in pints.
Boldly Bearcat is a combination of red Oreo cookies, red velvet icing and chocolate chips that was introduced last fall to honor UC's bicentennial. The flavor was exclusive to UC Bicentennial events, with plans to expand bicentennial presence and increase opportunities to offer Boldly Bearcat. 
"We also partnered with UC on their Bicentennial and will continue to support activities with Boldly Bearcat ice cream through homecoming this November," said Graeter's vice president of marketing, Tim Philpott, in an email to The News Record. "We are currently discussing what the future may hold for collaboration on that flavor.  I would say anything is possible for Boldly Bearcat ice cream."
Dear #BearcatNation,

How about a win on Saturday and we will pint #BoldlyBearcat in 2020? #PintIt

Love,
Graeter's pic.twitter.com/v5YXpqsPeM

— Graeter's Ice Cream (@graeters) September 5, 2019
The news comes after Graeter's announced yesterday that they would be repackaging the Buckeye Blitz flavor in honor of the 150th anniversary of Graeter's and OSU.
"We had the Buckeye Blitz flavor in our lineup for many years," Philpott said. "We are redesigning all of our pint packaging of our existing flavors. We share the same anniversary with OSU and are partnering on some commemorative activities throughout the year."
With the upcoming football game between the two schools adding tension, UC fans took to social media to express their outrage.  
I know I'm just one person and don't mean much to overall sales but I will not be eating or buying @graeters ever again. I'm sorry but to support another city and not the one built your brand isn't the wisest decision. @GoBEARCATS @Prez_Pinto https://t.co/APauL6T6c0

— NatiBilly (@BearcatsNati) September 5, 2019
I love graeters but I don't and won't do bUCkeye blitz . WE WANT OUR #BOLDLYBEARCAT #UC200

— Gregory Hoodin (@cincygreghoodin) September 5, 2019