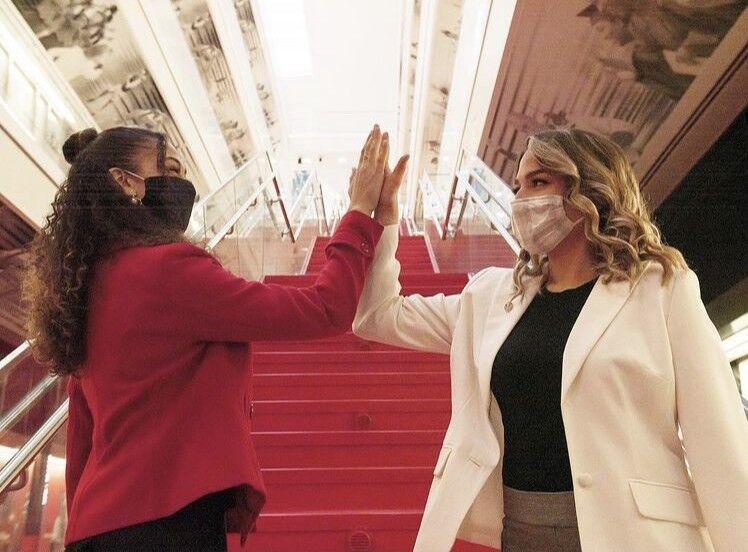 Correction: A previous version of this story suggested Gable and Allgood are the first women to be elected to student body president and vice president during the same term. This is not true and the story has been updated to reflect that. 
April Gable and Taylor Allgood have been elected as the University of Cincinnati's (UC) next undergraduate student body president and vice president for 2021-22. 
Both Gable and Allgood became involved in Undergraduate Student Government (SG) as first-year students and rose through the ranks eventually being elected to the position of senator-at-large. 
While this is the first time in recent memory that two women were elected to the positions of student body president and vice president during the same term, it's certainly not a first in the university's history.
Janine Dascenzo and Anne Dunn were elected as student body president and vice president in 1982. They were succeeded by Jane Getty and Jennifer Cox. 
Their campaign ran on a platform of diversity and inclusion, sustainability, campus spirit, mental health and accessibility. 
"Thank you all for your support throughout this campaign. We look forward to creating a more inclusive equitable and engaging campus," read a post on their campaign's Instagram page shortly after the election results were revealed on Friday. 
This is also the first time in three years that the winning slate didn't run unopposed. Last year, two slates were denied from running after missing the deadline to submit their nominating petitions, giving the election to current student body president and vice president Logan Lindsay and Karl Dierking. 
Former student body president and vice president Chandler Rankin and Abbie Smith also ran without a challenger in 2019. 
This was also the first time campaigning was done entirely online. Because of the coronavirus pandemic, campaign rules required that slates follow the public health guidelines put in place by the university to stem the spread of COVID-19. 
"I was genuinely terrified at what an election season would look like during a global pandemic," Tyler Benson said about being appointed last year to serve as a vice-chair of the Election Facilitation Committee. 
"While we obviously wish that circumstances were different and we didn't have to have a virtual election season, we knew it was the best option to keep everyone safe," he said during a March 5 meeting. 
Gable and Allgood's road to SG's top office was bumpy at times. They were one of two slates found in violation of campaign rules by EFC in February. The committee unanimously ruled that her campaign had violated rules by receiving an indirect endorsement from the university's main Instagram page, documents state. 
According to EFC rules, "no athletic team, university office or university department, student organization, faculty or staff may endorse a nominee." 
In response to the allegations, Gable told EFC she was unaware the university was going to post the photo to its social media account, adding her campaign was not mentioned in the university's original post. 
Following the committee's ruling, the Gable campaign was forced to suspend social media activity for 12 hours and ask the university to remove the posts in question.
The student body president serves as the primary representative of SG and is responsible for executing legislation approved by the senate, appointing cabinet and executive staff positions, and representing the student body during university committees. 
Gable and Allgood will be sworn into office on March 17 after meetings with the current administration.