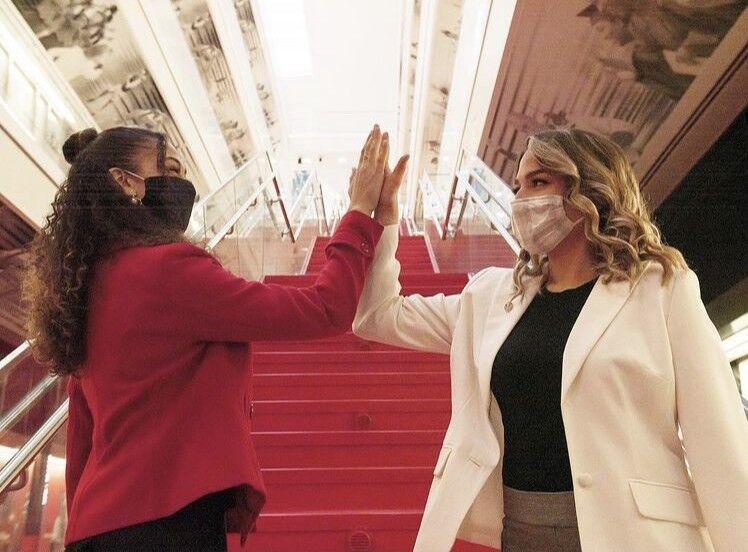 A new executive administration of the University of Cincinnati's (UC) Undergraduate Student Government (SG) has officially begun their roles. 
Student Body President and Vice President April Gable and Taylor Allgood were sworn into office on Wednesday. 
They will serve a one-year term, acting as the primary representative of SG – responsible for executing legislation approved by the senate, appointing cabinet and executive staff positions, and representing the student body during university committees. 
Gable and Allgood were elected to the position on March 5, succeeding former Student Body President and Vice President Logan Lindsay and Karl Dierking. 
Their campaign ran on a platform of diversity and inclusion, sustainability, campus spirit, mental health and accessibility. 
Both became involved in SG as first-year students and were eventually elected to the position of senator-at-large. Gable said that from the start of her involvement in SG, her goal was to become student body president. 
"I set that goal for myself, but I also set a standard to make sure that I was at that point, if not further," she said of rising through the ranks and learning the ropes of SG. 
Allgood attributes much of her confidence in leadership to her experiences so far in SG. 
"I think, overall…my work as senator and executing my platform that I had planned as a first-year has really just helped me step into my voice and my power as a leader," said Allgood, a second-year student double-majoring in political science and international affairs.  
However, their road to SG's highest office was in stark contrast to their predecessors. 
Whereas Lindsay and Dierking were elected shortly before the university transitioned to remote learning as a result of COVID-19, Gable and Allgood ran in a completely virtual election cycle.  
"On Main Street, you get to talk to so many different people that you've never seen before, or that you haven't gotten to have a conversation with," Gable, a third-year communications and interdisciplinary studies major, told The News Record. 
"You can't really just have those conversations online, even though you're on your phone with them…you can only do so much outreach," she said of campaigning online, adding that her biggest concern was ensuring that her campaign was reaching as many students as possible. 
Gable said meetings have flooded her schedule since she was elected.
Though initially worried she was going to become overwhelmed, Allgood said the transition into her new role has been smooth.  
"Just stepping into the role and figuring out what all my responsibilities are as the vice president, as opposed to both of our roles together as a team was very insightful," she said. "And I think, honestly, it's going to be a great year." 
The first all-woman slate to be elected in recent memory, Gable and Allgood expressed feelings of uncertainty and, at times, fear in rising into their current roles. 
"Let that other side of fear inspire you," Allgood said when asked what advice she has for aspiring student leaders. 
Now in office, Gable said her administration's priorities include making the SG office more inviting for students – keeping in mind pandemic protocols – and ensuring that her administration is meeting with the university president's cabinet.  
"Whether it's just us doing some cleaning, or getting some…different shelving, different furniture because it's really, really outdated…and make sure that not just student government members, not just board members, but everybody comes," she said.