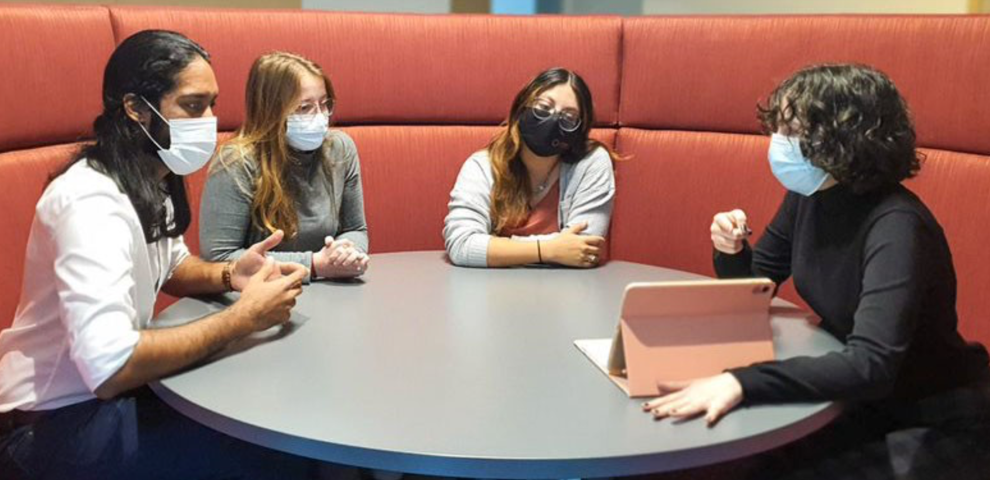 Leadership is an earned skill many seek to have. At the University of Cincinnati (UC), leadership is one of the traits the school proudly exhibits in its students. This dedication has paid off, as this past October, four UC students were named as Stanford University Fellows. 
The four selected were industrial design student Haley Rich, English student Lily Stewart, biomedical engineering student Jonathan Raj and computer science student Yulia Martinez.
Serving as the Faculty Champion to these students was associate professor Aarron Bradley, who was first in charge of getting this unique group together as potential candidates. He has seen their work through as the students applied, were selected and then had the opportunity to implement an innovative plan for helping to guide the university into a more cohesive, tolerant and stronger institution. 
The four UC students selected are part of a nationally selected group of 251 students. Having such strong representation of UC was a source of pride for all involved.
"Innovation is a central part of our Next Lives Here strategic direction," said Bradley. "I think having our students selected to this global community of campus innovators and changemakers demonstrates that the investments we're making in innovation are being recognized."
These students were originally selected during the summer, where they had to attend a training program courtesy of Stanford University, working together to design their project and bring their research and ideas back to campus. This six-week training intensive had students researching their campus' ecosystem, then identifying where their schools could improve upon design, creativity, entrepreneurship and more.
"We conducted interviews and built prototypes to test ways that we could innovate an improvement for the student experience," said Raj. "This culminated in a presentation to major UC stakeholders including deans, program directors, advisors and faculty from all over the university where we pitched our prototype to cap off the training process."
This opportunity was a major game-changer for the students. A chance to explore the ways their ideas and voices can help influence a larger community was a challenge they eagerly took on.
"I want to use my new skills to start implementing projects in my life and in my community in a more thoughtful manner," said Stewart. "I think that I have gained a lot of confidence in my ability to organize and act, so I hope that I can start doing some important work and advocacy at UC and beyond."
Having such a unique group of students from incredibly different backgrounds offered a fun yet rewarding challenge as they navigated how they could best put their unique skill sets together. Having such a diverse group representing UC was essential for the innovators to successfully create new ways to improve the UC student experience. The work these students have done has just begun, as they are continuing their research and ideas about ways to improve what it means to be a student at UC.
"We are such an unexpected group of incredibly different students who are working together to make unexpected results which is exactly what the world needs," said Rich.
Uplifting the voices of these students has created a new trajectory for the university acknowledged by the peers, mentors and even President Pinto. The excitement of what could come from these students' work is something for many to look forward to.
"I'm honored to work alongside these students, they had just met virtually for the first time when working through the application process in May," said Bradley. "Now they're a tight-knit, cross-disciplinary team of innovators that are a force to be reckoned with."