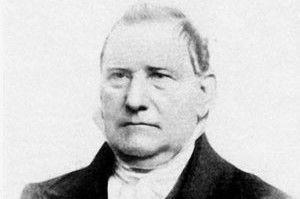 A University of Cincinnati president-appointed working group of students, faculty and staff has recommended that Charles McMicken's name be disassociated with the McMicken College of Arts and Sciences. 
With the recommendation, the group released findings from its year-long research into Charles McMicken's historical affiliation with the college's founding 
Here are five key takeaways from the report that you should be aware of:
---
Charles McMicken was deeply involved with the slave trade.

As a trader, merchant and property owner in Louisiana, McMicken is known to have bought and sold slaves as part of his regular business dealings. Although he is not thought to have owned or operated any plantations, he did use enslaved labor at his homes and at a store he owned in Louisiana. 
McMicken never married, but fathered two children with at least one enslaved woman, who he eventually freed along with their daughter and sent to live in Cincinnati. His descendants have been traced as far as Northside in the 1940s.
---
McMicken's association with Arts & Sciences had been tenuous at best. 
Due to a stipulation in his will that bequeathed real estate to the city of Cincinnati "for the purposes of building, establishing and maintaining as soon as practicable, after my decease, two Colleges for the education of white Boys and Girls," many attribute the founding of UC directly to McMicken. 
The use of his name in association with A&S, however, has been largely informal since the late 19th century. Despite his name being attached to the college's flagship building, McMicken Hall, the direct use of his name in relation to the college itself fluctuated until 1953 when it was used more consistently.
---
Students and faculty have objected to the name's use for decades. 
Because of his involvement with slavery and the discriminatory language of his will, African American students and faculty have objected to the use of McMicken's name since the 1970s or earlier.
By 2018, objection to the McMicken name had grown so much that several legislative bodies at UC, including undergraduate and graduate student governments, passed resolutions to forego use of his name. 
Students graduating from A&S can request the name to be omitted from their diplomas.
---
There has been contentious debate surrounding whether to remove the name from A&S. 
Similar to national debate surrounding the removal of confederate monuments, opinions surrounding the official removal of McMicken's name have varied. From the erasure of history and the reverberating impact of slavery to McMicken's relevance to the university today, the issue has seen no shortage of contention.
Some opinions expressed to the group labeled the call for removal as racially motivated by a relatively small group of African American students. Others said removal would be a step toward acknowledging the history of discrimination experienced by African American students.
---
The group unanimously agreed that UC should discontinue the use of McMicken's name.
While the group acknowledged McMicken's name remains an integral part of the university's history, it concluded his association with A&S has not been consistent and is not vital to the college's identity. 
For the university to fulfill its mission to promote diversity and inclusion, the group said it must first separate itself from its segregationist past, while also working to present that history fully, fairly and accurately.
"The University of Cincinnati has traveled far since Charles McMicken's bequest in 1858. It has far still to travel," said the working group.