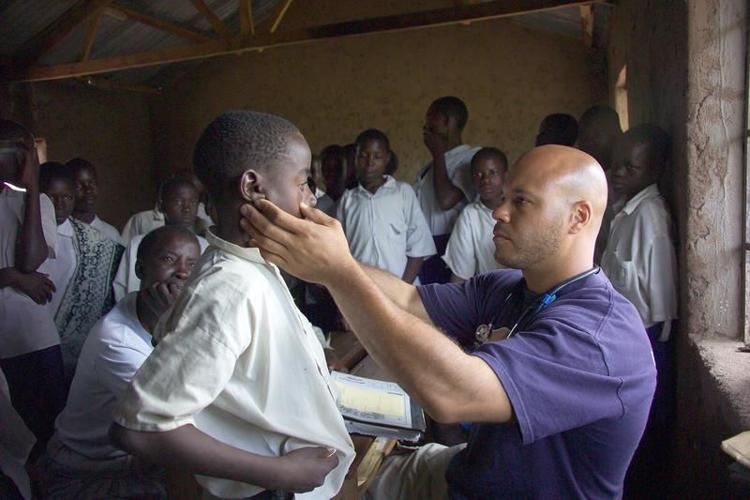 During his final month of residency at the University of Cincinnati's College of Medicine in 2003, Christopher Lewis prepared to travel to Tanzania. He had completed three years of global health training and two field experiences in Honduras and El Salvador.
"I was at UC in global health to, not necessarily go in as the big-bad western doctor with all the knowledge and resources and implement what I thought the community needed, but rather to start with a community oriented approach that involved the community from the ground up and everything that we do," Lewis said.
For a month, Lewis worked in the Shirati KMT hospital in Shirati, Tanzania. At the time, it was one of two hospitals serving half a million people. The hospital was under resourced and its water and electricity came in waves.
Lewis recalled when he was assisting in surgery and the light would go out, the staff would need to hold up flashlights. Sometimes they did not have the right medicines to treat the conditions they diagnosed.
Though the hospital lacked resources, Lewis was impressed by the culture of care that existed within the Tanzanian medical community.
"It was a culture that said, 'we may not have the resources that we need, but we are going to do whatever we can with the resources we do have to save lives and to make people's live better,'" Lewis said.
Lewis' first trip to Tanzania changed the trajectory of what he thought he wanted to with his life and changed his definition of a meaningful career. He began to think about what he could to open up this experience to other students, residents and professionals to change their lives in the way that it changed his.
Lewis came back to UC, graduated, became a full-fledged doctor and began building his practice. His experiences in Tanzania kept coming to the forefront of both his mind and heart.
Thanks to the advice from mentors and fellow faculty members, Lewis developed an idea to start a nonprofit organization that could gather people and resources, rather than just going to Tanzania by himself.
In October 2004, Lewis organized a group of 14 including medical students, medical faculty, nursing faculty and a few educators and traveled back to Tanzania.
They took medicines in suitcases to community buildings and set up field clinics where they treated patients. As they helped alleviate suffering from a healthcare perspective, they also hoped to build sustainable relationships in the community.
"Health care is much more than medicine and disease," Lewis said. "It's access to clean water, access to schools, access to sanitation, access to employment, food, all of the various things that impact a society that also impact health."
Lewis came back from the trip and contacted UC's College of Engineering and Applied Science, asking if there were any students or faculty who were working on clean water initiatives who might want to get involved with his work in Tanzania.  
"Engaging the College of Engineering was crucial for us because it told the rest of the university community that what they're doing with their lives is bigger than just healthcare, and there's a way for you to plug in even if you are not a healthcare person," Lewis said.
Lewis formed the Village Life Outreach Project, with a mission to unite communities to promote life, health and education. In Tanzania, the organization has partnered with three villages to fight poverty, improve health, water quality and quantity and educational outcomes.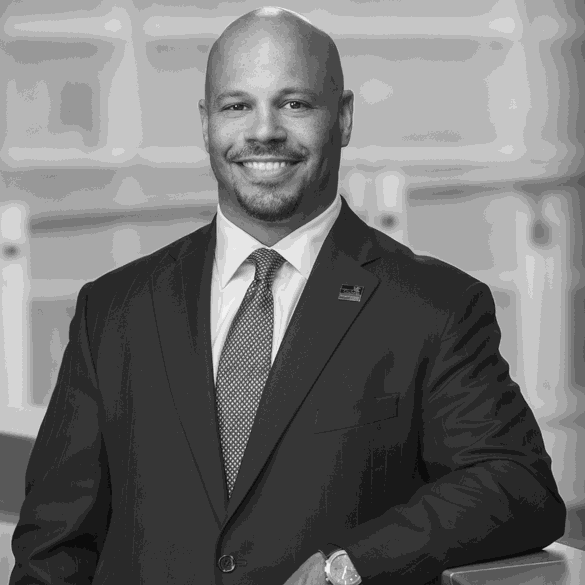 "We have life, health and education committees here in Cincinnati that meet regularly to discuss and design programming and evaluation," Lewis said. "And then we also have those same committees in each of our three partner villages in Tanzania."
The committees here in Cincinnati – largely represented by members of the UC community – work hand in hand with the committees in Tanzania. The committees in Tanzania communicate about problems that they may have, such as a lack of clean water, and the committees in Cincinnati provide resources for solutions the committees in Tanzania see fit.
Even though the three villages in Tanzania all have similar problems, Lewis says the solutions in each village are often very different. What might work in one village, in terms of a water purification project, for example, might not work in another village. The organization works to make sure they are taking a customized approach guided by each individual community on how to solve problems.
In addition, the Village Life Outreach Project has a sister organization on the ground in Tanzania, The Shirati Health Education and Development Foundation (SHED). Acting as eyes and ears on the ground, SHED manages the organization's staff and is the main point of contact that links the committees in Cincinnati to those in Tanzania.
In its 16-year history, the Village Life Outreach Project has involved more than several thousand people in planning and different projects; 630 of them are UC faculty and students who have traveled to Tanzania with the organization.
Sue Casey-Leininger, the executive director of the Village Life Outreach Project, moved to rural Kenya for a little over a year between her undergraduate and graduate studies. Her experience stuck with her and taught her that she had much more to learn from this new community than she had to teach them. She later worked for the Amnesty International USA in New York, but returned to her hometown of Cincinnati in 2015 to be the executive director of Village Life.
"I think exposure to new cultures, whether you travel to a new place or learn about it at home, has transformative power," Casey-Leininger said. "Seeing the way people's attitudes and outlooks shift while they work with us is my favorite part of this job."
Sharing experiences with others is a part of the job that Buthaina Karaman also values. Karaman serves as the program and development director. Almost three years ago, as a graduate student at UC, Karaman was completing her master's in public health thesis in rural Kenya when she met Casey-Leininger. After graduating, Casey-Leininger brought Karaman on to be the organizations second full-time employee.
"I immediately recognized Village Life's mission to be different than most international aid organizations, focusing on sustainability and community buy-in instead of short-term solutions," Karaman said. "Village Life's solutions to poverty alleviation in our three partner communities are sourced from the ground and we're not looking to expand to other areas. The emphasis on building meaningful relationships and partnerships is what drew me in and why I think so many others stay involved as well."
Over the past few years, Karaman has witnessed improvements in Village Life's partner communities: They now have better access to clean water, health care and are overcoming obstacles to education. However, she never expected to see such a change in the Cincinnati community. Most rewarding of all, she says, has been witnessing the impact of the countless health professionals who become better providers and caretakers, students who gain a new perspective and volunteers who make a difference.
Earlier this year, the organization was the recipient of a $1 million grant, which worked to create The Anna and Harold Huffman Maternal and Child Health Endowment Fund. The gift includes funding for natal care, community training and field training for students, faculty and staff.
The grant has inspired another gift that will allow the organization to construct a reproductive and child health center at the Roche Health Center in Tanzania, the primary health care facility built in partnership with UC Health in 2011.
For students looking to be a part of the Village Life Outreach Project, Lewis said they look for flexibility and those who think of their contribution as part of a larger effort that is bigger than themselves.
"This is real life and the problems that we're trying to solve with our partners in Tanzania often have life and death implication," Lewis said. "You can't always go into every situation with the playbook and the follow that playbook 100%."
Like Casey-Leininger, Lewis is most proud of being able to share the experiences that changed his life with other people.
"If we really want to be the type of world that I think is possible for us to become, there has to be an underlying focus on loving other people," Lewis said. "To me, that's what working with Village Life does for students. It heightens their ability to think beyond themselves and to become better global citizens."