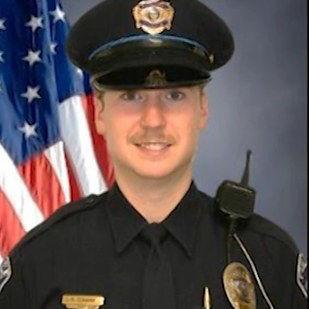 Federal prosecutors say they will not file criminal charges against a former University of Cincinnati Police Division (UCPD) officer previously accused of murdering an unarmed Black man during an off-campus traffic stop. 
The U.S. Attorney's Office for the Southern District of Ohio announced on Friday it has concluded its review of the 2015 fatal shooting of Samuel DuBose by former UCPD officer Ray Tensing. 
After two mistrials, one in 2016 and another in 2017, the Tensing case was referred to federal prosecutors to review potential civil rights violations.
"Federal civil rights statutes – which are written by Congress – require federal authorities to prove beyond a reasonable doubt unanimously to a jury of twelve that a defendant willfully used unreasonable force with the specific intent of violating a victim's constitutional rights," the attorney's office said in a release. "This is one of the highest standards of intent imposed by law."
The attorney's office added that DuBose's family has been notified about the decision. 
According to the attorney's office, the FBI has also concluded its investigation into Tensing.
According to a police report, on the night of July 19, 2015, DuBose was pulled over by UCPD due to a missing front license plate. During the traffic stop, Tensing claimed that he had been dragged by DuBose's moving vehicle, forcing him to fire his service weapon. 
However, body camera footage from the incident shows Tensing fire a single round through the driver-side window before the car started moving. 
DuBose was pronounced dead at the scene after suffering a gunshot wound to the head. 
Shortly thereafter, Tensing was fired from UCPD and indicted on charges of murder and voluntary manslaughter. 
Tensing was never convicted on those charges. Per an agreement with the Fraternal Order of Police, the university paid Tensing over $200,000 in back pay and benefits as well as another $100,000 to cover his legal fees. 
As a result of DuBose's death, the university hired Exiger, a private firm specializing in regulatory compliance, to conduct an investigation into UCPD's policies and procedures.
In the months leading up to the DuBose shooting, the investigation found that UCPD had conducted an unprecedented number of traffic stops – averaging 412 stops per month. 
As a result of its investigation, Exiger laid out a total of 276 policy reforms for UCPD, most of which were completed by late 2018. 
The Community Compliance Council, originally the Community Advisory Council, was established just months after DuBose's death and works to ensure university police are following proper policies – including those related to use of force.
In a settlement, the university agreed to pay DuBose's family $5.3 million. Part of that sum includes an undergraduate education for DuBose's children free of tuition and fees. 
DuBose was not the first killed in an altercation with UCPD. 
Since 1997, officers with UCPD have been involved in the deaths of four Black men, two of which suffered from psychiatric conditions. DuBose's death was the first use of force incident to result in a criminal indictment.