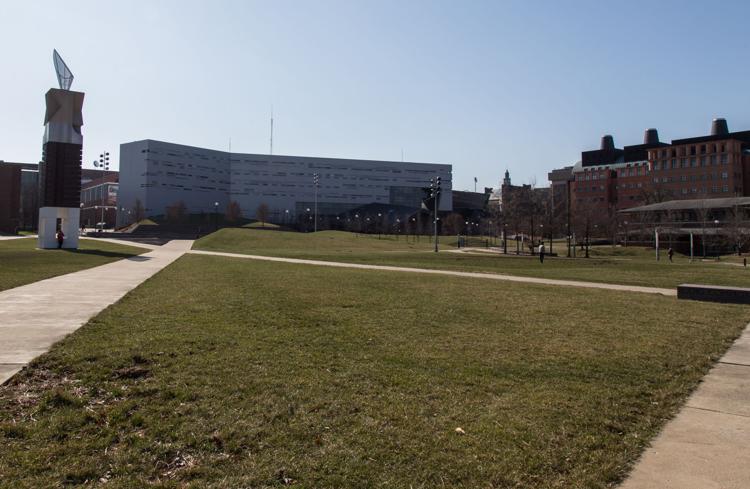 Once a parking lot, Sigma Sigma Commons has become the primary green space on UC's main campus. Yet, despite the popularity of the space, few students know about the organization behind it.
Founded in 1898, the Sigma Sigma Men's Honorary Society is a fraternal organization whose donations have resulted in such familiar campus features as Sigma Sigma Commons and the Bearcat statue on the east side of campus. To date, the society has donated $72 million. Yet, according to current chapter president Ben Keating, the society is dedicated to more than philanthropy.
"Although endowment helps drive the university forward, it can be argued that service engagements are even more important," Keating said. "Sigma Sigmas serve the university in a variety of volunteer, mentorship and board positions."
Former members have gone on to serve as college and university presidents, Cincinnati mayors, college professors, coaches, flag-rank officers of the armed forces as well as captains in business and industry, according to the organization's website. Sigma Sigma includes 21 current students, but total membership numbers including living alumni measure closer to 600.
Sigma Sigma is and will remain a local society. The organization's website claims the reason for this to be simply that its most important function — teaching loyalty to the University of Cincinnati — can best be performed as a local organization.
Keating said Sigma Sigma's purpose is to elevate the University of Cincinnati academics and athletics to a position of national prominence. This purpose has materialized in different ways over the course of the society's history, and Keating said the organization is currently shifting focus away from physical gifts to become more programmatic in nature.
A recent example of this shift is Sigma Sigma's partnership with the Cincinnati Chamber of Commerce to sponsor Leadership Class 43. The leadership class is, according to the Chamber of Commerce, an immersive civic learning program designed for upper-level business and community leaders looking to make an impact in the Cincinnati area. Sigma Sigma has attracted the focus of the class to the university through this partnership.
Keating said the organization hopes this will form a lasting connection between the university and the business community beyond individual college co-op programs.
"The entire Leadership Cincinnati class will come to campus this fall to meet with UC leaders and immerse at several colleges to learn more about their specific programs and understand how their respective businesses can partner more closely with the university," Keating said.
For those looking the join the elite honorary, there isn't a clear-cut path to induction. Membership is given primarily based on an individual's dedication to the goals of the society — unselfish service and loyalty to the best interest of the university — he said.
"People may assume there is a point system or campus role/involvement that will automatically induct a man into Sigma Sigma, however this is far from the truth," Keating said.