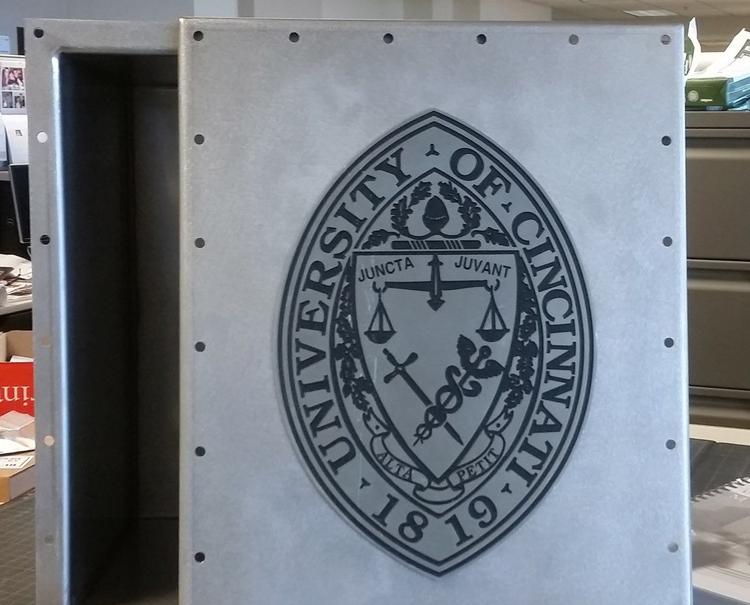 The University of Cincinnati is collecting items for a time capsule to be housed inside Fifth Third Arena in recognition of the university's bicentennial.
The time capsule will be reopened in 50 years when UC celebrates its 250th anniversary in 2069. It will include various awards and other memorabilia from students.
"We have a lot of bicentennial pieces, but we're also looking for stuff from students, like personal reflections, list of top tens, menus from your favorite restaurants or even items from groups you are a part of," said Kelly Grant, bicentennial associate director of alumni and donor experience.
UC originally scheduled to accept submissions through Oct. 18 and seal the time capsule Nov. 8 at the Bicentennial Bash, which will officially end the bicentennial year. In an effort to gain more items to fully represent the student body experience that truly reflect the UC story, the deadline to submit items has been pushed back to Nov. 29. The date in which the time capsule will be sealed is yet to be determined.
With dimensions of 18 inches wide, 24 inches tall and 12 inches deep, items must be able to fit inside the capsule and larger items may need to be photographed instead. UC invites the community to think big about the message they wish to send to the future and what will best represent UC today. When submitting ideas, include details about the meaning behind an idea.
Items inside the time capsule must not include wood, rubber bands, batteries, staples, paper clips, or anything that could break down or leak over time which could damage other items or the time capsule itself. One may submit as many ideas as they would like and they do not necessarily need to provide the item they propose.
UC encourages the community to work together and submit items and ideas on behalf of student organizations, groups, office, departments, class or family. Possible items could be: 
Newspapers, newsletters, magazines, artifacts, photos and clothing
Posters and programs from various UC events
Predictions for the future
Personal reflections
Pictures of things that may not be here in 50 years
List of current popular expressions heard on campus
Photobook of campus buildings, sculptures, gardens and people in the UC community
Anything that represents the UC experience
All items submitted will be reviewed by a committee of students, faculty, staff and alumni. The items the most reflect the UC experience and UC's first 200 years will be chosen to go inside the time capsule.
Anyone in the UC community and the community-at-large can contribute to the time capsule via an online form, submitting via social media using #OpenIn2069 or by bringing items to the UC Alumni Association at 176 West McMillan St. or UC Foundation at University Hall, suite 100.