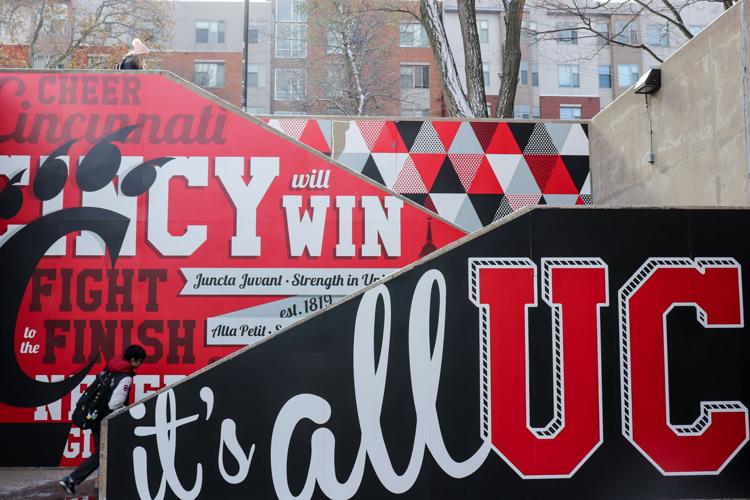 The University of Cincinnati's student government (SG) unveiled a new mural on campus, located on the staircase between Siddall and Calhoun residence halls. In 2017, a mural with nearly similar design was installed on the same staircase, but was torn down due to wear, tear and inclement weather.
"Since the previous mural was already once there and thoroughly enjoyed, it made sense to reinstall the mural in the same space but with a more durable material," said Senator-At-large, Sivani Alla. "The staircase is also definitely one of the higher traffic spots on campus that connects us to Calhoun Street, and leaves a little to be desired aesthetically. In addition, during campus tours, visitors stop at Siddall Hall so we thought it was a perfect spot where the mural could be seen by many."
SG collaborated with the university's Planning + Design + Construction (P+D+C), facilities management and department of athletics to plan and install the new mural. This past summer, P+D+C reached out to SG president and vice president, Chandler Rankin and Abbie Smith, to gather student input and feedback for the completion of a new mural. SG senate approved to contribute $2000 toward the installation and maintenance of the mural.
"Considering the original mural was a great marker and embodiment of Bearcat pride, we believed that a USG partnership to establish a new mural would perfectly reflect and enhance the spirit of our student body," Alla said. "We also though the reinstallation of the mural would be another great way to celebrate our Bicentennial, with Homecoming festivities just having been passed."
SG hosted an unveiling of the mural Nov. 12 and invited P+D+C, facilities management and department of athletics partners to thank them for their support. The event was also open to the student body, and some members of the UC Band and the Bearcat were in attendance.  
"I remember seeing the original mural during my very first visit to UC as a senior in high school, and excitedly taking a picture in front of it to mark my new home," Alla said. "As a major stop for both visitors and students, I am eager to see the mural become an image of our campus' spirit and school pride."