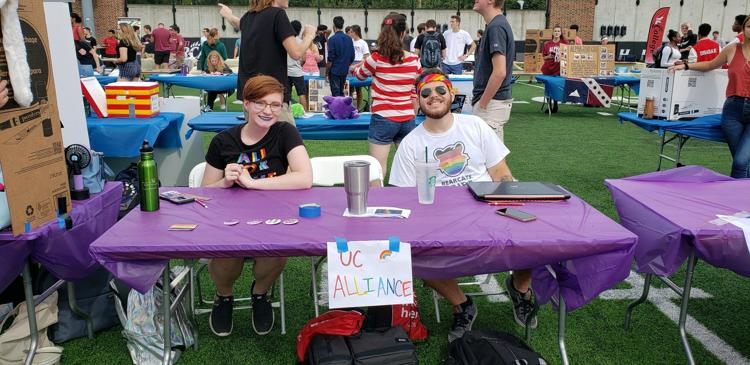 As a first-year neurology student, Ashya Tucker was looking for a community, but was uncertain of where to begin.
After learning a friend of hers was part of its executive board, Tucker went with her to a meeting for UC Alliance — a student organization dedicated to the support, advocacy and betterment of the LGBTQ community and their allies. 
"Initially, I was kind of afraid to go, but eventually I did, and it was amazing," Tucker said. "I really felt part of a group and through UC Alliance, and other resources such as the LGBTQ center on campus, I was able to meet a lot of people, build that community and grow out of my shell." 
Now in her third year, Tucker is the internal vice president of UC Alliance. The group serves as a way to build community between cisgender individuals and the LGBTQ community, on and off campus. 
UC Alliance meets every Monday at 7:00 p.m. in the Campus Recreation Center (CRC), room 3220. Meetings are typically discussion-based to encourage students to find their own voice and engage with peers in the community. Whether allies or actual members of the community, UC Alliance wants members to be able to engage in conversations and be comfortable doing so. 
As internal vice president, Tucker works to make sure people feel welcome and ensure that members are given the space and resources to have those discussions, learn and grow as an ally or member. 
"We realize that not everyone comes from the same background, and people have different levels of understanding, and, honestly, different biases," Tucker said. "If [differences] are never voiced or given a place to actually express them, then those biases still lay with it." 
Acknowledging the biases that exist even within the LGBTQ circle, Tucker hopes having these conversations enable the space for members to become leaders within the community. Conversations may include various topics such as sex education, social justice and coming out. 
"You'll hear a lot of people say, 'Oh it's 2019, haven't we gotten past that,' but when you actually look at it, a lot of people are not in the position to come out in a way in which they're safe or comfortable doing that," she said. "So, we talk about how to come out and how to still be proud, even if you aren't in place in which you can actually be open."
Through this growth, Tucker hopes members learn to be comfortable being wrong sometimes and create a voice to advocate for deeper conversation in other parts of their lives, on and off campus — in turn, learn to actively listen to understand one's needs, their actions, their words and their own needs.
"One thing I want people to do is develop that self-awareness and self-acceptance," Tucker said. "Also, to be able to accept others and recognize that you don't always have to understand people in order to accept them.