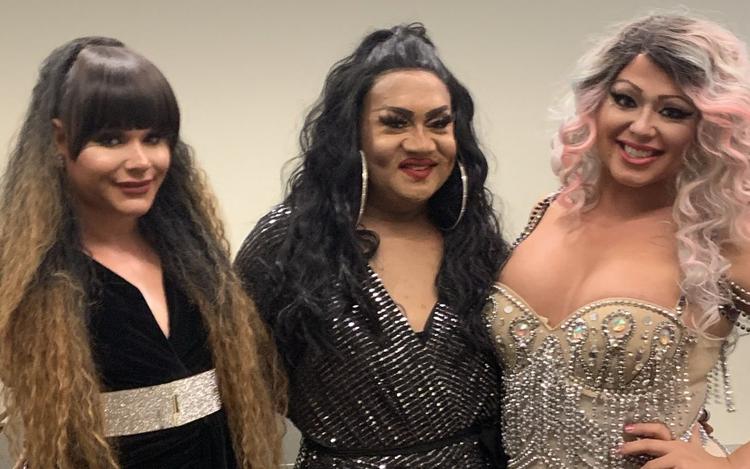 The University of Cincinnati LGBTQ Center hosted a gender inclusive fashion Oct. 29 in Tangeman University Center (TUC) in conjunction with LGBTQ History Month to showcase different fashions as a mode of expressing gender.
The LGBTQ Center aimed to create a fun and engaging event for students on campus, particularly students who identify as transgender, gender non-conforming, gender queer and along the gender spectrum of various identities. Intentional to represent the LGBTQ community, the center picked five different models from an open call who identify as transgender, non-conforming, gender queer or non-binary. The models each wore three different looks.
"We wanted a day look which was fun and which you would wear out to class or on an afternoon stroll and then we wanted to show a night look — what's it like going out, what is it like celebrating and enjoying yourself with nighttime activities," said Preston Keith, director of UC's LGBTQ Center. "Then we wanted to do a professional look, because for a lot of folks, it's hard to find clothing that aligns with who you are and how you identify."
The outfits varied from formal gowns to fur coats and skirts, and included rougher looks featuring combat boots.
The center also invited three drag queens to perform from the Cincinnati area: Jessica Dimon, Amaya Sexton and Quasi Powell. Dimon and Sexton regularly perform at Main Event, and Powell performs at Cabaret Cincinnati.
"We also knew that we wanted to invite drag performers because drag is the ultimate form of hyper expression," Keith said. "So we wanted to make it theatrical and fun but also real life. Merging those two was the best thing to do."
The center hopes attendees took away the value and importance of being of being able to express gender through clothing and understand — whether day, night or professional — looks and styles can vary in many ways and all those ways are valid.
The center is hoping to make the gender inclusive fashion show an annual event. This was the first time the center held drag queens and a fashion show at the same event.
The center also houses a gender inclusive fashion closet. It wanted to create a safe space for members of the community to try on clothes, figure out their style and provide access to clothing for free.
"Clothing can be cost prohibitive for a lot of folks, particularly when they identify as transgender and non-conforming," Keith said. "We have a lot of people who don't have the opportunity to explore different sizes and different outfits because they don't feel comfortable in the dressing rooms or in the stores, or they experienced transphobia when they're out shopping."