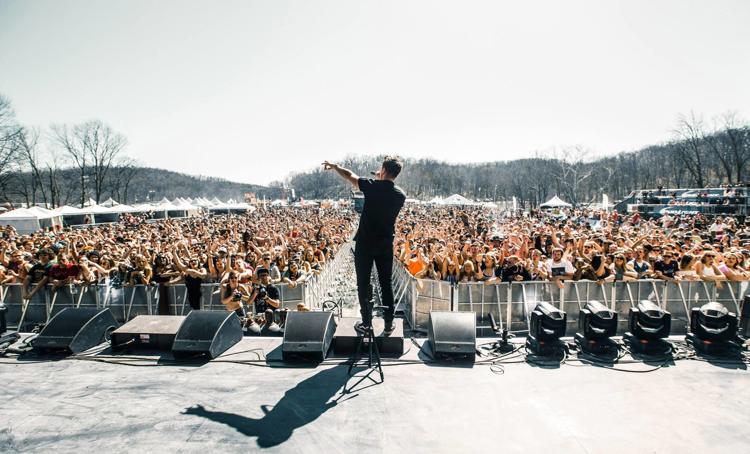 It started out as a hobby, but DJ Etrayn has established himself as one of the most popular DJs and personal brands in Cincinnati, holding down the booth for the Bengals and Reds as well as UC's football and basketball teams.
Eddie Traynor grew up around music and found inspiration through his relationship with it. His dad was in a band during his childhood, traveling back and forth from Nashville, and his mom would always have music playing in the car. Later, music quickly would become an area of professional interest.
Traynor started his career involved in event planning and promotion. He enjoyed curating events for people to enjoy themselves and loved promoting the community it involved. As he began planning and promoting around the city, he started to build a group of friends in the industry and followed his curiosity for musicians.
"I began borrowing equipment and practicing at home," Traynor said. "I had a few influences in the city that I would go watch and learn from. As they were DJing, they would show me different styles and tricks. This became a passion of mine, as I would practice all of the time, very similar to learning a new instrument — repetition."
Traynor practiced incessantly and eventually became a professional, but he said there were plenty of ups and downs along the way. The many facets of becoming your own business created hurdles.
"While taking the time to practice your craft you have to also focus on bringing in business, growing your social platforms, researching music and trends," he said.
Traynor credits his entire team, Self Diploma, for the success he is now finding, and has realized ups and downs provide learning opportunities. Further, the connections along the way are the most crucial.
Those connections are what keep Traynor moving forward, and he is reminded of them during his experiences at UC.  
"I enjoy the energy, the fan interaction, and the overall atmosphere," Traynor said. "here's a special type of feeling at a sporting event when a big play happens, and being involved in that "moment" is special to me. There is always the excitement of what to play or what comes next during the sporting event that keeps me hyped."
A lot goes into those moments for Traynor — his preparation is extensive through researching trending songs, personal song choices for players, and curating playlists for the proper demographic.
He said the energy that a moment needs is what inspires him to find the perfect song or playlist.
"There are many parts in a game that require different tracks given that certain moment," Traynor said. "For hype portions, I have a list to go off of, for more subtle, time filling situations I have a list also, so it depends on what is happening. I would say that I do like to switch it up and improvise on the fly, it keeps me on my toes."