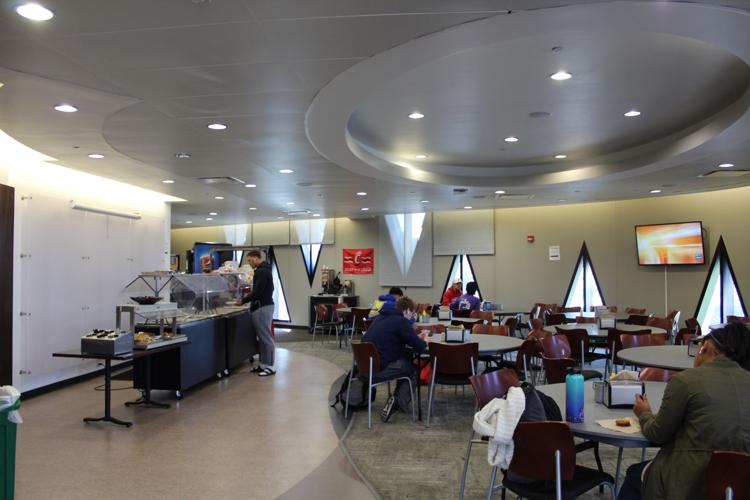 Tucked quietly away on the 700 level of the Richard E. Lindner Center, a little-known dining facility has stirred up debate surrounding preferential treatment of student athletes.
The Varsity Club is a dining facility that debuted last fall as a partnership between Food Services and UC Athletics to lessen demand at the university's other dining facilities in response to rising enrollment and to better meet student athletes' nutritional needs.
Before its transformation, the space was originally titled the Seasongood Dining Room and was a faculty dining facility operated by the nonprofit Cincinnati Faculty Club, Inc. As the organization's membership declined, the dining room was forced to close in 2017 — used only occasionally to cater events, said M.B. Reilly, university spokesperson.
Considerably smaller than other on-campus dining facilities, the Varsity Club seats only 50 to 75 people, Reilly said, adding that it would be more appropriate to call the space a "dining room."
The space is also more limited in terms of operating hours, only open Monday through Friday and closing between mealtimes – dinner is not served on Fridays.
The Varsity Club also offers a smaller selection of options with two entrée stations and a single salad stand, compared with CenterCourt's eight entree stations and additional salad options, said Katy Wahlke, director of food services at UC. The facility is completely open to all meal plans and accepts other forms of payment as well, she said.
Food served at the facility is no different than what is served at UC's other dining halls.
"What all of this means in terms of actual usage is that the space can fill up quickly," Reilly said.
"For instance, if teams want to eat together in order to keep pace with early morning to late day practice, training, travel and competition schedules as well as academic course loads, they need to eat in shifts due to space limitations."
Despite receiving a small amount of publicity when it was first unveiled, the facility is relatively unknown on campus.
Jordan Wentland, a second-year cyber security student, said he stumbled across the Varsity Club completely by accident while exploring campus.
"I never knew it existed," he said. "There's no mention of it anywhere on UCs dining sites or anything of the sort."
UC Food Services has yet to list any information about the facility on their website. Some have even taken to social media to protest what they say is UC's lack of transparency, while others view the facility's existence as inconsequential.
"[One] reason student athletes are likely more aware of the facility is because student-athletes' meal plans support the operations of the facility," Reilly said. "It doesn't meet most students' needs as do other campus dining options that have wider food selections and continuous hours of operation from early morning to late night."
Considering National Collegiate Athletic Association (NCAA) regulations that prohibit universities from giving preferential treatment to student athletes, Wentland said he views this lack of advertisement as an underhanded attempt by UC to skirt the rules and offer athletes a private dining facility.
"I think this is UC's way of getting around these regulations," he said. "It's technically a dining hall open to anyone, but only student athletes are told about it, and I find that to be incredibly dishonest."
Nevertheless, Reilly said the facility cannot handle additional demand.
"The limited hours and seating already present basic space and service fulfillment issues, and additional promotion beyond the initial marketing might well create more," she said. "Creating demand that cannot be fulfilled is a poor service model."