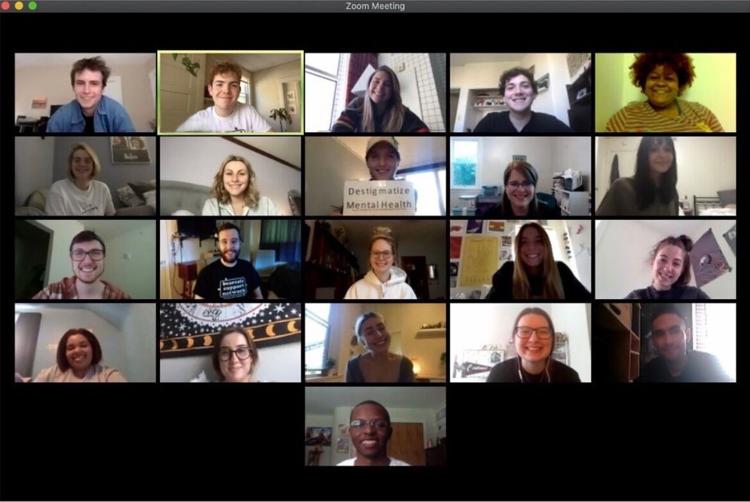 College is a stressful time for everyone. Navigating a new environment with new people and a new routine can be daunting. With all of the changes and new responsibilities this time brings, students often neglect their mental health. Bearcats Support Network (BSN) aims to help with just that. 
There is a stigma around being vulnerable and sharing something that has always been considered very personal. However, it is important to address mental health. BSN "empowers UC students to create an inclusive community and support each other's identity, mental well-being and day-to-day lives" through support groups and events.
Carly Varland, a graduate student studying school psychology at UC, helped bring BSN to the community during her undergrad's final year. The University of Michigan had its own support network called the Wolverines Support Network. Varland and a group of four others felt it would be valuable to create one here at UC. 
Being the only female of the group and having a psychology background, Varland provided a unique perspective in bringing BSN to campus. She worked with the psychiatry department and later built a partnership with UC's Counseling and Psychological Services (CAPS).
"It's all based on peer-to-peer support of mental health and de-stigmatizing mental health," said Varland. "We live in a society where everybody talks about anxiety and depression, but if someone is struggling with it there are still all these ideas about what it looks like, and it's either stereotyped or dismissed." 
"It was really important for me to be a part of [BSN] and to bring it to UC so that we could create this environment of support," she continued. 
Educating others about mental illness's realities and supporting those who struggle with their own help to de-stigmatize and start meaningful conversations about mental health. Today, BSN provides that exact environment. Eight peer-led support groups meet every day, serving as a space to share day-to-day happenings and check in with one another. The groups are led by undergraduate students who are trained by CAPS and help to facilitate conversations.
While they are safe spaces to talk about mental health and the challenges that come with taking care of it, BSN support groups are also a place to discuss anything and everything. Being in college brings many highs and lows, and the BSN support groups serve as a group of friends who are there to talk about it all. 
BSN also features Kickback Fridays, which are open to the entire student body to strengthen the UC community. Past Kickback Fridays have featured music, crafts, food and more activities.
"When I came to college, I was nervous I wouldn't have a support network, and I was uncomfortable taking that first leap and growing a support network," said BSN's Director of Leader Development, Charlie Atchison. "We were able to give each other the support network that we really wanted." 
Atchison has been involved with BSN for the last three years and helped bring the group to UC along with Varland. 
Whether students are looking for mental health support or just want to connect with others and help support them, BSN is for everyone. "[It's important to] be there for one another, not even to give advice but just to be a shoulder and an ear for somebody," said Atchison. 
BSN is actively accepting new members. Students can join through CampusLink, through the BSN Instagram @ucincyBSN or their website.